Leaders of Yuelu District People's Government Visited HUTB to Discuss Cooperation in Anti-drug Education
2020-06-13 10:41:16
On the afternoon of June 10, Tan Yinglin, deputy district chief and public security bureau chief of Yuelu District People's Government, and his delegation came to HUTB to discuss cooperation in anti-drug education. President&AcademicianChen Xiaohong, vice-president Peng Jinqing attended the meeting, with the heads of Party Administration Office, Security Office and other departments attending.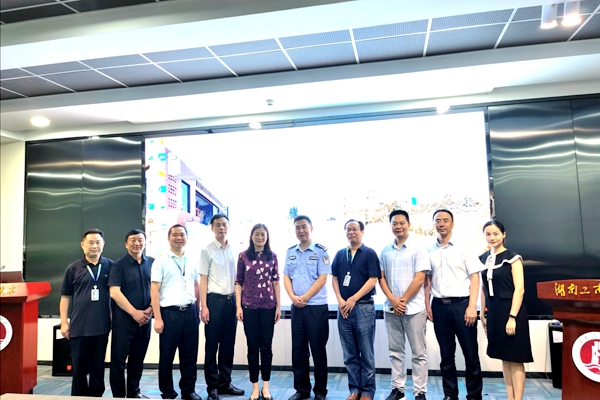 On behalf of HUTB, President and Academician Chen Xiaohong thanked the Yuelu District Party Committee, the district government and the district public security bureau for their long-term valuable support for the development, construction, safety and stability of HUTB. In particular, the establishment of the campus police office through the "Joint Construction of Police and University" mechanism has further improved the public security environment of HUTB and enhanced the sense of security, happiness and acquisition of all teachers, students and employees. She pointed out that anti-drug education is an important part of college students' safety education and social welfare education. HUTB attaches great importance to it and is willing to give full play to its own advantages and integrate its resources to help the anti-drug education and publicity in Yuelu District and Changsha City.
Deputy Chief Tan Yinglin thanked HUTB for its long-term support for the construction of Safety Yuelu District and President Chen Xiaohong for personally participating in the anti-drug education work and promoting anti-drug education into universities, campuses and communities. He hoped to further strengthen the cooperation between the district and the university, broaden the fields of cooperation, innovate the forms of cooperation, jointly carry out publicity and education on drug control, and further enhance the pertinence and effectiveness of drug control education.
After the meeting, deputy district chief Tan Yinglin and his delegation also visited the provincial key laboratories of HUTB and highly affirmed the great-leap-forward development of HUTB in recent years. (by Zou Tao, Security Office)