HUTB and Shenzhen Xianying Technology Co., Ltd Signed an Agreement on University-Enterprise Cooperation
2020-06-06 10:40:39
On the afternoon of June 3, the signing ceremony of HUTB-Enterprise Cooperation Agreement between HUTB and Shenzhen Xianying Technology Co., Ltd was held in conference room 702 of the office building2. Vice President Liu Guoquan attended the ceremony. Alumni of HUTB, President Xiao Jie of Shenzhen Xianying Technology Co., Ltd., Deputy General Manager Mao Danyun of the Product Center, Senior Product Commissioner Zhan Jinhua, and heads of HUTB's Alumni Office, Academic Affairs Office, Business Administration School, Tourism Administration School, Design Art School and other departments attended. The meeting was presided over by Zhang Hong, director of the alumni office.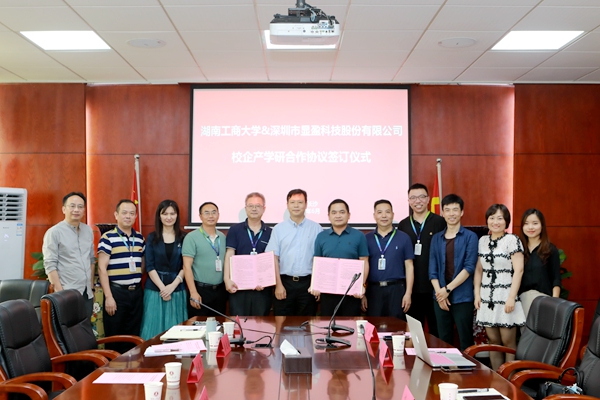 Vice President Liu Guoquan warmly welcomed the visit of Xiao Jie alumni and others, and introduced in detail the development plan of HUTB and the development direction of university-enterprise cooperation. He pointed out that HUTB is actively exploring with industries and enterprises a talent training mechanism that adapts to new technologies, new industries, new type of business and new models, and is relying on the integration of industry and education to carry out in-depth dual-innovation education. HUTB hopes to build a win-win cooperation model between HUTB and the enterprise and further create development opportunities based on the resource advantages of both parties. He said that through the joint efforts of both sides, the establishment of a long-term cooperation mechanism and the improvement of the quality of university-enterprise cooperation will lay a solid foundation for the employment and the company's talent reserve.
President Xiao Jie expressed great gratitude for the training of his alma mater. He pointed out that Shenzhen Xianying Technology Co., Ltd., as a company will be listed by IPO, has become a global leader in the field of signal transfer through continuous efforts to create viable products and organizations. He said that the company needs to increase the reserve of talents and will work closely with HUTB to provide employment, internship, research and other business scenarios, to invest human, material and financial resources to support HUTB's research projects, and rely on HUTB's senior team of experts and key teaching and research backbone teams to build a new model of industry-university-research. The both sides will certainly be able to move forward hand in hand to achieve new breakthroughs.
In the communication link, the person in charge of the relevant project introduced the first phase of the entrusted project and the progress of the cooperation project, and proposed the development orientation, implementation path, suggestions and measures of university-enterprise cooperation from the perspectives of dual-innovation education and integration of industry and education.
Finally, Xiao Jie, president of Shenzhen Xianying Technology Co., Ltd., and Huang Fuhua, dean of Business Administration of HUTB signed the "Industry-University-Research Cooperation Agreement" on behalf of the two parties respectively. Tang Aiguo, deputy director of the Academic Affairs Office, granted the nameplate for HUTB-Enterprise Co-construction Base. (Text/School of Business Administration Picture/Chen Luming)