President & Academician Chen Xiaohong Attended the Retirement Ceremony of Zheng Jiaming, Dean of Literature and Journalism School
2020-06-03 10:40:39
On the morning of June 2, the Ceremony for the Honorable Retirement of Zheng Jiaming, the dean of the Literature and Journalism School, was held in Conference Room 502 of the Office Building2. President Chen Xiaohong attended the ceremony and delivered a speech. Vice President Peng Jinqing, all members of the leadership team of Literature and Journalism School and the persons in charge of the Personnel Department attended.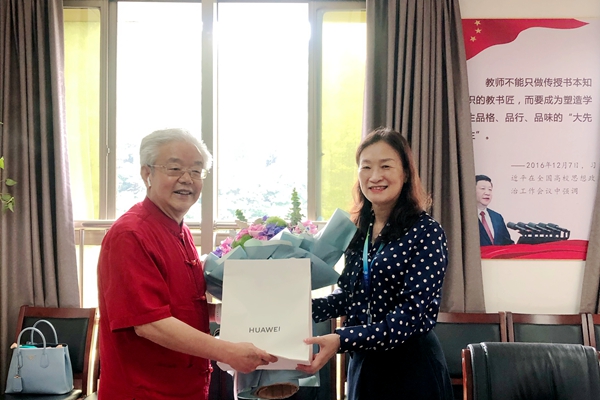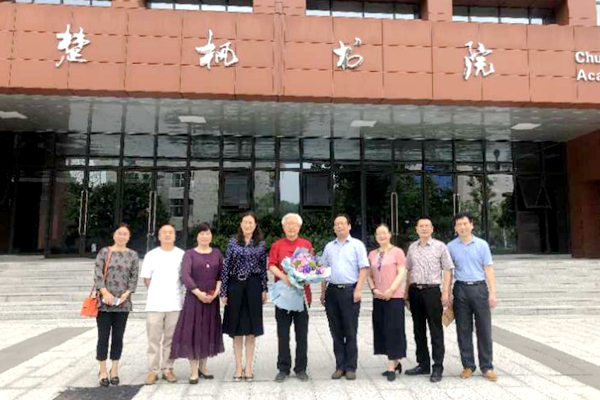 Professor Zheng Jiaming once served as vice-director of the Propaganda Department of the Hunan Provincial Committee of the CPC, chairman of the Hunan Association of Social Sciences and honorary chairman of Red Net. Since he was hired as the dean of Literature and Journalism School in October 2015, he has led the school to build platforms of Industry-University-Research such as Hunan Merchants Culture Research Association, Hunan Merchants Culture Research Base and Hunan Merchants Research Institute. He organized brand activities such as "Hunan Chamber of Commerce Lecture" and launched a number of theoretical research results on Hunan Merchants, obtained remarkable achievements in serving the local economy and expanding social influence. Professor Zheng Jiaming talked about his "practice" and harvest in HUTB from his life's walk alone, long journey, asceticism to practice, and witnessed and highly recognized of the leapfrog development of the university. He also put forward many constructive suggestions on further deepening the research on Hunan culture and Hunan businessmen, firmly grasping the word "culture", casting a soul for business students and building a "business university with a good literary spirit".
Academician Chen Xiaohong, the president of HUTB, highly affirmed Professor Zheng Jiaming's contribution and, in combination with Professor Zheng's suggestions, made important instructions for the future development of discipline construction and student training in HUTB. President Chen pointed out that in recent years, HUTB has realized cross integration in accordance with the concepts of "New Engineering + New business", "Technology + Business" and the advancement of industry and commerce. It has used a new round of information technology to transform and upgrade traditional disciplines and has driven new development of traditional disciplines, and has achieved remarkable results. While HUTB is vigorously promoting the construction of "science and technology for industry and commerce", it should also further strengthen the construction of "humanistic industry and commerce" and infiltrate the concept of humanistic industry and commerce into the cultivation of industrial and commercial talents and the construction of campus culture, as well as into the teaching and scientific research work of Literature and Journalism School. President Chen encouraged Literature and Journalism School to actively focus on the research and dissemination of business culture and Hunan Merchants spirit, to offer relevant courses, to create a series of cultural brands with the characteristics of HUTB, and to form the characteristics of humanities in HUTB. It shall also makes its own unique contribution to the cultivation of business students' humanistic quality with deep hometown and country feelings.
President Chen said that HUTB would continue to employ Professor Zheng Jiaming as honorary dean of Hunan Merchants Research Institute and part-time professor of humanistic, ideological and political courses in order to play his important role in relevant fields of HUTB. (Literature and Journalism School)