The First Batch of Senior Year Students Returned to HUTB to Resume Their Studies
2020-05-25 11:30:13
On May 23 and 24, HUTBofficially welcomed the first batch of graduating students return to school. Tang Yayang, secretary of the Party committee of HUTB, Peng Jinqing and Liu Guoquan, vice presidents, went to the scene to visit students returning to school, to condole with the staff,guide and inspectthework. Staff of Wangchengpo Police Station in Yuelu District, Wangchengpo Street Community Health Service Center, Wangcheng District Traffic Police Force, Xingcheng Police Station and other institutions respectively participate in and guide relevant work in the north and south campuses.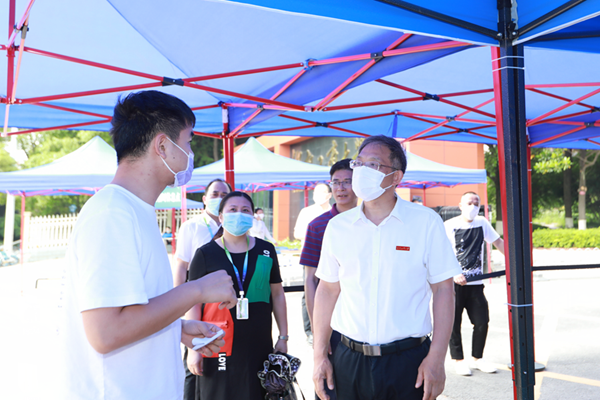 At the west gate of the south campus and thegate of thenorth campus, HUTBset up thetesting channels, registration point, temporary rest point and nucleic acid testing sampling point. All the staff members werenot afraid of the hot sun and stuckto their posts to welcome the first batch of students return to campuswith full enthusiasm. Staff strictly carriedout hand disinfection, luggage disinfection, body temperature testing, etc. for returning students in accordance with the requirements of HUTB's epidemic prevention and control work. Collegeand schoolteachers guidedstudents to complete the check-in procedures such as identity verification, health code and information card verification, information registration, etc., and guidedstudents to nucleic acid testing sampling points for free nucleic acid testing and antibody testing. Finally, the teachersaccompanied the students with normal body temperature to move into the dormitory after re-examination without abnormality. HUTBprovidedgood accommodation services for students, distributedlove gift bags (including hand sanitizer, 84 disinfectant, medical masks, Shuanghuanglian oral liquid, mineral water and other epidemic prevention and living materials) for the start of the semester, cleanedup domestic garbage on time, solvedpractical life problems, and ensuredthat students live at ease, peace of mind and comfort.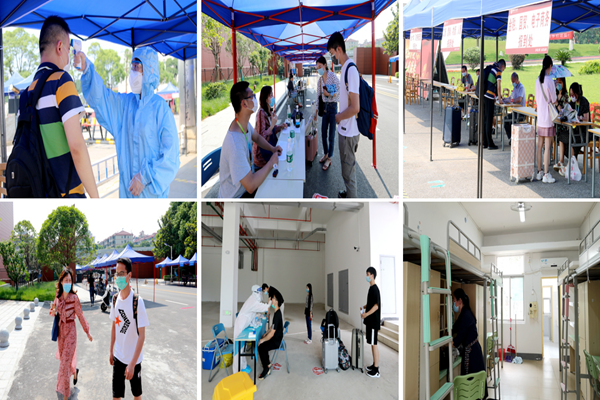 After returning to school, students should obey the closed management of the campus, make daily health reports, take temperature tests in key places, wear face masks in public places and keep a social distance of 1 meter, maintain good health habits and healthy lifestyle, and keep smooth communication.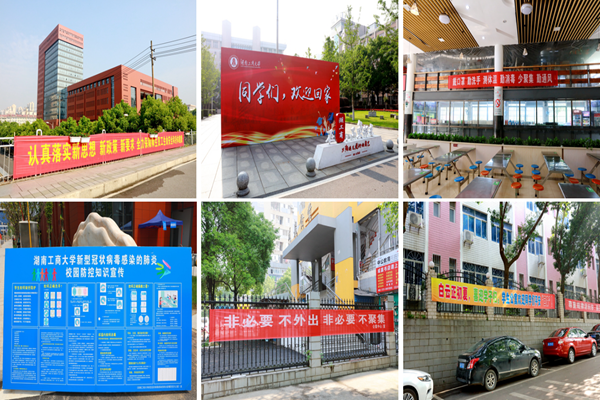 Since the start of the spring semester, HUTBhas strictly followed the national, provincial and municipal arrangements for epidemic prevention and control work, implemented the work requirement of "students start studyin batches with different peaks", actively prepared for various school starts, held many work deployment meetings, and worked out a detailed work plan. By means ofthe examination and approval of returning students' applications, information statistics, storage and distribution of epidemic prevention materials, construction and safety control of medical observation isolation points, epidemic prevention and control training exercises, publicity and education, sanitation and cleaning of campus environment and logistical services, disinfection and safety inspection of key places on campus, all efforts have been made to ensure the smooth return of graduating students to school.
With the smooth return of the first batch of students, the quiet and long-time silencedcampus regainedits former vitality. On June 1, 17 and 21, HUTBwill welcome other batches of undergraduate and postgraduate students return to campus.
(Written by Zhang Gaoyang, pictures provided by Chen Luming,Zhang Gaoyang, Jiang Yongli)