HUTB Held "Honor Youth" 2019-2020 Student Commendation Conference
2020-12-11 10:28:22
On the evening of December 9, the "Honor Youth" 2019-2020 Student Commendation Conference was held in the lecture hall of the Economic Management Complexof HUTB. The event was attended by Vice President Zeng Fuqiu, officials from schools and relevant functional departments, teacher representatives, instructors and class advisors, as well as Liu Xufeng, alumnus of 1999 graduate and student representatives.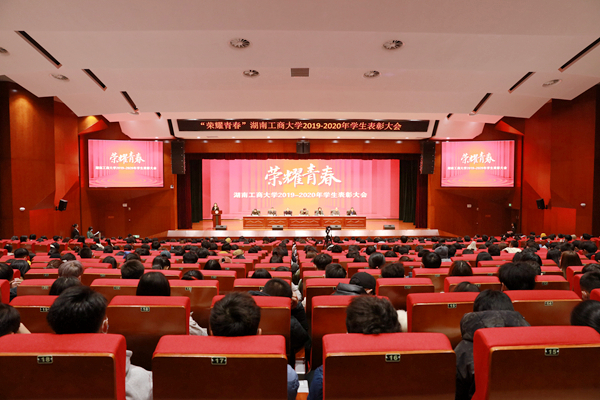 The event was composed of 5 award presentation components. The School of Accounting, the School of Business Administration, the School of Literature & Journalism and the School of Law & Public Administration received the "Excellent School Award". Those receiving commendation on site included 14 student representatives receiving the "National Scholarship", including Hu Chenhong, 14 student representatives receiving the "National Encouragement Scholarship", including Lin Yuting, 7 student team representatives receiving "Subject Competition Award", including Zeng Zhi team and 12 student representatives receiving "Alumni Scholarship", including Chen Jiaxing. Vice President Zeng Fuqiu, officials from relevant functional departments and Alumnus Liu Xufeng presented awards to group and individual representatives.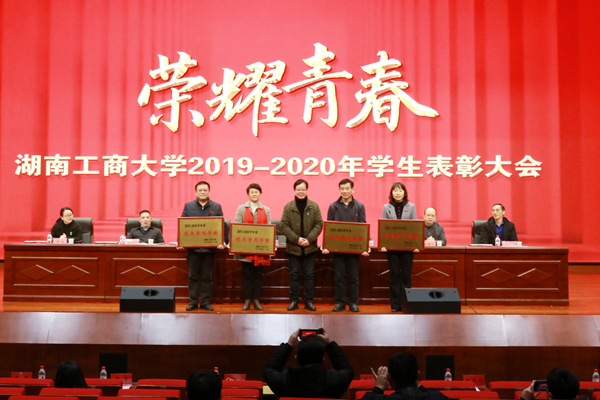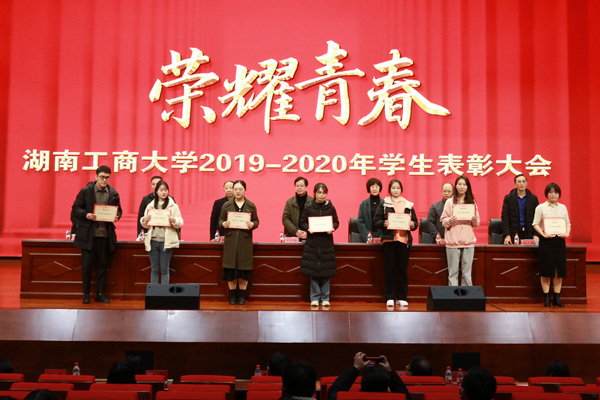 Award-winning student representatives delivered address. Hu Chenhong, recipient of "National Scholarship" said, "We should become a healthy college student, continue pursuing progress, and write a regretless chapter of youth with sweat." Lin Yuting, recipient of "National Encouragement Scholarship", said, "We should be convinced that knowledge changes destiny. I hope that all of you may return with a young heart after years of fighting." Zeng Zhi, leaders of the team receiving the "Subject Competition Award", said, "We should jump out of the comfort zone rather than draw a circle on the ground to serve as a prison. Under any circumstances, we need to seize the opportunity to become a better person."
Mr. Liu Xufeng delivered address on behalf of alumni. He shared his experience in study and entrepreneur, and expressed appreciation to HUTB and teachers for their hard work and teaching. He also expressed readiness to use his knowledge and capacity to lead a successful life in this era. He said, "I look forward to HUTB becoming a more beautiful place. I hope all of you will achieve academic success and realize successful career and life upon graduation."
Vice President Zeng Fuqiu, on behalf of HUTB, congratulated the groups and individuals who received commendation, and expressed sincere appreciation and paid tribute to teachers working in the frontline of education and teaching. He said that those receiving commendation were excellent representatives of HUTB, who serve as a vivid demonstration of its good teaching and learning style and the expectation for a better future. He sent a message to all the students of HUTB: first, strengthen the cultivation of quality, and foster a noble sentiment; second, achieve unity of knowledge and practice, and foster the spirit of studying hard and thinking well; third, advancing bravely, and fostering the capacity of innovation and entrepreneurship. He expressed the hope that all the students will take past achievement as a new starting point, set an ambitious goal, foster a noble sentiment, consolidate knowledge foundation, achieve comprehensive development, pursuing innovation with a pioneering and responsible attitude, and integrate youth, passion and wisdom into the noble cause of the great rejuvenation of the Chinese nation.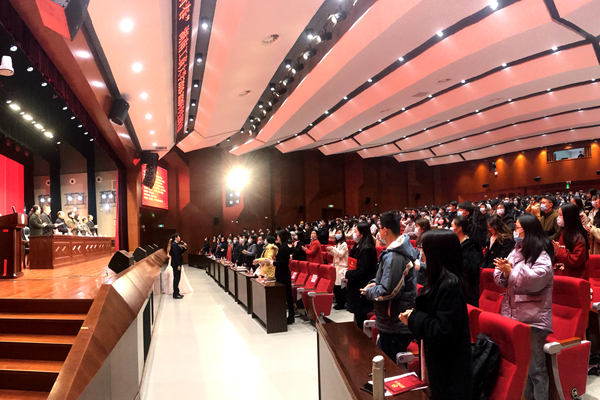 At last, the conference was smoothly concluded as all the teachers and students sang the chorus of "Stay True to Our Founding Mission".(Writtenby Yang Mei, Hu Hanwen and Zhang GaoyangandPhoto by Liang Zixuan and Zou Yinu)