Preliminary Test of National Postgraduate Entrance Exam 2021 at HUTB Successfully Completed
2020-12-28 15:38:55
From December 26 to 27, the preliminary test of the national postgraduate entrance exam 2021 was held at HUTB. HUTB successfully completed relevant work such as exam organization, self-chosen subject and epidemic prevention.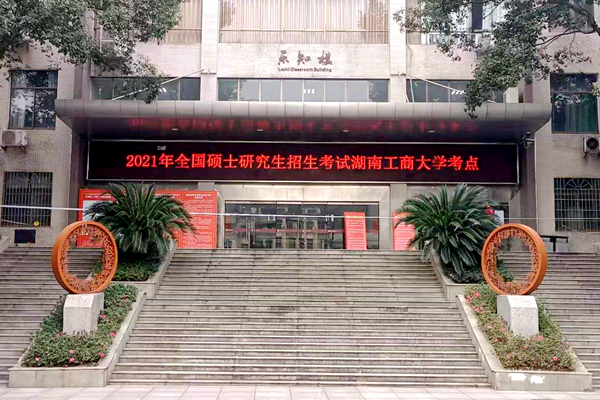 HUTB was designated as one of the designated testing center in Hunan province. Lezhi Building (No.3 Teaching Building) in the main campus of HUTB was designated as the examination hall, which consists of 39 examination rooms (including 3 isolation rooms and 1 backup room). More than 100 workers participated in work related to exam affairs and management services. More than 1000 HUTB students participated in this year's exam.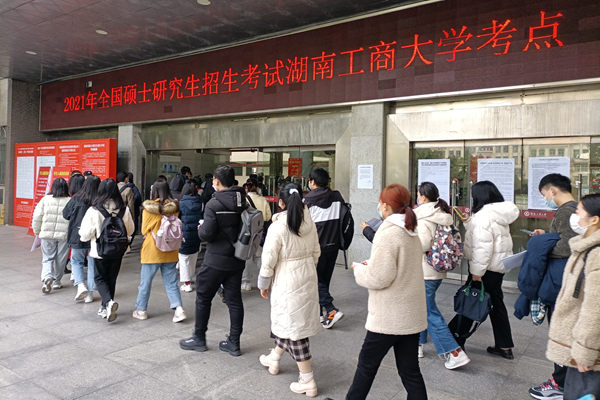 To make the preliminary test of this year's exam a success, HUTB organized exam monitoring and exam affairs training sessions in advance. It also set up a leading group on postgraduate exam, which includes a working group on exam affairs, an exam paper confidentiality group, a working group on exam building, an exam monitoring group, an ID verification group, a supervision group, a propaganda group, a security guard group, a monitoring group, an equipment maintenance group, a logistic service group and an epidemic prevention group. The exam organization work strictly followed the requirements of the training session on postgraduate entrance exam affairs and video conference on security work and the video coordination conference on epidemic prevention and control for postgraduate entrance exam. On the basis of setting the standard of science-based, planned, fine and procedural work, the exam organization achieved various targets of "Well-Organized Postgraduate Entrance Exam" amid epidemic prevention and control. All the exam affairs workers stuck to their post and fulfilled their responsibility. All the participating units made coordinated efforts to ensure smooth completion of the organization of the postgraduate entrance exam.
During the exam, Vice President Zeng Fuqiu and Vice President Liu Guoquan paid inspection visits to the exam places. Li Ying, director of the Discipline Inspection and Supervision Division of Hunan Education Examinations Authority, and Qiu Yeji, director of the Academic Level Examination Division of Hunan Education Examinations Authority, led teams to inspect HUTB's exam organization work, asking for information about the implementation of measures such as security and examination and discipline and applauding HUTB's work such as organization and discipline. (Reported by Zhang Gaoyang and Li Yu; Photographed by Zhang Gaoyang)