HUTB Student wins the First Prize in the Finals of "FLTRP·ETIC Cup" English Speaking Contest 2020
2020-12-25 15:38:55
From December 19 to 20, the finals of "FLTRP·ETIC Cup" English Speaking Contest 2020 co-hosted by Foreign Language Teaching and Research Press and National Research Centre for Foreign Language Education were held in Beijing. HUTB student Yue Xiaohui, an English major of class 2018, won the national first prize. HUTB teacher He Xiangjun won the title of excellent instructor prize. This is the best achievement HUTB has achieved in this competition in recent years.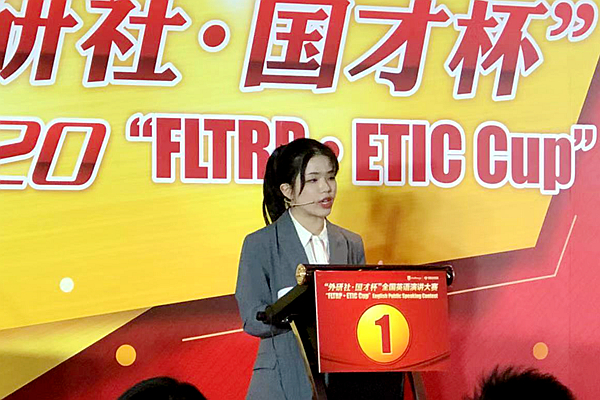 This year's contest was held online and offline, with the event live streamed via network video. The finals were divided into four stages. It consists of components such as topic-specific speech, impromptu speech, Q&A, quiz and extended speech. The first and second stages were held online, and the third and fourth stages were held offline. Among 182 finalists across the country, Yue Xiaohui and 23 other contestants entered the finals. With composed style, brilliant language skills and knowledge reserve, she won the first prize in the finals.
"FLTRP·ETIC Cup" English Speaking Contestis a domestic authoritative, professional and premium foreign language competition. As the largest national language competition featuring largest coverage and highest level, it has been included in the "National Innovative Talent Training and Discipline Competition Ranking" released by the Chinese Higher Education Association of the Ministry of Education. With the strong support and care of the Higher Education Division of the Department of Education of Hunan Province and HUTB, the School of Foreign Languages actively conducted preparations for the contest. The school's excellent performance in this year's contest demonstrates HUTB students' excellent comprehensive quality and mental outlook, as well as the faculty strength and education and teaching level of the School of Foreign Languages. (Reported by He Xiangjun from the School of Foreign Languages).