"Shining Stars at HUTB for Excellence" Music Performance Major Report-Back Performance Held at HUTB
2020-12-23 17:03:52
On the evening of December 22, "Shining Stars at HUTB for Excellence" Music Performance Major Report-Back Performance was held in the lecture hall of the Economic Management Comprehensive Building of HUTB. The event was attended by Chen Xiaohong, HUTB President and CAE Academician, Vice President Zeng Fuqiu, Vice President Liu Guoquan, and teachers and students from various schools. Professors under HUTB's talent recruitment program, including Xiao Ming, national class A conductor, art director of Changsha Symphony Orchestra, director of China Symphony Union and vice president of Hunan Provincial Musicians Association, Fu Liaoyuan, national class A actress, director of the Art Training Department of Hunan Cultural Center, head of Hunan Minmeng Art Troupe and soprano, Liu Jianhui, editor of Hunan Literature and Art Publishing House, member of Chinese Musicians' Association, national class A composer and vice president of the Music Review Committee of Hunan Provincial Musicians' Association, Ouyang Qin, assistant professor at the Department of Music Performance of the School of Architecture and Art of Central South University and soprano, Wen Zhengqiu, managing director of the Musical Instrument Reform Committee of China Nationalities Orchestra Society and inventor of Wenqin, and Xu Xin, associate research fellow of Hunan Provincial Academy of Arts and director of Hunan Qunwen Vocal Arts Committee, attended upon invitation and watched the performance.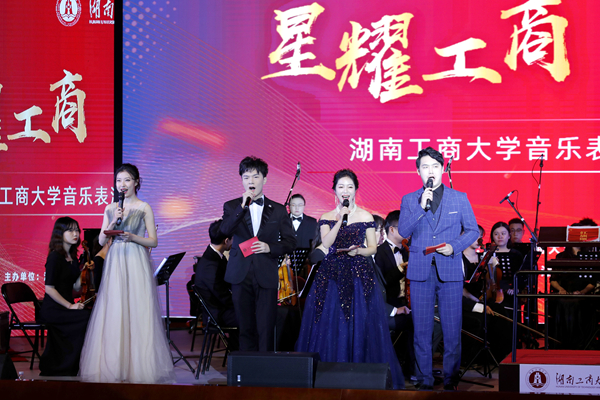 Under the command of Professor Xiao Ming, the symphony orchestra began the performance by performing orchestral music "Ode to the Red Flag". It also performed the adapted folk song "Liu Yang River" with modern orchestral music, which redefines the unique characteristics of Liu Yang River as a magic river. "Cloud in Hometown", a melodious boy group song, shows traveling men's yearning to return to their hometown. "Visit to Her Parents' Home", a light folk song, was gentle, delicate and kind. "Flowing Cloud and Water", an ensemble performed with various styles of instruments, provoked disquieting thoughts in audience's mind. "Hunan Dialect" and "Spicy Girl", two folk songs with Hunan characteristics, showed the passion and flexibility of Hunan girls. Four teachers and students performed "Rhapsody In Ragtime" in an amazing and exciting manner. "Zhengfeng•Zijin", a dance with poetry, was tactful and moving. "Jointly Build Chinese Dream", a male-female duet, was lyric and heroic. "Brindisi" was full of light rhythm and vitality. "Solemn Oath", a modern dance, paid salute to revolutionary martyrs with a tense and solemn stage rhythm. "Ballet in Spring" performed by Professor Ouyang Qin demonstrated the charm of youth with light rhythm. Professor Wen Zhengqiu demonstrated multiple functions of Wenqin to participating teachers and students. HUTB Wenqin Philharmonic Orchestra performed "My Motherland". Professor Fu Liaoyuan and a student performed "Pursue Dream in the New Era", an original duet, which encourages all the participants to march towards the Chinese Dream of the great rejuvenation of the Chinese nation. "That City", a chorus song, was deep and graceful, which pays the highest tribute to heroes fighting the pandemic. "A Road to Heaven" was high pitched and unrestrained, which conveys the happiness and joy of people of all ethnic groups in the new era.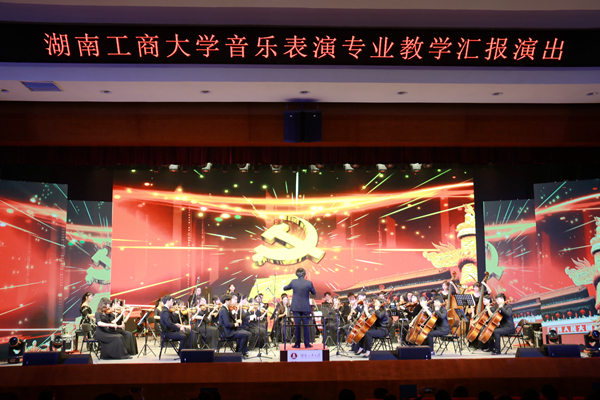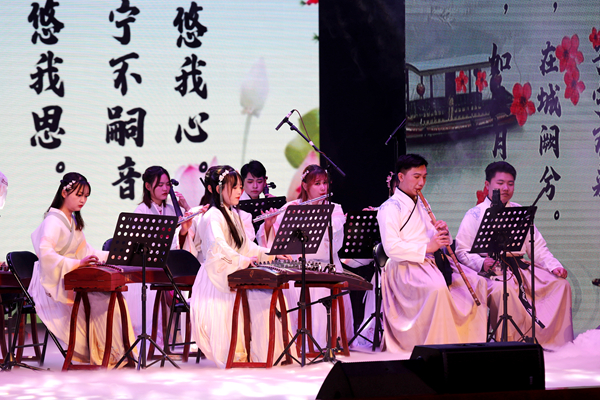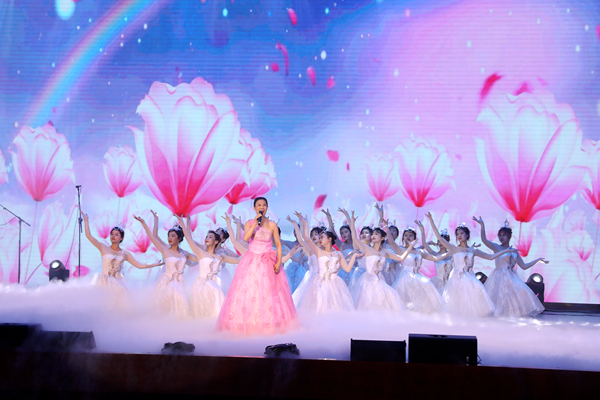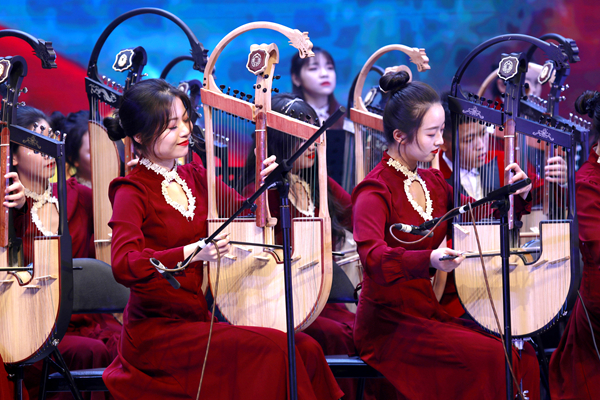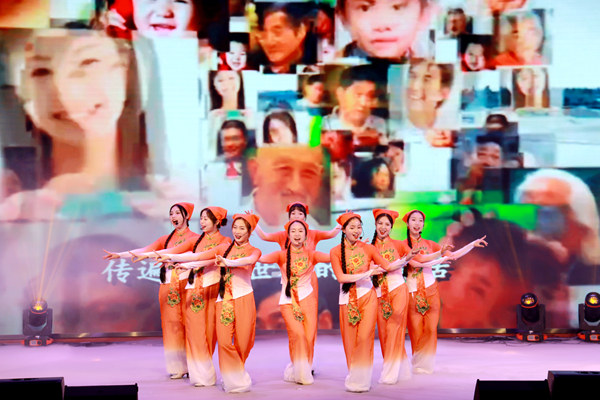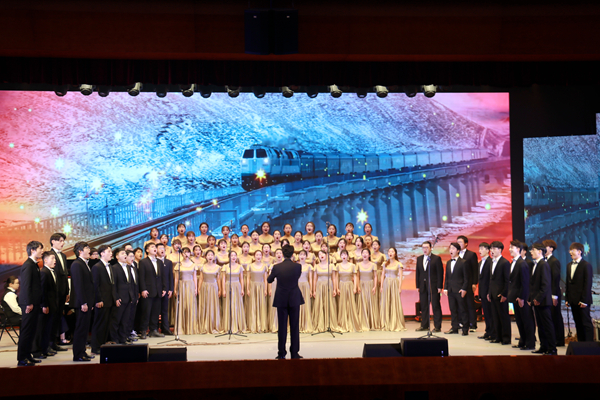 The report-back performed successfully came to an end as all the teachers and students sang the School Song of HUTB.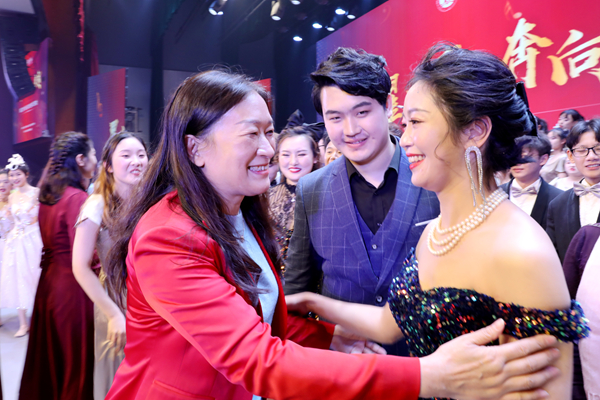 After the performance, Chen Xiaohong, HUTB President and CAE Academician, offered sincere condolences to participating teachers and students and spoke highly of the quality of the performance. She expressed the hope that professors under HUTB's talent recruitment program and teachers and students in music performance major will continue contributing to the construction of music performance major, and help the School of Art & Design achieve greater progress.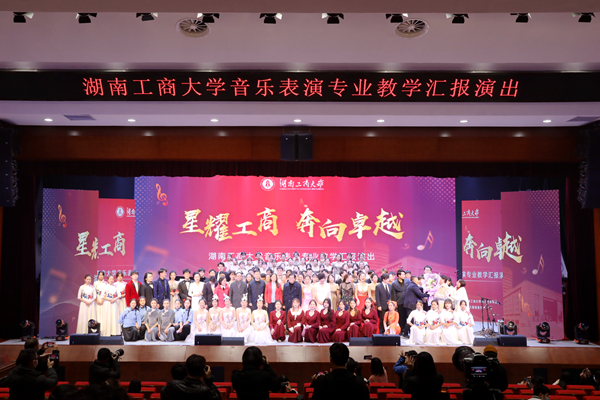 HUTB's music performance major is a new major developed on the basis of the Teaching and Research Section of Aesthetic Education established in 2000. It started enrollment in 2017. There are 190 students studying in the major. It has a high-level teaching team with international vision and youthful vitality of 21 teachers, including 7 professors under the talent recruitment program (including 2 national class A composers, 1 national class A conductor, 1 national class A actor and 2 famous sopranos), 3 associate professors, 2 teachers with Ph.D. degree, 3 Ph.D. students, and 8 teachers with experience in overseas study and visiting scholarship. After nearly four years of construction, its teaching or practical training sites such as basic theory classroom, piano room, recording studio and dance and theatre classroom reached a leading level among colleges and universities in Hunan province. It successfully set up China's first college Wenqin philharmonic orchestra, a high-level chorus, and a promising symphony orchestra. Graduates in the major have excellent capacity for music performance, and some of them won the first prize in multiple provincial competitions. Some students are active in famous concert halls and other performance activities in the province, gaining acclaim among audience. Graduates in the major have a strong sense of innovation and entrepreneurship, and demonstrate excellent quality in arts management and music teaching. (Reported by Zhu Hui, Li Yali and Zhang Gaoyang; Photographed by Chen Luming; Photography Design Center)