HUTB Undertakes Hunan Provincial College Tennis Competition 2020
2020-12-18 17:03:52
From December 14 to 16, the first Hunan Provincial College Tennis Competition 2020 hosted by the Department of Education of Hunan Province and organized by HUTB was held on the tennis court of the main campus of HUTB and Moon Island Clay Tennis Club. Officials, including Jin Biao, level II investigator of the Division of Sports, Health and Art Education of the Department of Education of Hunan Province, and Liu Guoquan, vice president of HUTB, attended the joint conference prior to the competition and paid an inspection visit to the tennis court as observer.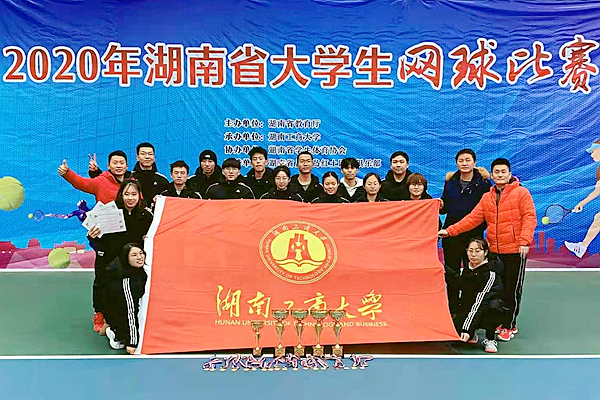 Altogether 169 athletes from 22 colleges and students in Hunan Province, including HUTB, National University of Defense Technology, Central South University, Hunan University and Hunan Normal University, participated in this year's provincial competition. Participating athletes were divided into group A (sunshine group) and group B (sports institute group). Each group consists of 6 categories, i.e., men's team, women's team, men 's singles, men 's doubles, women's singles and women's doubles. The number of gold medals is 12. The event also attracted many state first-class athletes and former athletes of the provincial team. In the fierce competition, HUTB athletes adopted a calm and aggressive attitude, and ranked No.1 in terms of total team score with 6 gold medals, 3 silver medals and 4 bronze medals. It is the best result HUTB has achieved in various provincial-level sports competitions, which marks a new record in history.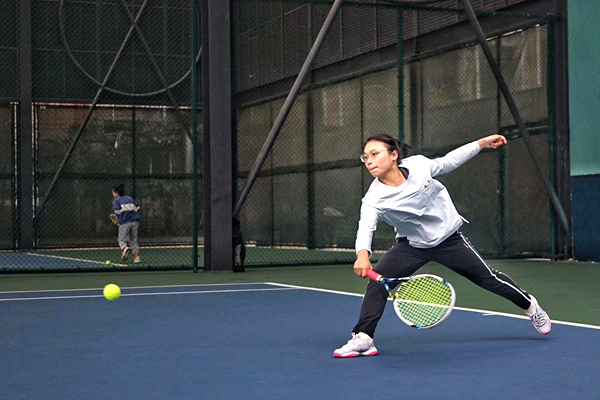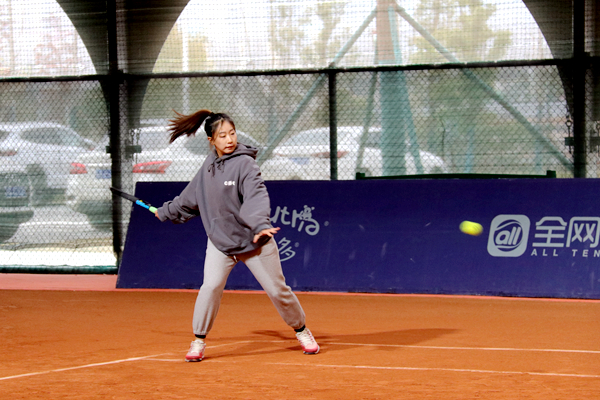 Among HUTB athletes, Zhou Ziying became the only athlete who won three gold medals. During her first year in HUTB, she played tennis for the first time through the tennis special course presented by Li Dongqi. After more than two years of hard training, she won 3 gold medals in women's team, women's doubles and women's singles of group A (sunshine group), which shows the excellent quality of HUTB students. Liu Xingyu and Wang Yuwei, two freshmen enrolled by HUTB through the first batch of high-level tennis team, also won 2 gold medals in women's team and women's doubles of group B (sports institute group).
Tennis is a major construction project advanced by HUTB according to the national strategy of encouraging college and university students to master one or more sports skills. Attaching great importance to the project, HUTB has provided support in talent training and site construction. After the first batch of high-level tennis students were enrolled, the Department of Physical Education and Research earnestly carried out various teaching work such as training and exercise. Substantial results are achieved in this regard, which lays a solid foundation for HUTB to further advance the construction of physical education.
Leaders of HUTB attached great importance to this year's event, as it involved tight schedule and arduous preparations. The Department of Physical Education and Research made thoughtful arrangements to ensure the competition was held as scheduled, gaining acclaim among superior departments such as the Department of Education of Hunan Province and Hunan Province Student Sports Association and college teachers and students participating in the event. This demonstrates HUTB's excellent image in education. (Department of Physical Education and Research Reported by Zheng Yizhong Photographed by Zhou Dijian)