HUTB Students Obtain Great Achievements in the 22nd National Robot and Artificial Intelligence Competition
2020-12-18 17:07:04
On December 5 and 6, the 22ndNational Robot and Artificial Intelligence Competition sponsored by Chinese Association for Artificial Intelligence was held online. HUTB students won 1 first prize, 2 second prizes and 1 third prize in the undergraduate group and 1 third prize in the graduate group, marking another proud achievement after the gold prize in the Competition in 2019.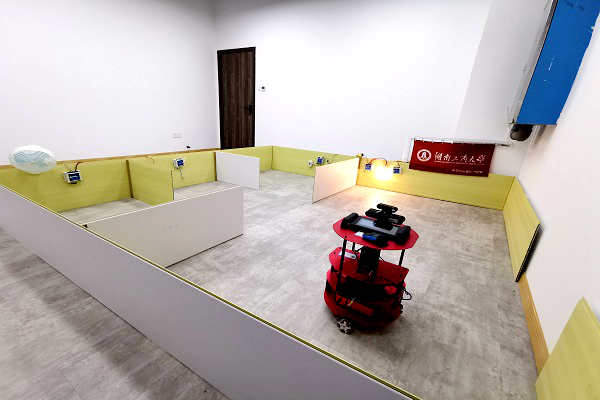 The National Robot and Artificial Intelligence Competition has been hosted for the 22ndconsecutive year since its inception in 1999. Guidingand stimulatingyoung students to make innovations, the Competition provides a good technological innovation competition platform. It is a promoter in developing the artificial intelligence and robot industry, building the new "AI+" "robot+" economic industry system, practice ground for students in robot and AI technological innovations and teamwork, cradle for students'innovation and entrepreneurship spirit. Every year, it attracts over 1000 teams from more than 200 universities and colleges nationwide.
The 4 AI undergraduate groups and 2 electronic information graduate groupsof HUTB, under the supervision of Jiang Lin and Li Xiaolong, entered the AI events of pension group and innovation group. These HUTBcompetitors, after for six months of intensive preparations from July, developed 6 robot application projectsfocusing on thepain points of smart home care, babysitting, etc. Throughthequalifier and final defense, HUTB students gain excellent achievements.
The departmentof Artificial Intelligence started to enroll students in 2019. With the energetic support of the university, adhering to goal of training innovative AI talents for future, the department adopts a "class-competition integration"course mode and aims to developinto amajor of "business + technology". Sinceits establishment, the department has obtained 1 China College Students' Innovation and Entrepreneurship Plan Project and 1 first prize of Hunan Provincial IOT Competition. The newly-introduced teaching talents of the department are doctorsinsmart voice, computer vision, big data parallel computing, business intelligence decision-making, etc.; the teaching employs a method based on the real cases of scientific research topics, ensuring a good cultivation of students' innovation capacity. The Competition has further demonstratedHUTB's achievementsin artificial intelligence talent training, facultyconstruction,and scientific research in recent years. (Reported by Wu JiaqiandJiang Lin from School of Computer Science and Information Engineering)