President Chen Xiaohong Attends Ribbon Cutting Ceremony of HUTB Sports Center
2020-12-31 15:38:55
On the morning of December 30, the ribbon cutting ceremony of HUTB's new sports center was held. Chen Xiaohong, HUTB President and CAE Academician, Vice President Zeng Fuqiu and Vice President Liu Guoquan cut ribbon and unveiled the signboard of the facility. Officials from relevant units, representative students, and coaches and personnel of the sports center attended the ceremony. The event was presided over by Vice President Liu Guoquan.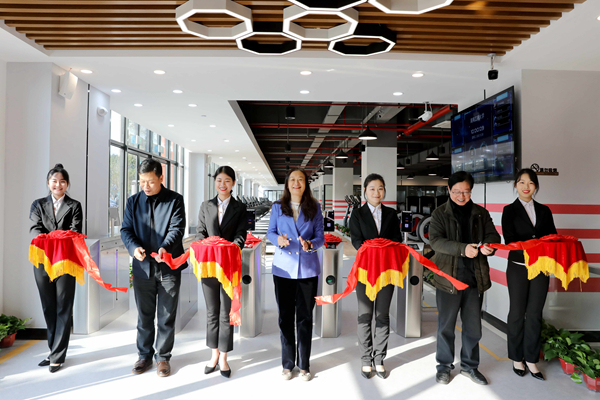 President Chen said that this new facility for sport and fitness was the result of the concerted efforts of relevant unit. The new sports center boasts leading conditions envied by other colleges and universities in the province and even across the country. Adhering to the concept of serving all the teachers and students, HUTB will continue channeling best resources to the teachers and students, so that they will lead a healthy and happy life on the campus. She expressed the hope that all teachers and students will spend at least one hour on working out every day, as this not only ensures they lead a healthy life, but also imbues them with physical and spiritual readiness to contribute to HUTB's cause during the 14thFive-Year Plan period.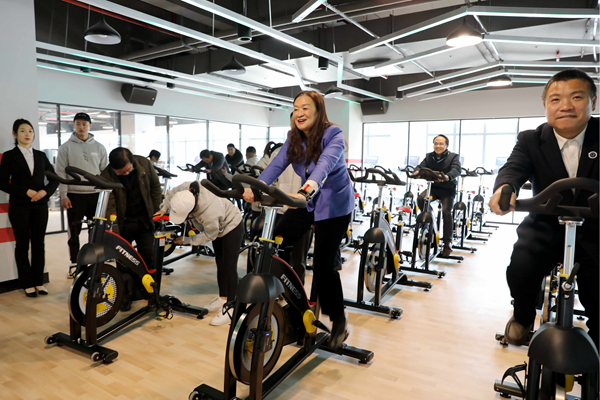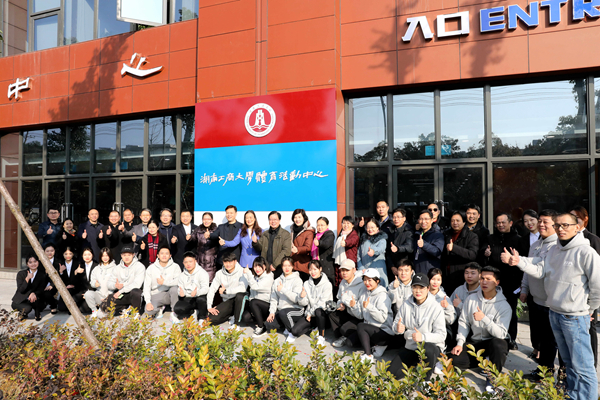 After the ceremony, Chen Xiaohong, HUTB President and CAE Academician, paid an inspection visit to the sports center, where she had hands-on experience with such sports equipment as spinning bike, boxing gloves and smart rowing machine. She also instructed the facility, once opened, to do a good job of day-to-day management and provide teachers and students with quality service.
The new sports center, situated on the ground floor to the south of the Economic Management Comprehensive Building, has a floor space of over 1200m2. The facility houses sports equipment like smart treadmill, smart elliptical machine, smart rowing machine and spinning bike, and is provided with sports areas such as boxing ring, VR golf room, shape-up exercise room and yoga room, which realizes the intelligent field scene design. The sports equipment has an 18-inch built-in touch screen and is connected to network. Professional fitness coaches are hired to provide science-based guidance and develop fitness menu suited to personalized demands. The purpose is to further enrich and improve HUTB's public fitness service system, raise the awareness and literacy of fitness among teachers and students, give full play to the role of "Smart Fitness" in guiding and serving their fitness needs, build a non-profit, intelligent health service system with unique characteristics, improve HUTB's health service, and set a model of campus sports center for the province and even across the country. (Reported by Zhang Gaoyang)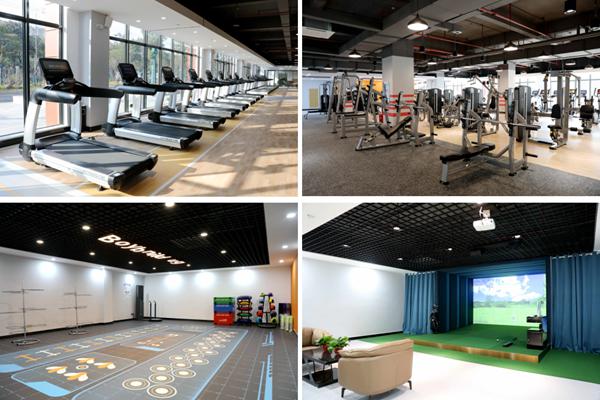 Interior of HUTB Sports Center