A Delegation Led by Yuan Jijun, Deputy Director of the Hunan Provincial Tax Service Visits HUTB for Investigation and Exchange
2021-02-25 19:59:29
On the afternoon of February25, a delegation led by Yuan Jijun, deputy director of the Hunan Provincial Tax Service paid a visit to HUTB for investigation and exchange. The meeting was attended by Chen Xiaohong, HUTB President and CAE Academician, Li Dingjun, Vice President, and the leaders of the Personnel Division, Finance Division and Party Committee Office and Principal Office. Vice President Li Dingjun presided over the meeting.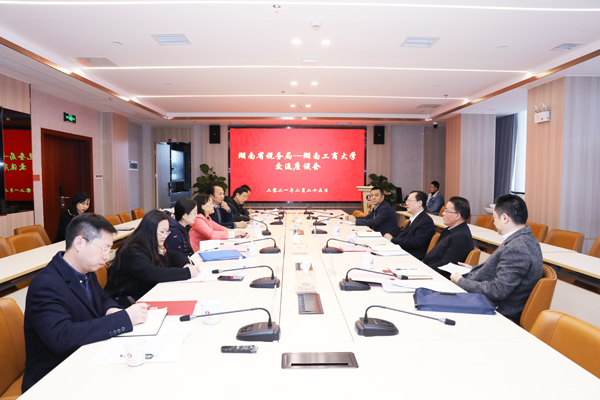 President Chen Xiaohong warmly welcomed Yuan Jijun and his party. She elaborated on the major achievements of HUTB around the goal of "Three-upgrade Strategy" in discipline construction, scientific research, talent training, campus construction, conversion of independent college, etc. in recent years, and looked forward to the follow-up works of HUTB such as the application for doctoral programs. President Chen Xiaohong thanked the Hunan Provincial Tax Service for its long-term support for the construction and development of HUTB, and expressed the expectation for more good supporting policies issued by the tax authorities for building a high-quality platform to attract high-end and innovative talents, optimize the innovation ecology, environment and attractiveness, and better support the development of various undertakings of HUTB such as the innovation and entrepreneurship.
Deputy Director Yuan Jijun thanked HUTB for supporting the work of tax authorities and introduced the relevant policies. He said that he wouldtake the opinions and suggestions of HUTB to heart, strongly support and supervise the implementation of relevant policies, further improve the work of tax authorities, and do best in service-oriented job.
The meeting participants had in-depth exchanges and discussions on issues concerning the tax policies, talent training, infrastructure construction, talent introduction, and asset recovery of Beijin College, with a desire to jointly promote the good cooperation between tax authorities and HUTB.