Chen Xiaohong, HUTB President and CAE Academician Visits Sany Group for Cooperation and Exchange
2021-02-05 10:56:25
On the afternoon of February 4, a delegation led by Chen Xiaohong, HUTB President and CAE Academician paid a visit to Sany Group for cooperation and exchange. The meeting was attended by Mr. Liang Wengen, Chairman of Sany Group, Mr. Tang Xiuguo, President of Sany Group and Mr. Huang Jianlong, Senior Vice President of Sany Group.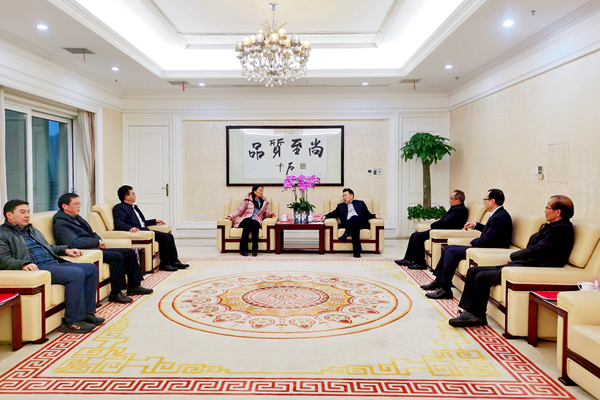 Chairman Liang Wengen elaborated on the development history and basic situation of Sany Group, and pointed out the vision of Sany Group "creating a first-class enterprise, training the first-class talents, and making the first-class contributions" since its establishment. Sany Group has created a well-known "Sany" brand and become the one of the world's leading equipment manufacturing companies and one of the first batch of pilot demonstration companies for China's "intelligent manufacturing" program. He gave a high appraisal to the achievements of HUTB in scientific research, talent training, social services and cultural construction. He said that "the group will further strengthen exchange and cooperation with HUTB and he also look forward to the greater support from the HUTB and its academician team to Sany Group in terms of intelligence and talents."
Academician Chen Xiaohong introduced the achievements of HUTB in recent years based on the direction of "New Technology Course + New Business Course" in terms of "double first-class" construction, interdisciplinary talent training, national center of basic science, and high-level think tank construction, as well as the research landscape and the strength of HUTB and its teams in artificial intelligence, big data, blockchain, Internet of Things, VR, etc. She highly praised Sany Group, as a representative of advanced equipment manufacturing enterprises, for its outstanding contributions to the development of China's manufacturing industry and the "three highlands and four new missions" strategy of Hunan Province. She especially thanked Sany Group to recruit outstanding graduates at request during the epidemic. Finally, she expressed a desire concerning the further deepening of strategic cooperation between both parties, the industry-university-research cooperation, and the common development and win-win future.
Participants conducted in-depth exchange and discussion on industry-university-research cooperation, talent training, practice base construction, and the introduction of outstanding graduates with a desire to jointly promote the new breakthroughs in the new development stage.