HUTB Students Achieve Good Results in CUMCM-2021 Hunan Division
2021-10-18 15:56:38
The results of Hunan Division of the 2021 Contemporary Undergraduate Mathematical Contest in Modeling (CUMCM) were announced recently. 40 of the 68 teams from HUTB won the Hunan Division awards, including eight first prizes, eight second prizes and 24 third prizes. The numbers and award rate ranked second among the participating universities in Hunan, and their achievements reached a new high in HUTB's history of discipline competitions, making new contributions to the development of HUTB during the 14th Five-Year Plan period.
(Chen Xiaohong, HUTB Party Secretary and CAE Academician Visits Teachers and Students in Training)
The CUMCM is one of the first ten competitions on the "Higher Discipline Competition List" by the Ministry of Education, which is jointly sponsored by the CUMCM Organizing Committee and the China Society of Industrial and Applied Mathematics. HUTB has been vigorously encouraging teachers and students to participate in mathematical contests in modeling, and making great efforts to cultivate the innovative consciousness, team spirit and mathematical research and application ability of the students. At the beginning of the 14th Five-year Plan period, HUTB aims to cultivate excellent talents based on the principle of "compete to promote learning, teaching and reform." The students have showed unprecedentedly great interest in participating in the competition, and achieved remarkable results in mathematical contests in modeling.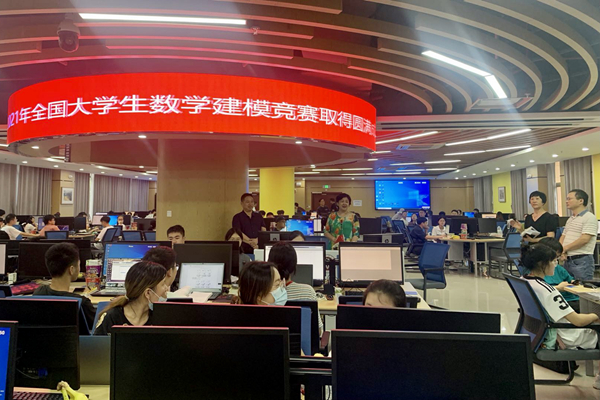 (HUTB Vice President Zhang Ling Mobilizes Students to Compete)

Adhering to HUTB's philosophy of integrated development of "new engineering course + new business course + new liberal arts course" and science course, the university gives full play to the advantages of interdisciplinary integration of mathematics, statistics, computer science and engineering, economics and management, and constantly optimizes the organization and management of the competition. The HUTB Party Committee and Administrative Units have paid great attention to the competition. With the full support of the Academic Affairs Division, the Student Affairs Division, Logistics Service Division, the Security Division and other functional departments, the School of Science has made strict requirements for and paid close attention to competition mobilization, university competition organization, selection of national competition team, selection of instructors and competition training. By strengthening the implementation of the work, it has promoted the full coverage of mathematical competition in modeling in all majors of the university and mobilized more teachers and students to participate in it. In recent years, the number of students participating in mathematical modeling competitions has exceeded 3,000 on an annual basis. The students, including both undergraduates and graduates, come from different schools. The university now enjoys a learning atmosphere of "mathematical modeling for all students, all the time, all year round," which has made positive contributions to further promoting the reputation of HUTB. (Xie Xiaoliang, Fang Xiaoping, School of Science)