Teachers and Students of HUTB School of Music Debut at Changsha Concert Hall
2021-10-18 16:02:21
The opera concert "Sister Jiang" was staged at Changsha Concert Hall in the evening of October 15. The concert, co-hosted by Hunan Performance Group, the Publicity Department of CPC Changsha Municipal Committee, Changsha Cultural, Tourism, Radio and Television Administration and Beijing Poly Theatre Management Co., Ltd., celebrated the 100th anniversary of the founding of the Communist Party of China (CPC). The teachers and students of HUTB participated in the performance. Chen Xiaohong, HUTB Party Secretary and CAE Academician, watched the performance and visited the participating teachers and students.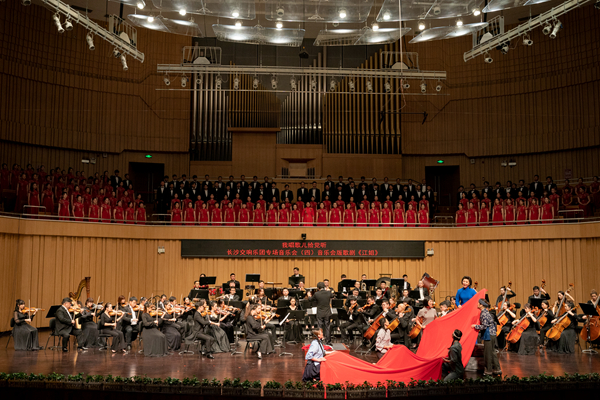 (Series Celebrations for 100th Anniversary of Founding of CPC —— Opera Concert "Sister Jiang" )

The concert was conducted by NationalClass-A Conductor Xiao Ming, also Dean of the School of Music of HUTB and Music Director and Chief Conductor of Changsha Symphony Orchestra. Soprano Yi Hongyuan played "Jiang Jie," while Yang Yang, a teacher of the School of Music, played the "old lady with two guns," Teacher Li Cheng played "Shen Yangzhai." The HUTB Changfeng Chorus was invited to perform the whole chorus with the Opera Center Chorus of Changsha Symphony Orchestra. The HUTB Tianyin Teacher Chorus was also invited to perform.
The whole performance was full of elements of HUTB. It was the debut of the School of Music outside the campus since its establishment, which showcased the the demeanor and educational achievements of the school to the public. It was also a promotion of HUTB's campus culture brand, "Artistic Industry and Business," and an educational course and practice of Party history involving teachers and students of HUTB.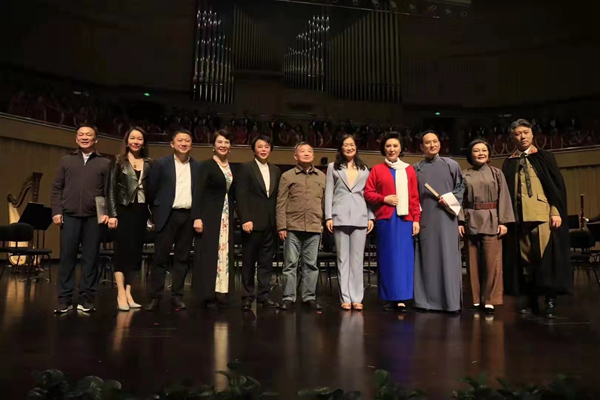 (Xie Yong, Deputy Secretary of the CPC HunanProvincialStanding Committee, and Chen Xiaohong, HUTB Party Secretary and CAE Academician watched the performance.)

After the performance, Chen Xiaohong, HUTB Party Secretary and CAE Academician, gave full recognition to the teachers and students' performance on the stage, and encouraged them to continue to hone their artistic skills, improve their artistic ability, produce artistic achievements, and strive for greater glory for the university. (Liu Junjie, School of Music)