Leaders of Shareholder Unit of Hunan Big Data Exchange Visit HUTB
2021-10-19 16:04:35
On the morning of October 18, Luo Chaogang, President and General Manager of Changsha Industry Investment Group, shareholder unit of Hunan Big Data Exchange, and his delegation visited HUTB and attended an exchange symposium. Chen Xiaohong, HUTB Party Secretary and CAE Academician, HUTB Vice President Yi Mianyang and relevant leaders of the Party Committee Office and Principal Office and Academy for Advanced Interdisciplinary Studies attended the symposium. The symposium was held in Conference Room 1210 in the Economic Management Complex. Vice President Yi Mianyang presided over the symposium.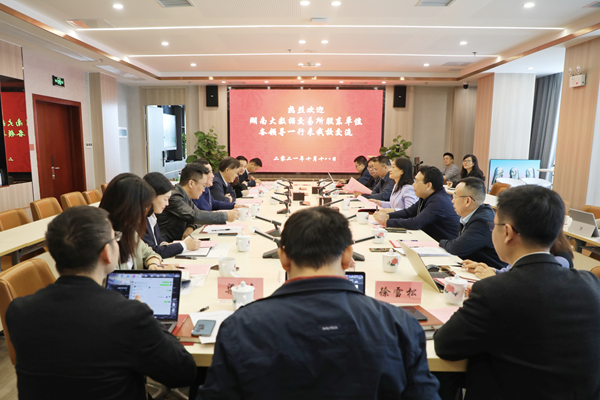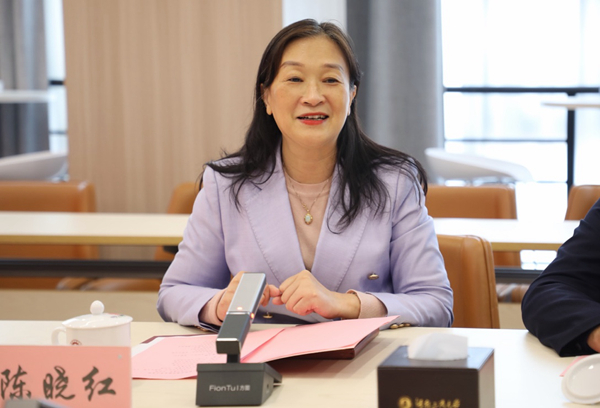 Party Secretary and CAE Academician Chen Xiaohong extended a warm welcome to General Manager Luo Chaogang and his delegation. She introduced to the guests HUTB's school-running philosophy of the integrated development of "new engineering courses + new business courses + new liberal arts courses" and science. The schools and the disciplines have been reorganized and upgraded, the comprehensive ability of school-running are continuously improved, continuous breakthroughs are being made in scientific research achievement, and the infrastructure is steadily improved. HUTB has successfully got the approval to build the first National Center for Basic Science in central China, and is developing the State Key Laboratory in fields such as big data and artificial intelligence. The university has established strategic cooperative relationship with a number of leading enterprises in intelligent manufacturing and digital industry and benchmarking enterprises in environmental service. She believes that HUTB and Hunan Big Data Exchange shares very broad prospects of cooperation in the fields such as big data and blockchain. She hopes that both sides will seize the development opportunities brought by the new round of industrial revolution, scientific and technological revolution and information revolution to help promote Hunan's "Three Highlands, Four New Missions" development strategy, and jointly promote the vigorous development of digital government, digital economy and digital society.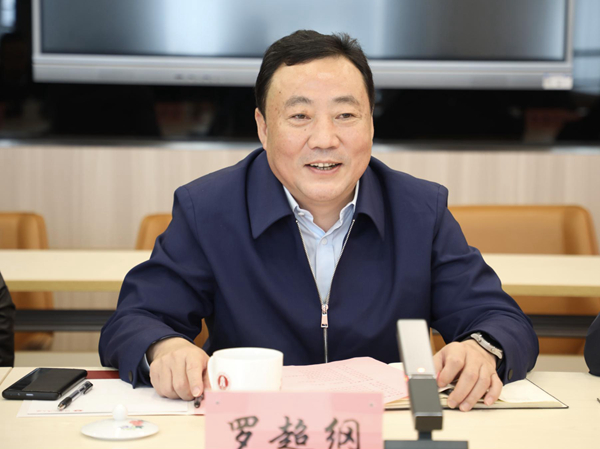 General Manager Luo Chaogang expressed his heartfelt thanks to Academician Chen Xiaohong for the warm reception, and introduced the establishment background and work progress of Hunan Big Data Exchange. He said that during the establishment of the Exchange, the organization unit lacked effective experience in transaction structure, process, rules and operation mode, and that he looks forward to seeking professional support from Academician Chen Xiaohong's team and HUTB for the innovation of big data transaction operation mode, transaction process design, transaction rule-making and transaction system construction, so as to help the big data transaction ecosystem of Hunan improve and update itself, thus ensuring the sustained and healthy development of the Big Data Exchange.

After the meeting, the two sides also had in-depth exchanges and discussions on the details of strengthened cooperation and reached a consensus on cooperation.