CDL HUTB Committee Holds Symposium Themed "Learn from Tao Xingzhi, Be Teachers of 'Four Haves'"
2021-10-28 16:16:37
In the afternoon of October 26, the China Democratic League (CDL) HUTB Committee held a symposium themed of "Learn from Tao Xingzhi, Be Teachers of 'Four Haves'" in Conference Room 406 in the No.2 Office Building. Professor Liu Siwei, a HUTB first-grade honorary professor and librarian of Hunan Research Institute of Culture and History, attended the event. Leaders of CPC HUTB Organization Department and all CDL members on campus attended the event. Liu Daobo, Secretary of CDL HUTB Committee, presided over the symposium.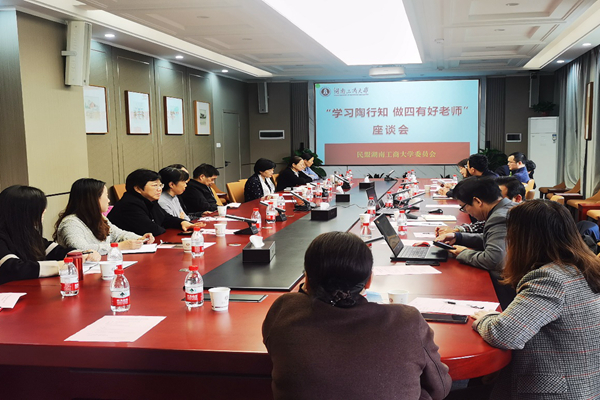 At the beginning of the meeting, all the teachers stood upright, full of energy, clenching fists with their right hands, and reviewed the teachers' oath. Later, focusing on the theme of "Learn from Tao Xingzhi, Be Teachers of 'Four Haves'", the participating members exchanged views on Mr. Tao Xingzhi's life stories and his outstanding contributions to the development of the CDL, as well as his educational thoughts such as "A country depends on its education," "Come with all heart and soul and leave with nothing," "I End where people's happiness starts," "Life is education, society is school, teaching, learning and doing are one" and others. The attendees said that they should learn from Mr. Tao Xingzhi and be great teachers in the new era with "great morality, great ambitions, great mind, great thoughts, great knowledge and great wisdom."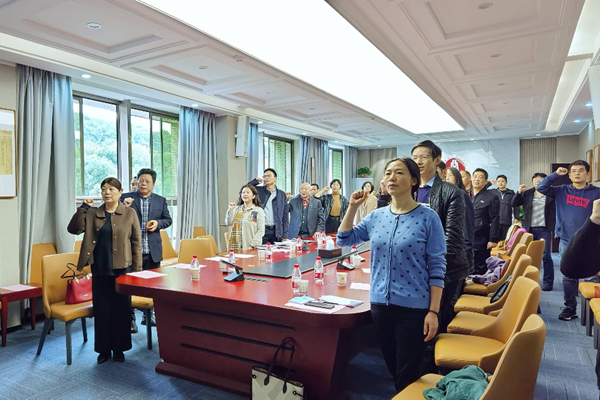 Professor Liu Siwei made a speech based on his educational experience of nearly 40 years. He stressed that as teachers in the new era, CDL members on the educational front should love and respect their job, regard the classroom as more important than anything else, devote their entire enthusiasm and benevolence, teach without distinction, and always care for students, so that students can learn and achieve.
At the end of the meeting, the attending CDL members watched the film Tao Xingzhi. After that, everyone studied the Educational Reading Book of Teachers' Morality and Working Style of Hunan Province. (CDL HUTB Committee)