HUTB, Yifeng Pharmacy Hold School-Enterprise Cooperation Fair & Signing Ceremony
2021-10-28 16:19:01
HUTB and Yifeng Pharmacy, a A-share company, held a school-enterprise cooperation fair and signing ceremony on October 22 at the headquarters of Yifeng Company. HUTB Vice President Zhang Ling, HUTB Vice President Yang Liangqi and Executive Vice President of Yifeng Pharmacy Gao Youcheng attended the ceremony. Heads of human resources department and new retail business group of Yifeng Pharmacy, and heads of Enrollment and Employment Guidance Division, Academic Affairs Division and School ofEconomy & Trade of HUTB also attended the event.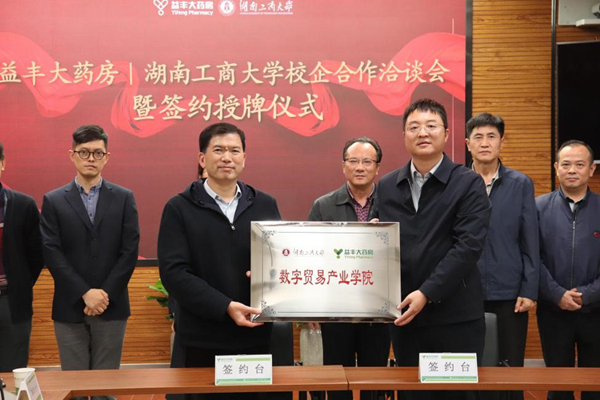 Vice President Zhang Ling introduced the basic situation, advantages and characteristics of HUTB and the prospect of school-enterprise cooperation at the fair. She said that HUTB attaches great importance to the cultivation of students' comprehensive abilities, The employment rate of the university has always ranked top among its counterparts in Hunan Province. She hoped that both sides can enhance communication and understanding, actively explore and implement various new talent cultivation models such as "micro-specialty," "employment internship base," "talent cultivation base" and "industrial school," so as to promote the effective connection between the students' employment demand and the enterprises' need for talent, and cultivate outstanding talent that meet the needs of the enterprises.

Vice President Gao Youcheng shared the development and achievements of Yifeng Pharmacy in recent years and its future plans. He recalled the cooperation history between Yifeng Pharmacy and HUTB, and looked forward to further deepening school-enterprise cooperation. He called on the two sides to discuss and improve the talent cultivation models, build an echelon of middle-level and senior management talent for Yifeng in the future, and cultivate high-quality, excellent compound talent with management and technological skills who will contribute to society and the industry.
HUTB and Yifeng Pharmacy also held a signing and awarding ceremony for the school-enterprise cooperation agreements on "Teaching Practice Base," "Employment and Entrepreneurship Base" and "Digital Trade Industry School."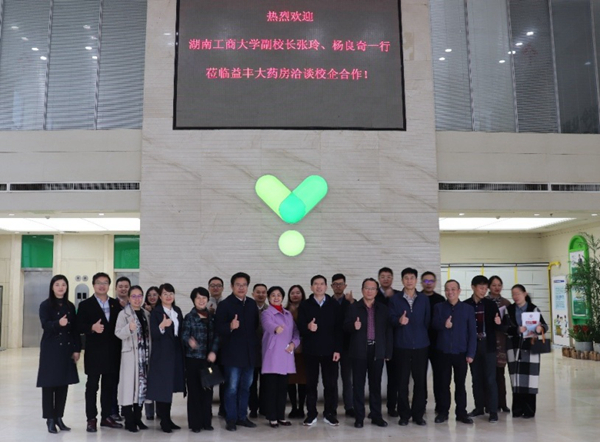 After the ceremony, the leaders visited the Digital Center of Yifeng Pharmacy, the Big Data Platform and the Hengxiutang Digital Factory. (Pan Kexin, School of Economy & Trade)