School of Literature and Journalism Convened the 2021 Graduate Work Mobilization Conference
2020-10-27 16:09:12
To do a good job in the employment of graduates and guide graduates to actively and calmly facing job hunting, School of Literature and Journalism held the 2021 Graduate Work Mobilization Conference on the evening of Oct. 25 in the Library's Talent Lecture Hall. Dean Peng Wenzhong, Deputy Secretary of the Party Committee Luo Hengqing, and Deputy Dean Tang Zhaohui attended the meeting. All graduates and graduation thesis instructors attended this conference.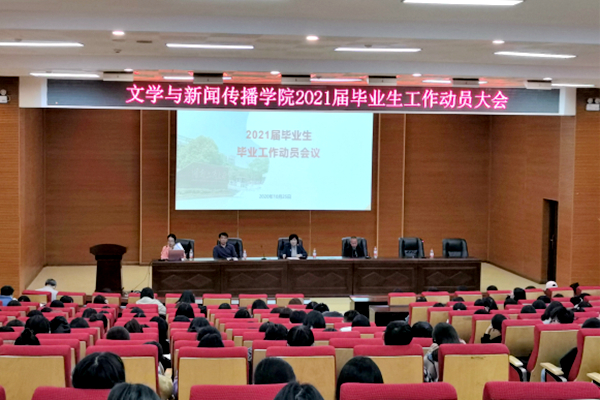 At the conference, Dean Peng Wenzhong analyzed the current employment situation, existing difficulties and challenges for the students, and summed up the three psychological misunderstandings that may exist when graduates are employed, such as passive slack, anxiety and timidity, and blind conformity. He also encouraged students to recognize the situation clearly, change the mentality, strengthen confidence, set clear objectives, cherish opportunities, and actively participate in the country's grassroots construction.
Deputy Secretary Luo Hengqing emphasized that the graduates should pay attention to their safety of job-hunting, be cautious of job-hunting traps, and protect their personal and property safety. Deputy Dean Tang Zhaohui made arrangements for graduation internships, graduation thesis, credits for Innovation & Entrepreneurship and Quality Expansion Education Program and lectures.
Through convening this conference, it gave the Grade 2021 graduates a clearer understanding of the employment situation, helped them to clarify their employment direction, improve their enthusiasm for employment and the smooth development of the college's employment work. (School of Literature and Journalism Hu Huimei)