HUTB Held a Training Seminar for Student Reporters
2020-10-26 16:09:12
On the morning of Oct. 25, Bai Yunlong (a reporter from the News Center of Hunan Broadcasting System and an "advanced individual" in the fight against the COVID-19 epidemic in the country), came to HUTB and conducted a news writing training lecture entitled "The Flowers Blossom of Dabie Mountain" for our campus reporters. Representatives of student journalists from campus media concerning the school's Student News Center, Broadcasting and TV Station, Foreign Propaganda News Agency, Huxiaogong, Youguan, and Wenxin Times listened to the lecture.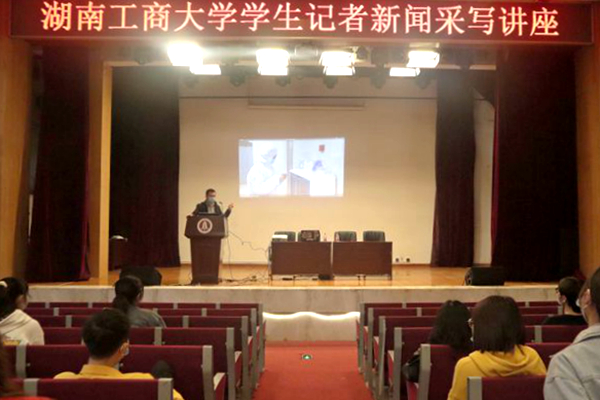 Bai Yunlong, by combining his first-line writing experience, shared the qualities and abilities a reporter should have with his classmates. Taking the "four powers" that journalists should have as the starting point, he pointed out that foot power, eye power, brain power and pen power are the special skills of media practitioners. Only by entering the front line and continuously practice can we write good news works. Journalists must have a strong awareness of the scene, and be able to rush ahead and overcome difficulties when encountering emergencies. Not only must they have the spirit of enduring hardship, but also have a robust physical condition; Journalists must have a strong learning awareness, continue to expand their knowledge, and deliver the latest and most authoritative information to readers and viewers through news reports; Journalists must have a strong people-oriented awareness. A grasp of mundane affairs is genuine knowledge, understandings of worldly wisdom are articles. They must write reports with feelings and responsibility, carry forward the main theme, and convey positive energy; Journalists must have a strong sense of innovation, and make the news works become more interesting and moving through storytelling; Journalists must learn to accept new things and learn from the media's experience in headline production and photo shooting, but they must insist on keeping integrity and innovation. Don't try to please the public with claptrap.
In the lecture, Bai Yunlong emphatically shared his experience and thoughts of following the Hunan medical team to Huanggang, Hubei and other places to report on the prevention and control of the COVID-19. The vivid photos, tense videos, and touching stories vividly show the students the forefront of epidemic prevention and control in the first half of this year. To extend thanks to the Hunan medical team for their care, an aunt sang Liuyang Riverto the camera; Under the careful enlightenment of medical staff, an uncle tore up the written suicide note; A retired party member made cloth shoes and insoles for each medical staff. These news materials from the frontline made all the students present were deeply moved with tears, and they also better understood the responsibilities and missions that the journalists should have.
After the lecture, Bai Yunlong also conducted an exchange with the students. (Cao Linli, Lei Ou'qun)