Dr. Zhang Jianzhen from Chinese Academy of Social Sciences Visits HUTB to Give Lecture
2020-11-30 17:23:53
On the evening of November 19, the School of Literature & Journalism held the first "Cultural HUTB" lecture in the Lecture Hall of North Campus. Dr. Zhang Jianzhen, an associate researcher of the Institute of Journalism and Communication,Chinese Academy of Social Sciences, TV program producer and documentary director, was invited to give a lecture entitled "Everyone is Their Own Hero". The lecture was presided over by Dean Peng Wenzhong and attended by the teacher and students of the School.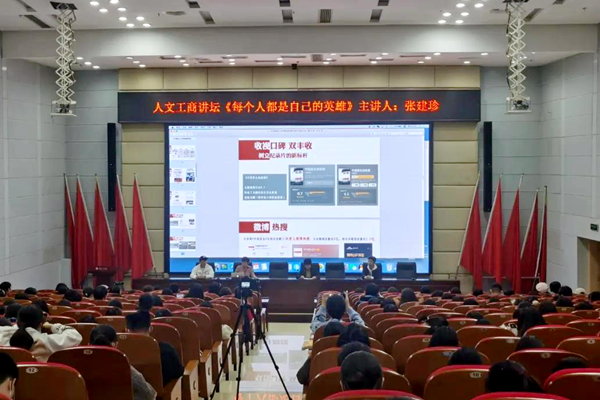 Dr. Zhang Jianzhen explained to the students the creation background of the documentary, The Chinese Doctor: The Battle Against COVID-19. Basing on the viewing results on the broadcasting platforms as well as the degrees of emphasis and comments from hundreds of mainstream media, Dr. Zhang further analyzed the documentary and compared its differences with other types of medical documentaries. Finally, Dr. Zhang exchanged views with the students.
Dean Peng Wenzhong expected the students to watch and summarize this documentary with careful and profound reflections. She emphasized that, "Every ordinary person is their own hero. They have their own unique brilliance and can release impressive power.
In the two-and-a-half-hour lecture, Dr. Zhang Jianzhen not only shared the true anti-epidemic stories but also imparted the professional knowledge of documentary filming. Besides, he broadened the students' horizons, enriched their knowledge, and raised their respect for the responsible medical staff. (Written by Liu Jiayi and Photo by Wu Biao from School of Literature & Journalism)