HUTB Military Service Club Carries out Field March Training and "National Memorial Day" Activities
2020-12-16 17:39:09
On December 13, the public memorial day for the victims of the Nanjing Massacre, HUTB Military Service Club held a special commemorative event in memeory of these victims. The event involved two parts: the ten-kilometer field marching training and the "National Memorial Day" activity.
In the afternoon, all members of the Military Service Club attended the field marching training along the route of Leifeng Avenue—Tengfei Road—Yujiawan Road—Jinxing Road North —Yongtong Avenue. As they ran, they sang military songs and called out slogans passionately. After two and a half hour, they finished the ten-kilometer training and finally returned to the North Campus. Through this training, the members of the Club not only improved their physical fitness, but also exercised their willpower and endurance to go through thick and thin. This training strengthened the communication among trainees as well as their communication with instructors. Furthermore, this training also enhanced the trainees' cohesion and sense of group honor.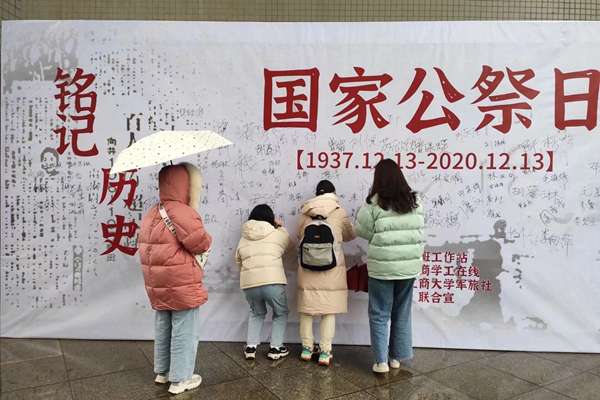 In the evening, in conjunction with Xuegong Online and Yiban Workstation, the Military Service Club held the memorial activity themed at "Candlelight of Peace" for Nanjing Massacre Memorial Day in the North Campus. The activity was attended by the members of the Military Service Club, Xuegong Online, Yiban Workstation, and some teachers and students. It kicked off with the majestic national anthem. The host read the eulogy and expressed his grief for the dead. All the attendees presented flowers and took off their hats in silent homage for the victims of the Nanjing Massacre. Jiang Zhehao, Instructor of the Military Service Club, gave a keynote speech, calling on all the students to forge forward with the national humiliation kept in mind and the hard-won peace cherished.
The event rounded off in a solemn atmosphere. This event aroused the students' firm yearning for peace and made them understand that only a strong country can bring its people a safe and happy life. May the alarm bell ring forever and tragedies no longer occur. (Written by Wang Lina and Photo by Zheng Yu from Defense Education Department)