School of Law & Public Administration Holds Experience Share Meeting with Excellent Alumna
2020-12-10 17:39:09
On the evening of December 5, the School of Law & Public Administration invited Yang Yunmei, an outstanding urban management graduate of the class of 2020, to give a lecture entitled "Experience Sharing Meeting of Outstanding Alumni" in the multimedia lecture hall of the North Campus of HUTB. The lecture was hosted by Shi Zhuohong, Director of City Management Department and attended by the teacher representatives of the school and the 2020 freshmen majoring in urban management.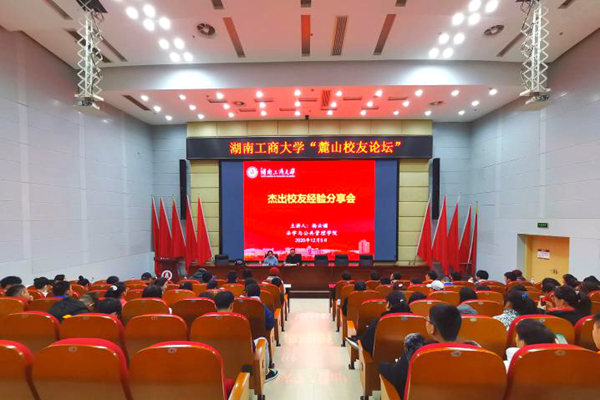 Yang Yunmei shared his experience from the two aspects of career planning and civil servant exam preparation. She pointed out that as college students have a low cost of trial and error, they should be courageous to make various trials. When sharing her experience in civil servant exam preparation, she encouraged that the students should quickly identify their goals and make full use of various resources to expand their abilities. She hoped that all students can work hard and strive for the best.
Chen Jie, a city management major of the class of 2018, shared her learning experience in HUTB. She held that the students should scientifically plan their time and strive to be the master of time so as not to regret in the future; she urged the students that they should not be afraid of failure or setbacks but be aware that failure is also a valuable asset in life.
Finally, Long Pu, Leader of the Administrative Management Department gave the students some constructive suggestions on study, life, opportunities and other aspects. He hoped that students can make good personal plans and actively seize the time and opportunities in the university years to learn efficiently with the hardworking spirit. He also emphasized the necessity to build self-confidence and choose correctorientation. (Written by Wu Xuan and Tang Can and Photo by Li Wei from School of Law & Public Administration)