HUTB Holds 18th "Lushan Cup" Debate Contest
2021-07-02 18:21:21
Recently, the final of HUTB 18th "Lushan Cup" Debate Contest was successfully concluded. The contest was attended by Zeng Jing, Secretary of Youth League Committee, and Luo Dingbo, Vice Secretary of Youth League Committee, and Xiao Pengzhan, Xiao Ting and Hu Huimei served as judges for the contest.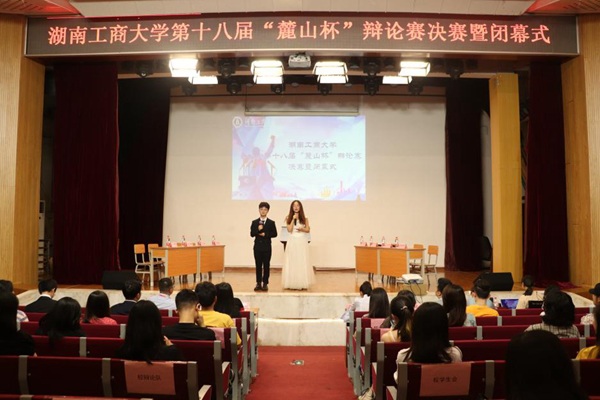 Secretary Zeng Jing addressed the activity. She said that "Lushan Cup" Debate Contest provides the students with a platform to show themselves, and guides the students to distinguish right from wrong. She stated that the debaters' excellent performance testifies to the HUTB spirit of cooperation and hard work, and bursts forth the spark of wisdom.

During the final, the debaters of the School of Finance and counterparts of the School of Economy & Trade conduced a heated debate, with the former holding that "S&T innovation focuses on breakthrough in thinking" and the latter holding that "S&T innovation focuses on daily accumulation". At the argument stage, the first debaters of the positive and negative sides referenced real examples and classics while articulating respective ideas, and the passion soon transmitted to the audience. Both sides hit hard at weaknesses, and conducted a heated exchange, pushing the atmosphere to the climax. The careful and clear thinking and witty response of the debaters of both sides deeply impressed the audience.
Then, the judges commented on the contest, analyzed the argument from different perspectives, and put forward suggestions and opinions for further improvement.
Finally, the School of Finance, because of excellent team work and outstanding analytical thinking capabilities, won the championship. The School of Economy & Trade ranked No.2, and the School of Mathematics & Statistics ranked No.3. Fu Zhenni, Huang Qirui, Guo Yanfeng, Xi Wanning, Yin Can, Wang Ying, Li Jiayi, Huang Qirui, Xie Cheng, Xiao Wenli, Yang Sirui, and Lv Ziyuan received the title of "Best Debater".
Commenced from April 18, the 18th "Lushan Cup" Debate Contest was attended by 12 school representative teams and Beijin College representative team, and the arguments include, among others, "Does the increase of commerce increase or reduce the value of art?", "Should mankind strengthen or limit the development of marine resources?", and "Is the emergence of AI debater good or bad for human debaters?".