Professor Xu Guodong of School of Law of Xiamen University Gives Lecture in HUTB
2021-06-21 18:21:21
On the evening of June 12, Xu Guodong, distinguished professor of the School of Law of Xiamen University, PhD supervisor, Managing Director of the Civil Law Research Association of China Law Society, Vice President of the Foreign Legal System Institute, and expert designated by the Supreme People's Court for training in the Civil Code, was invited to give a lecture themed by "Understanding and Application of Ten Mixing or Mixing-related Stipulations in the Civil Code" in Lecture Hall F201, Lezhi Building, which was presided over by Hu Yanxiang, Party Secretary of HUTB, and was attended by Liu Qixiang, Dean of the School of Law & Public Administration, Yuan Lu, Vice Party Secretary of the School of Law & Public Administration, Gong Zhijun, Vice Dean of the School of Law & Public Administration, teacher and student representatives, and social legal worker representatives.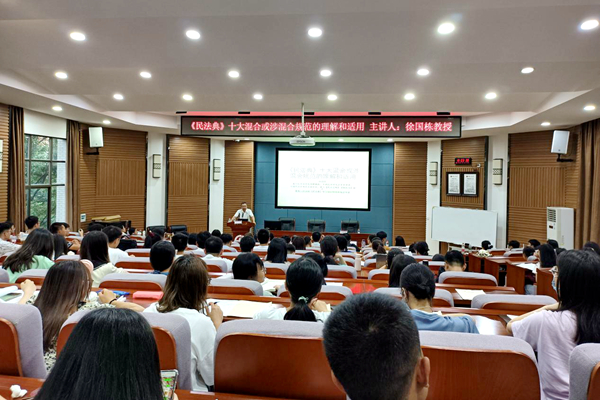 During the lecture, Professor Xu Guodong shared his observation and thinking on "mixing-tracking regulation", and made a careful and detailed analysis with extensive quotations and references. Proceeding from the inspiration of the Civil Code of Quebec, he not only discussed the application of the mixing as stipulated in Article 322 of the Civil Code, contracts for custody of property, mixing of property of adult and his/her guardian, mixing of personal property of shareholder and property of company, mixing of subject matter of mortgage on movable property and property of another person during the term of existence of security interest, and mixing of property of one of the spouses and community property beyond the Civil Code, but also analyzed the relationship between original property mixing and benefit mixing, as well as tracking rules in different areas. He also put forward many distinct and thought-provoking ideas in the legal area. With the profound theoretical foundation and proficient teaching skill, Professor Xu gained applause among the teachers and students, and received warm responses on the scene.
During the interaction with the teachers and students, Professor Xu answered in detail the questions concerning the mixing and mixing-related stipulations in the Civil Code, the expansion of the legislative power of the Supreme People's Court, and methods of legal research.
At last, Party Secretary Hu Yanxiang made concluding remarks. She said that the lecture is of lofty idea and rich connotation and includes detailed analysis of provisions and deep demonstration of idea, and that Professor Xu Guodong guided the teachers and students to travel inside and outside Civil Code, between civil law and common law, and between Roman law and modern law. She encouraged the students to become the absorber and contributor of knowledge.