Professor Liu Peilin, Dean of Institute for Rural Revitalization Research of Changsha University, Gives Lecture in HUTB
2021-07-08 18:21:21
On the afternoon of July 5, Professor Liu Peilin, Dean of the Institute for Rural Revitalization Research of Changsha University, was invited to give a lecture themed by "Research on Landscape Fragmentation, Restoration, Activation and Utilization of Traditional Village" in Conference Room 301 in the No.2 Office Building, which was presided over by President Huang Xin, and attended by all the teachers and graduates of the School of Public Administration and Human Geography.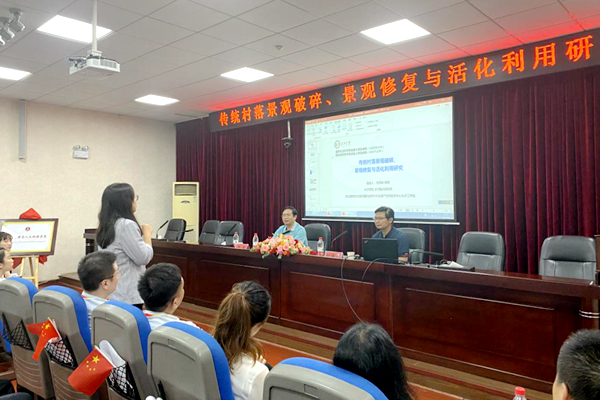 Taking the spatial pattern of Hunan rivers and the historical origin of traditional village distribution as the background, Professor Liu Peilin discussed the concept of analyzing, identifying and extracting landscape gene. By sharing the planning case of tourism towns, Professor Liu further explained how to skillfully apply biological knowledge to the research on the landscape fragmentation and restoration of traditional village. Professor Liu's report, which explained profound theories in simple language, is not only of theoretical innovation value, but also of practical guidance significance. Professor Liu conducted exchange and interaction with the teachers and students on the scene, patiently and meticulously answered the questions, and the participating teachers and students said they benefited a lot from the lecture.
President Huang Xin hoped that the teachers and students will learn from Professor Liu's innovative thinking, employ the interdisciplinary research method to further promote the construction of basic theoretical framework for the discipline of tourism, and contribute to the development of the School of Public Administration and Human Geography.
Liu Peilin, former Party Secretary of Changsha University, now serves as the Dean, professor and PhD supervisor of the Institute for Rural Revitalization Research of Changsha University, director for the national first-class undergraduate discipline construction program of "tourism administration", expert with State Council Special Allowance, director of Changsha Station of the International Centre on Space Technologies for Natural and Cultural Heritage under the auspices of UNESCO, director of the National and Provincial Joint Engineering Laboratory of Cultural Digital Protection and Creative Utilization Technology, chief expert for the National Natural Science Foundation of China Major Program, part-time professor for Peking University, Hong Kong Baptist University, and Hunan Normal University, and visiting scholar for the University of Waterloo (UW). He has received a lot of awards and honors, including New Century Excellent Talents of Ministry of Education, excellent social science expert of Hunan, famous teacher of Hunan, one second prize of the Outstanding Achievements Award of Scientific Research in Colleges and Universities (Humanities and Social Sciences), and more than 20 first and second prizes of ministerial and provincial-level achievement awards. He has presided over 7 projects funded by the National Social Science Fund of China, and published more than 10 monographs and over 200 papers. He has long been engaged on research in the fields of tourism town, culture digitalization, and virtual tourism.