[Lushan Lecutre:"Cultural HUTB"] Prof. Yang Yiming of JSNU Presents Lecture
2021-10-12 09:34:29
In the afternoon of October 10, Professor Yang Yiming, dean of the School of Linguistic Sciences and Arts at Jiangsu Normal University (JSNU), was invited to speak at the 6th"Cultural HUTB" of the Lushan Lecture. The lecture, themed "Thoughts and Practice on the Reform of Cultivating Linguistic Interdisciplinary Talents in the Context of New Liberal Arts," was held in multifunctional lecture hall of the library. The lecture was presided over by Vice President Yang Liangqi with the attendees of the representatives of the facility members and students of School of Literature and Journalism and School ofForeign Languages.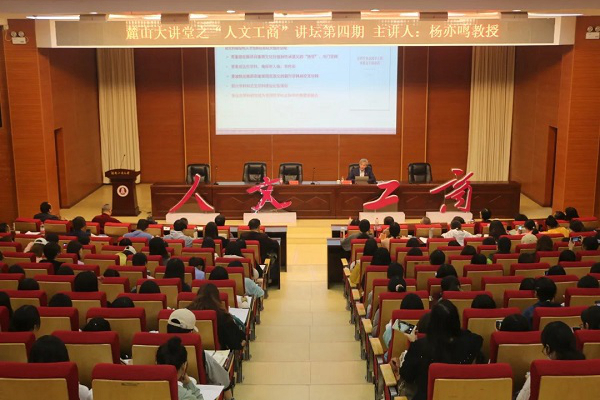 Professor Yang introduced the background, working foundation and the exploration and practices that have been made in the new liberal arts education reform.In his opinion, as the traditional linguists could not satisfy the needs of the development of the era, we should establish the new criteria of the interdisciplinary talents in the new era and cultivate the new lingustic versatile talents to enter the frontier and interdisciplinary areas and aid the construction of new liberal arts.
Professor Yang expounded his thoughts on the reform of new liberal arts construction and development, which include renovating the knowledge system with original theories to meet the needs of cutting-edge social sciences development; clarifying the requirements of new liberal arts talents cultivation and building a dual-degree talents cultivation approach; building a frontier-oriented cultivation system for new liberal arts talents. He put forward a set of effective reform measures for the new liberal arts construction and development, which are as follows: establish a cross-integrated modular dual-degree curriculum system; establish a diffluence cultivation system based on collaborative mechanism; exploring organization of teaching, management model and authorization method based on dual-degree programs; set up graded training goal and model of innovative thinking ability and hands-on ability; carry out a revolution of student-centered practice in class. Professor Yang said that these reform measures have pointed the directions of the development of new liberal arts reform, and injected impetus into it.
Yang Yiming, dean of the School of Linguistic Sciences and Arts at Jiangsu Normal University, director of the Jiangsu Provincial Key Laboratory of Linguistic Science and Neurocognitive Engineering, "Changjiang Distinguished Scholar" appointed by the Ministry of Education, renowned teacher under the NationalTen ThousandTalent Plan, first-level member of the Young and Middle-aged Leading Scientists under Jiangsu's 333 Project, professor, doctoral supervisor and postdoctoral contact tutor, is a key pioneer in the field of neurolinguistics research in China. He has long been engaged in the researches of neurolinguistics, theoretical linguistics and language competence. He also leads key projects of the National Social Science Fund of China, the National Basic Research Program (973 Program) and the National Natural Science Foundation of China. Professor Yang has also published nearly 200 papers and more than 10 works. (Written by Jin Chenyu and Yuan Haowei, and Photo by Wu Biao from School of Literature and Journalism)