[Rednet.cn] Hunan University of Technology and Business: We Shot a Video of My Motherland and Me to Present a Gift to the 70th Anniversary of New China
2019-09-22 15:30:56
Recently, the flash video of "My Motherland and Me" of the targeted poverty alleviation version of Hunan University of Technology and Business was broadcast on various network platforms. The video was organized and planned by the poverty alleviation team of the University, and costarred by local villagers, primary school students and university students for supporting education. It was the first flash video with the theme of targeted poverty alleviation.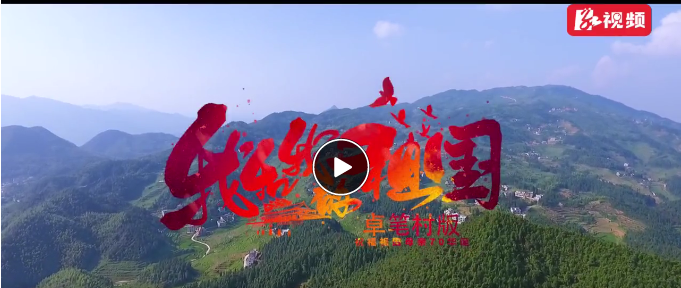 The video duration is 3 minutes and 32 seconds. With rich lens language and affectionate chorus, it reproduced the beautiful natural scenery, simple local conditions and customs of Zhuobi Village, Longxipu Town, Xinshao County - the counterpart of Hunan University of Technology and Business, as well as huge changes brought by the targeted poverty alleviation to local infrastructure, educational equipment and spiritual outlook of the villagers.
It was understood that the flash video was planned from Nov. 2018, song and rehearsed by students for supporting education, and shot by the alumni team for free during the summer vacation. The shooting lasted for a week. The shooting team and participants overcame the difficulties of transportation, hot weather, mosquito bites and so on, and finally presented the work completely on the eve of National Day. The video planner said that the flash video was not only a tribute to the 70thanniversary of New China, but also a popular way to spread the seeds of patriotism into the hearts of people in the poor mountainous areas, so that they have more sense of participation and honor.
The poverty alleviation teams of Hunan University of Technology and Business in the village pay attention to the organic combination of "poverty alleviation" with "wisdom supporting" and "ambition supporting". While completing the hardware construction of roads, water, electricity, houses, etc., they also try to help the villagers "completely get rid of poverty" from the perspective of ideology by building the village history center, training village teachers, and shooting patriotic videos, etc.