[Xiaoxiang Morning Herald] Hunan University of Technology and Business Team Won the Gold Champion Medal in the China Intelligent Robot Competition
2019-10-22 17:06:41
Recently, China Intelligent Robot Competition and the 21st China's Robot and Artificial Intelligence Competition were held in Qingdao, Shandong. It was the first time that the Intelligent Science Innovation Team from the Hunan University of Technology and Business assigned three teams to participate in the competition, and they won one gold champion medal and one second prize.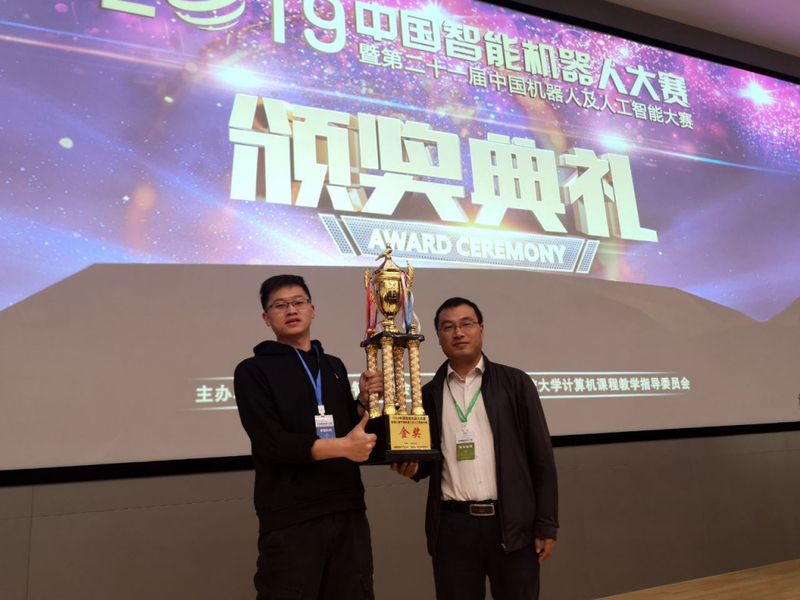 The Hunan University of Technology and Business dispatched one graduate student team and two undergraduate teams to participate in the competition of artificial intelligence pension (household robot) project. Such project achieved the interconnection & intercommunication of robot and IoT intelligent household, and aimed to replace the old man or woman or the crowd with inconvenient body with robots to execute some operations, for instance, the robot can control the door, window, light and other equipment in house freely, can monitor the indoor environment status and safety in real time, and can take appropriate measures as per setup for the emergency. Through the endeavor of the advisors and team members, the participation team members passed the preliminary competition smoothly, and defeated over 70 participation teams from Tongji University, Northwestern Polytechnical University, etc. in the finals. Finally, the graduate student team was awarded the champion and gold medal of participation project (only ten), the undergraduate team was awarded one Second Prize, and the Doctor Jiang Lin was awarded the Excellent Guide Teacher Award.
This competition was hosted by Chinese Association for Artificial Intelligence and Teaching Steering Committee of University Computer Courses in Institutes of Higher Education of the Ministry of Education. The competition set up 49 kinds of competition projects (12 categories) in total, and attracted over 1,000 teams from 178 colleges and universities such as Tsinghua University, Harbin Institute of Technology, etc.
Correspondent Cao Jinwen Xiaoxiang Morning Herald's Journalist Li Kefu