[Hunan Daily] Hunan Province Hold the Classroom Teaching Competition for Teachers in Universities and Colleges
2019-10-28 17:09:38
On October 26, the 2019 Competition Finals of Classroom Teaching of Teachers in Regular Institutions of Higher Learning in Hunan Province and Seminar of Class Teaching Reform were held in Hunan University of Technology and Business. A total of 71 teachers from 33 colleges and universities in the whole province displayed the whole teaching process on site, and over 400 teachers from colleges and universities in the province conducted the empathic learning on the site.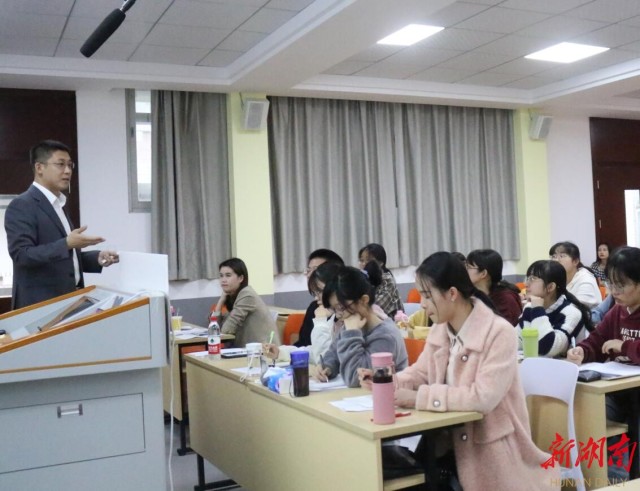 This year's teaching competition is divided into liberal arts, science, engineering, politics and ideology. Judges gave their marks on site, eventually, 37 teachers stood out and own the first prize, considering the quarter-final marks. Central South University, Hunan University, Hunan University of Technology and Business, 13 higher learning institutions won the Excellence Organization Award.
In the afternoon, the Seminar of Class Teaching Reform Wang Xiangyu was held, the gainer of the First Prize of Special Ideology and Politics Project of the Fourth Teaching Competition of Young Teachers in National Colleges and Universities and the Doctor of School of Marxism, Southwestern University of Finance and Economics, made the special report and demonstration teaching. Representatives of final judges and experts commented teachers in the final round, and leaders granted the First Prize and Excellence Organization Award to winning individuals and units.
The competition activity of this year was co-organized by Hunan University of Technology and Business, and 235 teachers from the regular institutions of higher learning in the whole province were recommended to participate in the intermediary competition of provincial classroom teaching competition to achieve the full coverage of 52 colleges and universities (37 ordinary undergraduate colleges and universities and 15 independent colleges) from which the participating teachers are. Over 5,000 teachers participated in the school-level preliminary competition, and top 30% of each group in provincial intermediary competition entered the finals.