[Chinanews.com] HUTB and China Datang Corporation Ltd. Jointly Hold School-Enterprise Exchange Symposium
2020-11-02 16:46:31
On the afternoon of October 28, HUTB and China Datang CorporationLtd. jointly held a school-enterprise exchange symposium. The symposium was attended by Chen Xiaohong, HUTB President and CAE Academician, Vice Presidents Zeng Fuqiu and Li Dingjun, Party Members and Deputy General Manager of China Datang CorporationLtd., and Peng Yong, Chairman of Datang Huayin Electric Power Co.,Ltd.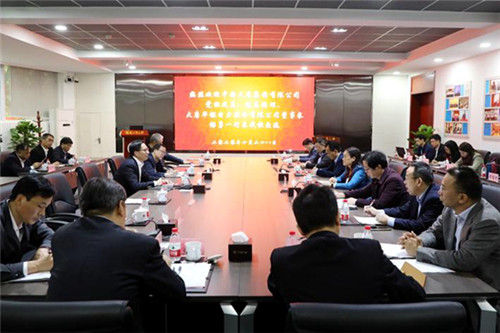 Academician Chen Xiaohong introduced the basic information of HUTB's cross-composite scientific research team, as well as the high-level policy recommendations, national-level scientific research projects and application results HUTB has obtained in promoting the construction of a smart society, the development of the digital economy, big data and intelligent decision-making. Academician Chen Xiaohong hoped that both sides can carry out in-depth cooperation around the application of Big Data, AI, blockchain and other cutting-edge technologies in the smart energy field to fully play both sides' scientific research advantages and to actively complement each other.
Peng Yong introduced the opportunities and challenges facing China's energy industry in the realization of the major goal of "Carbon Emission Peaks in 2030 and Carbon Neutrality in 2060", as well as energy management, supply linkage, and grid-source integration. He hoped that the company can rely on Academician Chen Xiaohong and her team's high-level scientific research decision-making ability and rich smart management experience and apply the latest research results to jointly promote the application of smart energy and make new breakthroughs regarding the theory and application of energy management
Focusing on the major strategic demands in China's intelligent energy development, the attendees deeply discussed such issues as efficient integration of energy resources, deep mining of energy big data, accurate prediction of energy demand, and intelligent energy management. Both sides reached a consensus on using cutting-edge technologies such as Big Data, AI, Internet of Things, and blockchain to promote deep cooperation in energy management.
After the symposium, Peng Yong and his delegation visited HUTB's Key Laboratory of New Retail Virtual Reality Technology in Hunan Province, Smart City Laboratory, Intelligent Manufacturing Laboratory, Ecological Environment and Big Data Analysis Laboratory, Environmental Intelligent Monitoring and Big Data Analysis Laboratory, AI and Robotics Innovation Laboratory, Internet of Things Technology Laboratory and Academician Achievement Exhibition.
Reported by Correspondent Zhang Gaoyang
Link: http://www.hn.chinanews.com/news/fzfl/2020/1030/401222.html