[Chinanews.com] Academician Chen Xiaohong Gives Lecture to Postgraduate Freshmen at Lecture Session of "My Ideal and Road of Research"
2020-10-21 16:46:31
Recently, HUTB has held the fifth lecture session of "My Ideal and Road of Research", and Chen Xiaohong, HUTB President and CAE Academician, gave a special lecture entitled "Frontier Trends and Research Innovation in Digital Economy Era", with all 2020 graduates as well as relevant teacher and student representatives attending the lecture.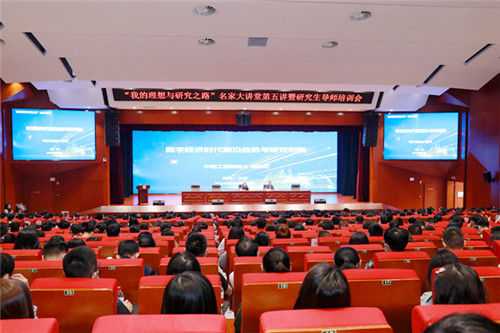 Academician Chen Xiaohong deeply explained the topic from three aspects: the opportunities and challenges in the digital economy era, the integration and application of emerging information technologies in the digital economy era, and research innovation and talent growth in the digital economy era. She expounded on the basic concepts and development history of big data, blockchain, AI, 5G, quantum computing, virtual reality and other technologies as well as their integrated applications in the digital economy era. She also explained the research topics and ideas from the connotation and elements of scientific issues, the quality of outstanding researchers, researching and paper writing and other aspects; she analyzed talent growth in the digital economy era from the six aspects, namely, digital economy and new-generation information technology that accelerate talent transformation, innovation and patriotism that inspire talents to struggle hard, striving to be college students with noble ambitions and thoughts, striving to be powerful "advancers" through hard working, striving to be enthusiastic "seekers" through learning, and striving to be warm "transcenders" through thinking in big-picture terms.
Academician Chen Xiaohong pointed out that young students are right in the new era where they "must struggle" and in the life period where they "should struggle". HUTB is a big stage where all of them "can struggle". HUTB's largest driver, most fascinating point, and most moving story is to allow all students to become better selves and pillars of the society. She has raised four expectations for the young students. First, in terms of interdisciplinary integration, the young students are expected to lead innovation, act boldly to break boundaries and to explore the unknown, and keep moving towards new academic heights; second, in terms of scientific, humanistic, and artistic integration, they are expected to enhance integrity and humanistic quality; third, in terms of cultural integration, they are expected to broaden vision, learn to respect cultural differences, constantly widen their international horizon, and grow up together harmoniously while learning from each other; fourth, young students are expected to be patriotic, full of justice, fearlessness, and sympathy, and act like warriors to move toward an infinitely possible future.
(Reported by Zhang Gaoyang and Chen Luming)
Link: http://www.hn.chinanews.com/news/qyjw/2020/1019/399861.html