[Rednet.cn] HUTB Alumni Entrepreneurs Visit Yueyang
2020-09-27 16:46:31
News of Rednet.cn on September18 (Reporter Cai Ye) — On September 17, alumni entrepreneurs, led by Xia Jichun, former Vice Party Secretary-General and Standing Vice President of the Alumni Association of Hunan University of Technology and Business (HUTB), visited Yueyang. Lin Zhangliang, a member of the Standing Committee of the CPC Yueyang Municipal Committee, Secretary of Yueyang Discipline Inspection Committee and Director of Yueyang Discipline Supervision Committee, presided over the seminar, and Vice Mayor Chen Gehui introduced the City of Yueyang.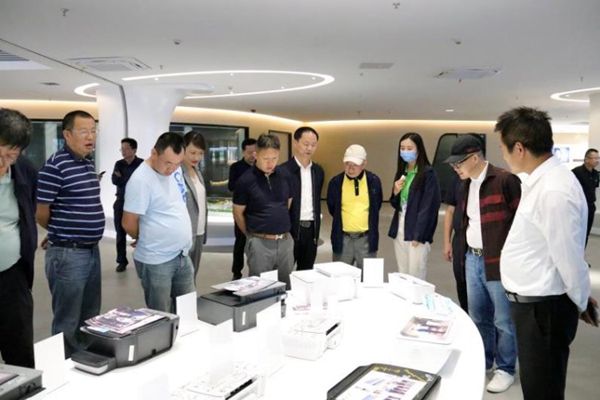 During the seminar, a head from Yueyang Commercial Grain Bureau recommended project proposals for investment; entrepreneur representatives made their respective speeches and discussed cooperation in the fields of education, finance, building engineering, electronic information, cultural tourism, etc. Prof. Liu Siwei, a renowned economist, first-tier honorary professor of HUTB and member of Hunan Literature and History Research Hall, analyzed China's economic situation inthe context of China-US trade war and gave economic instructions to Yueyang.
Mr. Lin expressed that Yueyang Discipline Inspection Committee would exert its roleinimplementation supervision and assurance and indevelopment promotion and improvement to its fullest,to create a favorable business environment and propel the high-quality economic development of Yueyang. Meanwhile, heexpected that entrepreneurs would know more and better about Yueyang, give full play to their professional advantages, integrate all-round resources, and give substantial support to Yueyang for accelerating its construction course as a national-level regional central city and metropolis.
Mr. Xia stated that Yueyangenjoys excellent environment for attracting investment, substantial preferential policies and sound industrial bases, and contains tremendous development potential and wide cooperation space; in the future, he would recommend Yueyang as a promising investment destination to more outstanding entrepreneurs who can seize opportunities and share development dividends.
The delegation also made a field visit to Chenglingji Hunan New Port Area. They visited the Old Chenglingji Port Terminals, Chenglingji International Container Terminals, Huawei New Kinpo High-end Manufacturing Base, Chenglingji Port-vicinity Industry Cluster, Fuxingheli New Materials Co., Ltd., Chenglingji Comprehensive Bonded Zone (New Kinpo Pavilion), New Port Area Planning Pavilion, etc. Impressed by the spectacular ecological environment, advantaged port resources, superior transportation and geographical conditions, well-established platform functions, strong industrial foundations and emerging competitive industries of the New Port Area, they gasped with admiration at the New Port Area's acting as a new growth pole for industrial development of Hunan. It is expected that the New Port Area will witness accelerated development and transformation, and manifest greater charisma.
Wang Wenhua, Vice Secretary of the Party Working Committee and Director of the Administrative Committee of the New Port Area, extended warmhearted welcome to the entrepreneurs, expounded the geographical advantage and industrial development situations of the New Port Area to them, and expected them to have large-scale and promising projects settled here, to makecontributions to the New Port Area, an ideal destination of industrial development.