[New Hunan] Most Beautiful Teacher| Zhang Yuan: Be A Good Teacher and Deliver Quality Courses
2020-12-31 16:28:39
News from New Hunan Client-Science and Education News (Reported by Wang Lixia and Chao Jinwen) After attending the last lesson of General Logic delivered by the HUTB lecturer Zhang Yuan on December 25, a student surnamed Huang said, "Ms. Zhang has a gentle temperament. She raises a lot of questions, and is good at encouraging us to find answers. This makes the boring course interesting".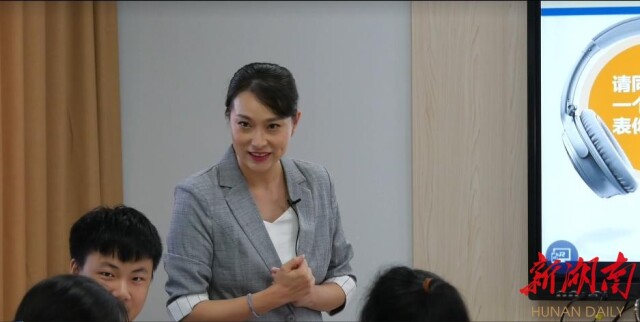 Zhang Yuan, while being emotional, delivers the most rational course. She said, "whatever the course is, a teacher should at least delight students and help them learn something". Upholding this ideal, Zhang Yuan received the first prize in this year's Hunan provincial classroom teaching competition, and was designated as "Teaching Expert in College and University" of Hunan Province.
When looking back on the competition held two months ago, Zhang Yuan said emotionally, "my eyes are suddenly full of tears when my name was announced".
"I love teaching. I want to thank this profession for making me better," said Zhang Yuan. She remembered how nervous she was when she gave a lesson for the first time 10 year ago. "I was all blushedand afraid to look at students. I just kept on talking," said Zhang Yuan. A student complained to the dean that Zhang Yuan's voice was too low to be heard. The dean told her that she will surely become a good teacher as she graduated from a famous university. Three year later, she gave a lesson to the same students who were junior students. After the lesson, a student said, "I remember you as a gentle person. Now your voice is as high as striking a gong". In addition to progress in basic teaching qualification and attitude, she has gained rich experience in teaching and upgraded her teaching philosophy over the 10 years. She demonstrated the quality of hard work and tenacity in this year's teaching competition.
When recalling her experience in this year's provincial classroom teaching competition for college and university teachers, she reviewed how she undertook the arduous task of preparation for the preliminary contest in July, the provincial contest in September and the provincial finals at the end of October. When preparing for the provincial contest, she had to develop a teaching plan and coursewares for 20 class hours, shoot a 45-minute teaching video, and write her teaching reflection on the video lesson. In addition, she was asked to present one of the 5 coursewares on site 40 minutes before the finals. In order to improve competitiveness, HUTB and the school organized multiple events to hone the lesson. In this process, Zhang Yuan increased her teaching plan from more than 100 pages to more than 200 pages, while developing several versions of courseware of a knowledge point. Zhang Yuan appreciated the leaders and colleagues of HUTB and the school for their assistance and guidance in the process, from the selection of teaching contents and the development and type setting of courseware. "The first prize conferred to me is not only the result of my hard work, but also the result of team work," said Zhang Yuan.
Zhang Yuan said, "Although the competition was a laborious process, I managed to gain a lot. Through the competition, I realize that a good teacher should center on the capacity development of students, and use a teaching plan to encourage them to think, explore rules and draw conclusions. By doing so, students can extend what they learn from textbooks to the real society. Through the competition, I honed my teaching language, expanded the depth and breadth of knowledge, and combined teaching contents with education." She said that the teaching competition allowed her to better understand the role of competition in promoting teaching, learning, reform and upgrade.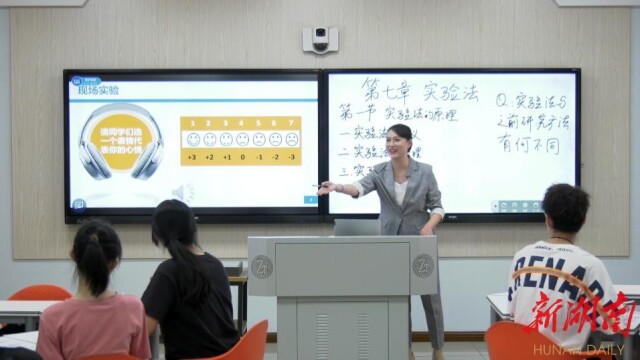 She said, "although I was confronted with one obstacle after another in the preparation process of the competition, I fulfilled the promise of taking whatever is needed to finish the task without regret." Zhang Yuan franked that after more than 10 years of teaching practice, she gained a sense of security and steadiness the moment she set her feet on the platform. Even in case of emergencies, she can respond in a composed manner. The most obvious change in her transition from a rookie teacher to a teaching expert is evidenced by her ability to master the direction and rhythm and be eloquent and skillful in teaching. In the classroom, she frequently cites most-debated examples to liven things up, and guides her students to think with a humorous method. For example, when teaching General Logic, she uses romantic or outdated love stories to help students better understand how to express the equivalent judgement of negative judgment.
Teaching is more than competition. Zhang Yuan's aspiration is to be a good teacher and present quality courses. But what is a quality course?
From her point of view, a quality course is more than teaching plan and teaching manner. In this year's provincial teaching competition, some teachers demonstrated good teaching plan, excellent teaching manner and fluent language, but they ended up with poor scores. After reflecting on their failure, she finds that what separates them from good teachers is approach rather than skill. Skill is superficial knowledge points. Approach is more desirable than skill. It refers to the intention to confer a professional ideal and to guide students find answers through thinking and exploration. Skill is likened to giving people a fish, while approach is likened to teaching people how to fish. Moreover, Zhang Yuan also realized the importance of scientific research to teaching and learning. She said that scientific research should be closely linked to hotspot topics and frontier research achievements, which will help students master the approach.
Zhang Yuan, now 38 years old, is mother to two kids. Zhang Yuan said with a smile, "being a teacher and being a mother have a lot in common. For example, they have the shared aspiration to learn as long as they live, to be affectionate, to shoulder responsibility, and to help their children and students grow happily."
Link:https://m.voc.com.cn/wxhn/article/202012/202012310109207181.html