HUTB Conducts Emergency Response Drills for COVID-19 Epidemic in Spring
2022-02-26 15:57:35
In order to implement the Tips on Prevention and Control of COVID-19 Epidemic at Beginning of Term in Spring issued by the Department of Education of Hunan Province and the spirit of the video dispatching conference on prevention and control of COVID-19 epidemic at beginning of term in spring of the provincial education system, and to further improve the emergency response ability, HUTB, on the afternoon of February 25, organized an emergency response drill for COVID-19 epidemic in Zhicheng Building based on HUTB Emergency Response Plan for COVID-19 Epidemic at Beginning of Term in Spring 2022. Vice President Yi Mianyang came to the drill site to provide the guidance. Heads and staff of relevant departments of the Epidemic Prevention and Control Leading Group participated in the drill.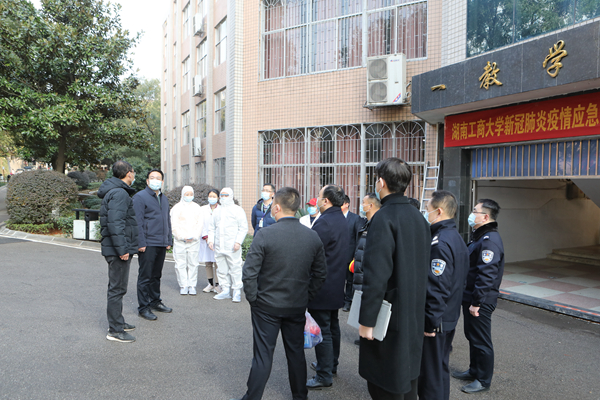 In this drill, it is assumed that a student received a phone call from CDC, informing him that his health code has changed to red due to close contact with a confirmed case, and asked him to cooperate with the implementation of relevant prevention and control measures. A student is studying in the classroom on the second floor of Zhicheng Building. After receiving the notice, he stays in place and immediately reports the situation to school which reports to the responsible person of prevention and control office who immediately gets in touch with the community prevention and control specialist and receives relevant work instructions.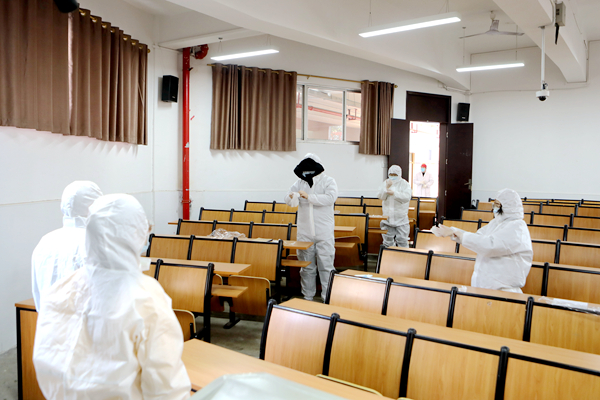 Immediately, the leaders of HUTB, the heads of relevant departments and the epidemic prevention and control staff quickly arrived at Zhicheng Building, sealed off the scene, prepared materials, set up temporary command post, and immediately carried out related works of emergency response. The responsible persons and instructors of relevant school quickly got in touch with the student with red code in the classroom, and the epidemic prevention and control staff entered the classroom wearing protective clothing, instructed the student to wear protective clothing, and guided the student to take a special bus to the health monitoring point for temporary isolation. After the prevention and control office reports the situation to the community prevention and control specialist, the instructor will transfer the student to the centralized isolation point designated by the government in the same bus.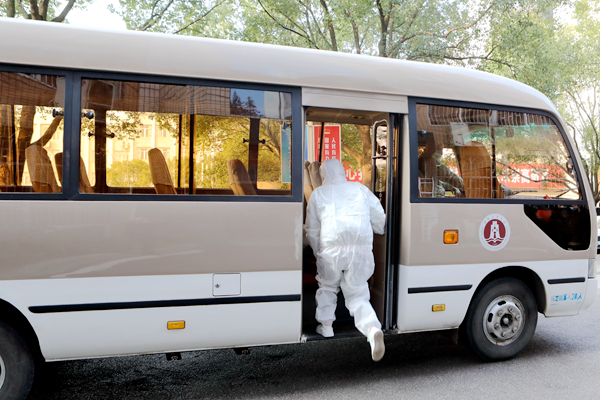 After the student with red code left, the epidemic prevention and control staff completely disinfected the indoor and outdoor of Zhicheng Building and the bus that completed the transshipment, and carried out the nucleic acid detection and sampling for other personnel who did not carry out centralized isolation at the health monitoring point. HUTB closed the relevant floors of Zhicheng Building, and the building shall only open after being tested by professional institutions and confirmed that there is no epidemic risk.
After the drill, Vice President Yi Mianyang summarized the effectiveness, shortcomings and improvement measures of the drill, and stressed that we shall attach great importance to it, get ready for it, do a good job in epidemic prevention and control at beginning of term in the spring with an unrelenting attitude, and earnestly build a strict defense line for normalized epidemic prevention and control. (Reported by Zhang Gaoyang)