[Focus on the two sessions] Chen Xiaohong, member of the CPPCC, CAE academician and Party Secretary of HUTB, Receives Wide Attention for Performance of Duties in Two Sessions
2022-03-15 16:03:02
Spring comes early in the East and we strive for the future. Fifth Session of the 13th National People's Congress and Fifth Session of the 13th National Committee of the Chinese People's Political Consultative Conference were successfully opened in Beijing on March 5 and March 4 respectively. 20th National Congress of the Communist Party of China will be held in this year, and this year is an important year for China to enter a new journey of building a socialist modernized country in an all-round way and marching towards the goal of the second century. Convening the two sessions in the new era is of great task, extraordinary significance and worldwide attention. Chen Xiaohong, member of the National Committee of the Chinese People's Political Consultative Conference, CAE academician and Party Secretary of HUTB, with full political enthusiasm and a high sense of mission, actively performed their duties and fulfill their duties, submitted the eight CPPCC proposals such as Suggestions on Strengthening the Supervision of Cross-border Data Flow in China, Adhere to Systematic Thinking and Build a Long-term Mechanism for High-level Consumption of New Energy Security, Accelerate the Steady Development of Metaverse Market, Make China's Digital Economy Stronger, Better and Bigger, Suggestions on Developing a New Format of Smart Nursing and Accelerating the Construction of a New System of Intelligent Old-age Care Services, Suggestions on Resolving the Dilemma of Technology Blockade in Key Core Industries in China, Suggestions on Supporting Changsha-Zhuzhou-Xiangtan Urban Agglomeration to Create a Comprehensive National Science Center, Increase the Digital Skills Assistance of Poor Groups and Help Common Prosperity, and Promote Party History Education to Integrate into the Whole Process of Moral Education in Colleges and Universities, which have been widely concerned and hotly debated by the people.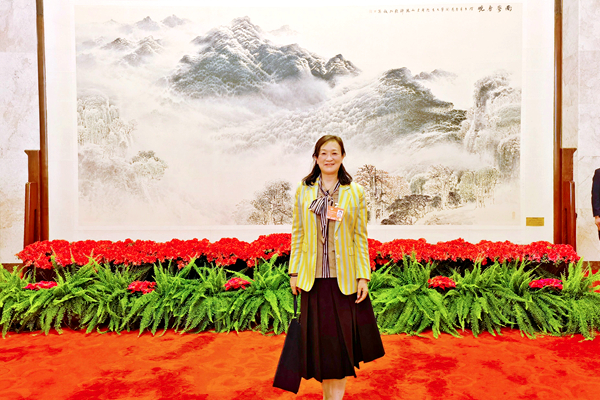 It is suggested by CPPCC member Chen Xiaohong for the supervision of cross-border data flow in China to improve the laws and regulations system of cross-border data flow jurisdiction, promote the capacity building of cross-border data flow security, strengthen the construction of internal audit mechanism of cross-border data flow security, promote the Chinese governance plan of cross-border data flow, and build a new mechanism that integrates cross-border data supervision authority and technical resources; for the new energy security to build a new energy development mechanism with balanced and coordinated development and consumption, build a new power system with four-dimensional integration and interaction of "source, network, load and storage", open up the commodity value chain of power and its auxiliary services, and explore the construction of a new power system multi-compound risk monitoring, prevention and control system; for the development of metaverse market to speed up the underlying technology layout and R&D resources investment of the metaverse, build an metaverse industry standard system, gain insight into the new needs of market development, implement inclusive and prudent new supervision, and deepen the cross-integration of disciplines and specialties; for the intelligent old-age care services to speed up the innovation of new industries, new formats and new models of intelligent care such as "network care", accelerate the implementation of intelligent old-age care service system, promote the consumption demand of intelligent care and old-age care, and expand high-quality nursing talent team; for resolving the dilemma of technology blockade in China's key core industries to find out the "bottleneck" technology in key industries and the base of counter-measures, concentrate on supporting subjects in key areas to jointly promote key core technology research, increase efforts to support the market promotion and application of domestic alternative technologies, increase the construction of basic research talents and engineers in key areas, strengthen the comprehensive support of industrial chains in key core industries, and enhance comprehensive policy support for key core industries; for the creation of a comprehensive national science center for Changsha-Zhuzhou-Xiangtan urban agglomeration to support the construction of major innovation platforms and major science and technology infrastructure in Changsha-Zhuzhou-Xiangtan urban agglomeration, build a national regional S&T innovation center, and create a comprehensive national science center before 2025; for the digital skills assistance for poor groups to speed up the layout and construction of digital service infrastructure in underdeveloped areas, increase the supply of digital public services for poor groups, strengthen the digital skills education and training for poor groups, and strengthen the digital social governance in underdeveloped areas; for the integration of Party history education into the whole process of cultivating people by virtue in colleges and universities to strengthen the construction of laws, regulations, systems and mechanisms, create the systematic and diversified educational contents, construct the lively and fun educational forms, establish a whole process and all-round Party history education situation, and conduct the scientific assessment and comprehensive evaluation.
These proposals closely follow the pulse of the times, are based on the forefront of science and technology, respond to social concerns and meet the development needs, and fully reflect the forward-looking and insight of an expert CPPCC member. More than 100 key media and platforms reported or reprinted the policy suggestions put forward by Chen Xiaohong in depth, including Xinhua News Agency, Xinhuanet, People's Daily, People's Daily Online, CPPCC Newspaper, CPPCC Network, Guangming Online, CPC News Network, Science and Technology Daily, CSTNet, Economic Daily, China Economic Net, China Economic Weekly, WeChat account "Sublime Words Education" of Ministry of Education, China Education News, China Education News Network, China Net, China News Network, World Wide Web, Wokercn.CN, China Youth Network, ChinaHIGHTECH, China Education Online, China E-government Network, Hunan People's Congress Network, Hunan CPPCC Network, Hunan Provincial People's government Network, Sanxiang United Front Network, Hunan Daily, Hunan Today, Huasheng Online, Red Net, Xiangshengbao, Xiaoxiang Morning Herald, Liaoning Provincial People's government Network, Hubei Daily, Hong Kong Commercial Daily, Oriental Net, Phoenix Net, Southeast Network, Hebei News Network, Yunnan Net, YCWB.com, Hefei Online, GOG.cn, Ningxia Radio and Television Station, XZXW.com, Taiwan.CN, SZNEWS.COM, YNET.com, Guiyang Daily, Tencent.com, Sina.com, Sohu.com and 163.com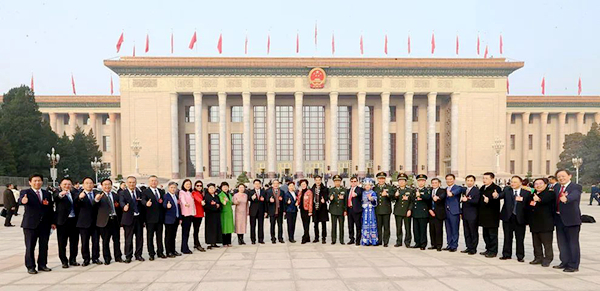 On the eve of the two sessions, more than ten key media, including People's Daily, People.cn, China News, China Education News, Hunan Daily, Hunan CPPCC Cloud, Red Net and Xiaoxiang Morning Herald, interviewed Chen Xiaohong, who is going to Beijing to perform her duties, and reviewed and reported her CPPCC proposals and the way to perform her duties. From 2018 to 2021, based on her own scientific research achievements, and adhering to the problem-oriented and demand-driven method, Chen Xiaohong submitted nearly 30 CPPCC proposals on topics such as the soil pollution remediation fund, classified disposal of municipal solid waste, ecological civilization construction, blockchain technology, accurate poverty alleviation and climate change, foreign electricity into Hunan, management of scientific research funds, ecological monitoring management of big data, water-saving society, smart city, power battery recycling, integration and development of artificial intelligence and blockchain technology, core key supply chain security, energy security, ecological protection compensation, digital economy, innovative engineer title, city public crisis management, smart urban-rural integration, digital currency risk supervision, data factor market, resilient city, new business intellectual property rights. Many proposals have been positively instructed by the leaders of the Party and the state, adopted and applied by relevant state ministries and commissions, and incorporated into national policy documents, which have played a positive role. CPPCC Member Chen Xiaohong and other CPPCC members in Hunan jointly submitted the proposals on the establishment of an intelligent manufacturing special zone in Hunan, national agricultural climate zoning, creation of Changsha-Zhuzhou-Xiangtan national equipment manufacturing innovation center, construction of Yiyang – Loudi section of Hohhot-Nanning High-speed Railway, development of stable supply of livestock and poultry production, creation of national artificial intelligence innovation and application pilot zone in Hunan, creation of Changsha-Zhuzhou-Xiangtan national advanced manufacturing demonstration zone, etc., focusing on major projects and making suggestions to help economic and social development.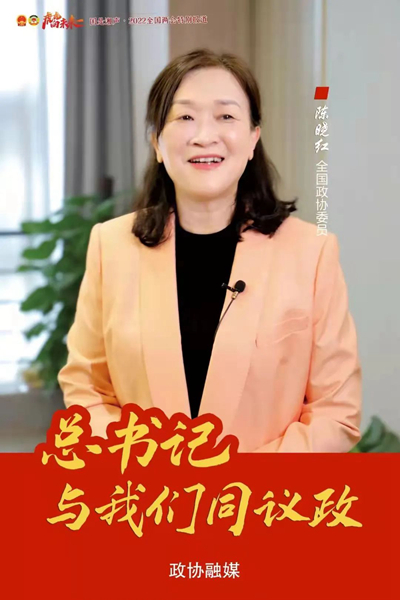 In the last performance year of the CPPCC member, Chen Xiaohong, member of the National Committee of the Chinese People's Political Consultative Conference, CAE academician and Party Secretary of HUTB, successfully performed the duties of CPPCC during this term where she contributed a number of high-quality CPPCC proposals to provide the high-level intellectual support for serving the country and Hunan's economic and social development. It highlights the responsibility of CPPCC members, gives out the voice of HUTB, and fully demonstrates HUTBer's good image of caring for the world, being the first, and being practical, which further lays a solid foundation and creates a new development pattern for realizing the goal of "Three Upgrades and Three Highlands" and building an innovative first-class technology and business university with distinctive characteristics. (Reported by Zhang Gaoyang, Chen Luming, Peng Jinglan)
Related links:
http://www.news.cn/politics/2022lh/2022-03/07/c_1128448490.htm

https://wap.peopleapp.com/article/6552694/6431992

https://m.peopledailyhealth.com/articleDetailShare?articleId=b5a8e4cf636c4e2b8e7cc4f953121e3a

http://hn.people.com.cn/n2/2022/0304/c336521-35160082.html

http://finance.people.com.cn/n1/2022/0309/c1004-32370995.html

http://dzb.rmzxb.com/rmzxbPaper/pc/con/202203/11/content_21285.html

http://www.rmzxb.com.cn/c/2022-03-08/3069876.shtml

https://m.chinanews.com/wap/detail/chs/zw/9690268.shtml

http://newapp.jyb.cn/app_pub/zixun/tuijian/202203/t20220303_67769.html?docId=67769

https://my-h5news.app.xinhuanet.com/xhh-pc/article/?id=1286d812-adbf-4600-81e4-3679d00cbb72&timestamp=19964

https://mp.weixin.qq.com/s/8PHElt8ruTXJ1F54aAXChw

http://digitalpaper.stdaily.com/http_www.kjrb.com/kjrb/html/2022-03/08/content_531684.htm?div=-1

https://proapi.jingjiribao.cn/detail.html?id=392302

https://proapi.jingjiribao.cn/readnews.html?id=264305

http://www.ceweekly.cn/2022/0310/376868.shtml

https://mp.weixin.qq.com/s/cT29dyi6szHYZbvvZPeJ1A

https://mp.weixin.qq.com/s/Ndsv1-0f30-3pOU_gO0ofg

https://mp.weixin.qq.com/s/SN07Ochd6kAtnnEnfJjZPA

https://mp.weixin.qq.com/s/Oq95Cn64srXSqwMHhSYhfA

https://www.mgtv.com/b/407408/15683449.html?t=videoshare&tc=imXtpYQGmKp4&f=wxf&dc=51e29dc5-ac3f-49c6-923a-e5494d1aaab4

https://hunan.voc.com.cn/article/202203/202203031529105260.html

https://www.hunantoday.cn/article/202203/202203101020515850.html

https://www.mgtv.com/b/407417/15616059.html?f=m_wx&dc=82417E99-4FAF-47FD-BA4F-1ECBCF5DB5FA

https://moment.rednet.cn/pc/content/2022/03/03/10967201.html

https://moment.rednet.cn/pc/content/2022/03/08/10984781.html

https://m.chenshipin.com/article?id=106804&sign=dc813857f

http://www.hkcd.com/hkcdweb/content/2022/03/08/content_1329444.html