Good News! Students of HUTB Win the Special Prize of National "Challenge Cup"
2022-04-01 16:11:07
On March 29, the organizing committee of the 17th "Challenge Cup" National College Extracurricular Academic and Scientific Works Competition co-sponsored by the Central Committee of the Communist Youth League of China, China Association for Science and Technology, Ministry of Education of the People's Republic of China, Chinese Academy of Social Sciences, All-China Students' Federation and People's Government of Sichuan Province and hosted by Sichuan University announced the winners, and HUTB won one national special prize, one second prize and two third prizes. In addition, HUTB is the only university in Hunan Province that has won the national special prize, and it is also the only one of finance, technology and business universities that has won the special prize, and this is the national competition where the largest number of awards have been won and the best results achieved.
Research on Compound Public Health Risk Regulation and Multi-dimensional Collaborative Governance Strategy from the Perspective of Resilience, which won the national special prize, was directed by teachers Xu Xuesong and Li Xiaobo of HUTB and attended by students Liu Gengchen, Wei Zehong, Zuo Huiting, Yan Chuhan, Chen Dinggang and other students. Under the guidance of the policy proposal Face the Epidemic Prevention and Control, Accelerate the Innovation of Emergency Management System and Improve the Governance Capacity submitted by Chen Xiaohong, Party Secretary and CAE Academician to the relevant ministries and commissions, the work has received strong support from the major research plan Big Data Driven Public Management Decision Innovation Mode and Integration Demonstration Platform and major project Resilient City Risk Prevention and Control and Management Decision Supported by Intelligent Technology of the National Natural Science Foundation of China. The team started the social practice research in July 2020 and one-and-a-half-year social survey, data collection and community volunteers were carried out. The COVID-19 pandemic big data platform of Smart City Lab was used to carry out the accurate data analysis, innovatively put forward an analytic hierarchy process model of epidemic risk based on granular computing, and constructed a blockchain sharing system of public health safety emergency information and a compound risk resilience prevention and control strategy. The results contributed to the big data work of epidemic prevention and control in Hunan Epidemic Prevention and Control Group.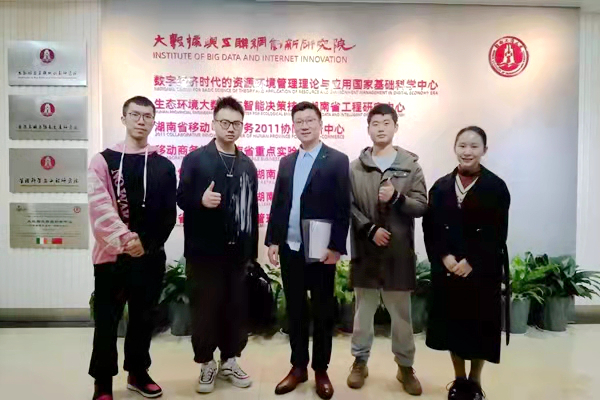 A total of 49 special prize works, 109 first prize works, 320 second prize works and 755 third prize works were selected in this "Challenge Cup" National College Extracurricular Academic and Scientific Works Competition, and all four finalists of HUTB won awards. In addition to the national special prize, Research on the Construction of Collective Memory of Half Quilt created by Chen Jie, Li Xiao, Liu Jieyu, Lin Ling, Deng Wei, Guo Xiuyan, Dong Jiaqi and Dai Shuqiao under the guidance of Long Pu, Zeng Jing and Shi Zhuohong won the national second prize; Research on the Modernization of Governance Ability of Blockchain Empowerment Digital Village - Taking National Pilot Shaoshan City as an Example created by Tao Ziping, Zhou Lin, Li Wenlin, Li Zhe, Wu Yunfang, Tang Qi and Tong Yulu under the guidance of Zeng Jing, Xu Xuesong and Liu Renchun and Research on the Influence of Cold Chain Logistics Development on Pig Supply Price created by Li Bei, Tang Kun, Wang Tao, Zhang Yubo, Huang Mengling, Chen Yaxin, Yao Jie, Tang Chen, Long Ying and Ma Yuanlu under the guidance of Li Jianfei won the national third prize.
Chief leaders attached great importance to the preparation for the Challenge Cup, and all schools and relevant functional departments gave strong support, close cooperation and promotion. Chen Xiaohong, Party Secretary and CAE Academician, cared for and guided the participating teams for many times and gave great encouragement. Youth League Committee carefully organized the "Challenge Cup" competitions at various stages, and invited experts inside and outside HUTB to review and refine the works of each team, which greatly enhanced the competitiveness of the project. All schools responded positively and participated actively, and submitted 51 works in total. After the competition evaluation inside, 10 outstanding works were selected to participate in the provincial competition held in May 2021, and won 2 special prizes and 2 first prizes. These 4 works were shortlisted for the national finals of Challenge Cup. Due to the online defense in this national competition, there are strict requirements on the on-site network and defense environment. With the joint efforts of relevant departments, schools and participating teams, HUTB completed the layout of the defense classroom and equipment debugging ahead of schedule, and provided repeated drills by the team to ensure the smooth progress of the final defense. (Reported by Youth League Committee)