Faculty Members who are Party members Actively Participate in Epidemic Prevention and Control
2022-04-03 16:13:03
Check body temperature, paste bar code, verify identity, and maintain order... Recently, at the nucleic acid detection site of all faculty and students, staff volunteers dressed in blue protective clothing are particularly eye-catching. They move calmly and have a kind tone, rendering a burst of warmth even across the masks, which has become a beautiful landscape in the epidemic prevention and control work of HUTB.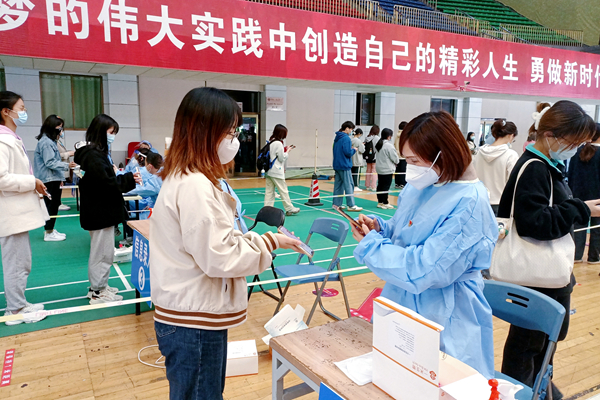 Epidemic is an order, and prevention and control are a responsibility. On March 26, the Party Committee issued a proposal calling on the majority of Party members to set an example in epidemic prevention and control and serve the masses, and to show their identity, take actions and make contributions in the front line of prevention and control. For a time, the majority of faculty members who are Party members responded to orders, rushed ahead, and enthusiastically signed up, bringing together a powerful force for epidemic prevention and control.
"I have no class tomorrow and can participate in volunteer activities." "I have time in third and fourth classes and can take the post of other comrades." "There is also an on-site order post, please actively sign up. Time waits for no one" In the WeChat group, the calls for signing up for voluntary activities come and go, and everyone is scrambling. Often, a requirement for more than 60 volunteers in a nucleic acid detection for all faculty and students can be fully met in less than ten minutes.
Fu Jianhui, Director of Capital Construction Division, signed up for volunteer service during the break of busy work. He said: "Whether it is volunteer service or the job, it is a major event for the university. I hope I can play a greater role." At an information checkpoint at the testing site, there is also a couple who have been sticking to the position for many days. They are Liu Tao from the Student Apartment Management Service Center and Yao Yanxia from the Logistics Management Service Center. "We both live in the dormitory, and the children are going to school. They have no worries and can contribute more to the epidemic prevention and control."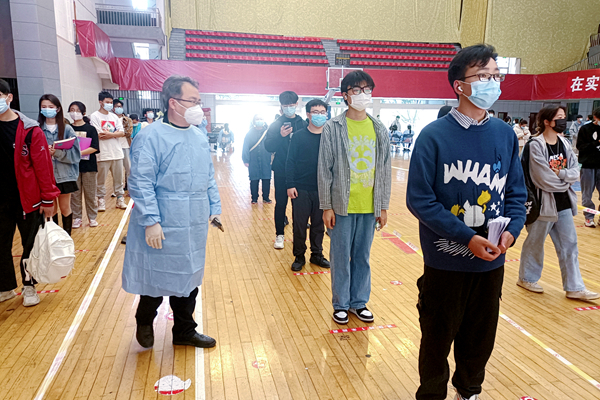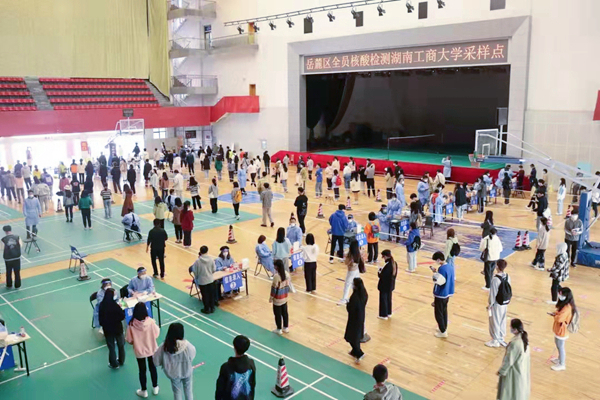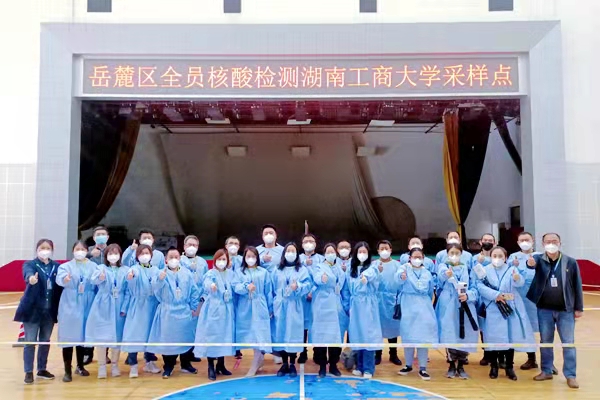 The enthusiastic participation of the majority of faculty members has injected a powerful force into the epidemic prevention and control. Li Cheng, Deputy Director of the Logistics Management Service Center, said: "I was very touched by the speed and enthusiasm of the teachers in responding to the call, which strengthened our confidence in winning." As of April 3, the university has quickly and efficiently completed COVID-19 nucleic acid detections for more than 120,000 people. The results of each round of detection are entered into the system in 24 hours and displayed on the health codes of faculty and students. At present, all the test results are negative.
Ding Xiaoyao, Party Secretary of Logistics Management Service Center, said: "as far as the current situation is concerned, with the joint efforts of everyone, the epidemic prevention and control of university is being carried out orderly, and we shall further promote the implementation". Campus safety and stability shall be protected well. Since the outbreak of the new round of epidemic, all units of the university have quickly joined the epidemic prevention and control team, guarding the health and life safety of faculty and students, maintaining the normal study and life order of the campus, and further building a safety barrier for campus epidemic prevention and control. (Written by Liu Yuan and Zhang Gaoyang and photo by Zhang Gaoyang)