HUTB School of Music and Hunan Grand Theater Co-organize "Dragon Boat Festival-Beauty of China Symphony Concert"
2022-06-05 17:35:35
On the evening of June 2, "Dragon Boat Festival-Beauty of China Symphony Concert", co-organized by the School of Music, HUTB and Hunan Grand Theater was held in Hunan Grand Theater. Xiao Ming, Dean of the School of Music, HUTB and national first-grade conductor, acted as the art director and conductor of the concert. Zhang Yinyue, national first-grade performer, and Guo Hui, national first-grade actor joined in the concert. The symphony orchestra of the School of Music, HUTB participated in the instrumental performance. Teachers and students from the School of Music participated in the performance. The concert was divided into 3 parts, namely introduction, Chinese sights and sounds and poetic inheritance, and showcased the beauty of Chinese mountains and rivers and the beauty of Chinese poetry.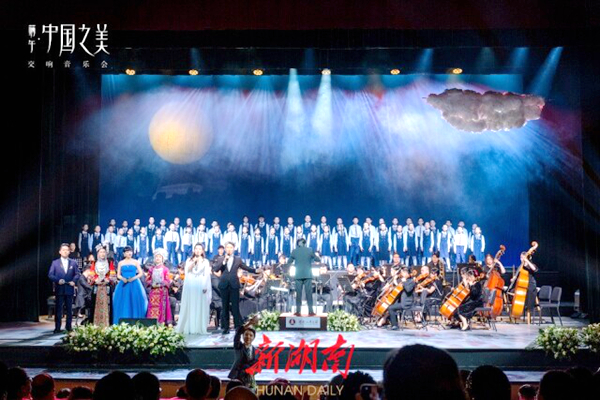 It is the first time to perform the orchestral version of "I Love You China" and "History of the Sky" in Hunan. "Lover", performed with erhu and konghou, displayed the beautiful scene of "against the background of large areas of green reeds, morning dew turns into frost" in "The Book of Songs". "Dong Chorus" oratorio gave a full expression to the ethnic customs of the Dong Nationality. "Chinese Sights and Sounds-Purple Bamboo Melody" classic orchestral music displayed the ancient style and taste. "God of Miluo River" recitation extolled the noble moral character of Qu Yuan. The beauty of the Dragon Boat Festival is evidenced by abundant labor, fragrant grain, external poetry and warm inheritance. With the symphony orchestra meeting the theater, western orchestra instruments playing Chinese sights and sounds, the taste of hometown awakening the memory of a travelling person, and the god of Miluo River waving hands and looking back, all audience became intoxicated in the beauty of Chinese poetry.

The "Meet the Beauty of China" symphony concert is a series of theater immersive aesthetic concerts co-organized by the School of Music, HUTB and Hunan Grand Theater. Through modern techniques such as stage art, light effect and special effect, the concert fosters a strong theme atmosphere, presents an audio-visual feast, and allows audience to better appreciate the beauty of symphony through situation and atmosphere and more willing to enjoy classical symphony music in the theater.