HUTB Holds a Discussion Meeting with 2022 Graduate Representatives
2022-06-01 17:37:32
On the afternoon of May 31, HUTB held a discussion meeting with 2022 graduate representatives at Xifeng Academy of the Economic Management Complex. The meeting was attended by Chen Xiaohong, CAE Academician and HUTB Party Secretary, Zhang Ling, HUTB Vice President, Yang Liangqi, HUTB Vice President, Gan Dejian, HUTB Vice President, and Yi Mianyang, HUTB Vice President. Heads of relevant departments of HUTB and graduate representatives participated in the meeting.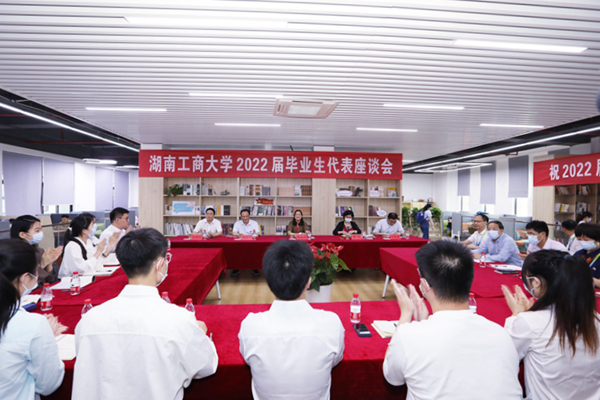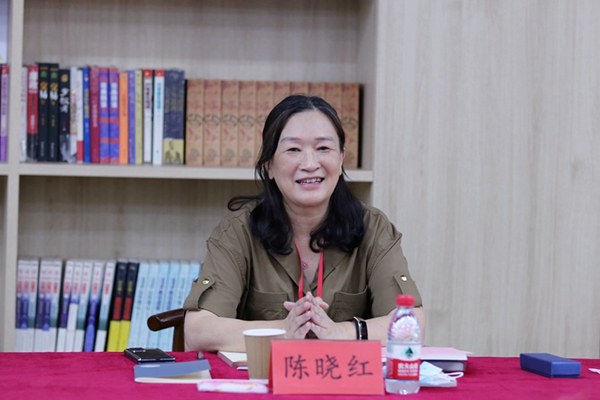 At the meeting, the graduate representatives presented a gift to HUTB, a photo album recording the 4-year campus life of 25 graduate representatives. The graduate representatives successively addressed the meeting. They affectionately looked back on the 4-year campus life and valuable experience of study, innovation and entrepreneurship, and practice and training. They thanked HUTB, under the leadership of Academician Chen Xiaohong, for making outstanding achievements, providing a good learning environment for students' growth, enriching development platforms, and fostering an excellent atmosphere for learning. They expressed thanks for teachers' hard work in teaching and HUTB's meticulous care, and expressed the hope that HUTB will make success after success and build on the brilliant achievements. They said that they will practice the HUTB motto of "Sincerity & Credibility; Pragmatism & Innovation", regard excellence, diligence and cultural progress as a habit, forge ahead to pursue excellence, and repay the society and homeland. The graduate representatives also put forward valuable suggestions regarding discipline construction, talent training, campus life and employment guidance.
During my postgraduate study, HUTB held many academic forums, enriching the academic atmosphere. I learned a lot in this process, and appreciated the importance of interdisciplinary integration." said Li Bei, a graduate student representative.
"During the 4 years of campus life, my life got more and more colorful, which is not possible without the care of HUTB and teachers. I'm still unwilling to accept the fact that I am leaving HUTB. During the internship, I deeply understand the close relationship between cultural quality and growth." said Yang Qida, a graduate representative from the School of Science.
"Since I started to lead a business project in August 2020, the turnover has crossed the threshold of RMB 6 million. I would like to thank HUTB and the School of Economy & Trade for providing the platform. Through the personalized and differentiated training during the 4-year college life, I have become more distinctive and learned a lot." said Long Lilin, a graduate representative from the School of Economy & Trade
Each and every day I spent in HUTB passed without my growth in the midst of sweat and hard work. Excellence, diligence and cultural progress have become my habit. Regardless of the years to come, 'sincerity and credibility' will forever be my undertone. Wherever I go, 'pragmatism and innovation' will forever be what I pursue." said Wang Lei, a graduate representative from the School of Art & Design.
"During the 4-year college life, I have become more confident, calm and patriotic. I am honored to have spent 4 years here. HUTB provides the best learning conditions for us. All beautiful promises have been fulfilled on time. HUTB regards us as its treasure. In turn, we see HUTB as our home. Today represents a new chapter in our journey. We will live up to the expectations of HUTB, and contribute HUTB's wisdom and power to the development of the country and society." said Guo Mengting, a graduate representative from the School of Intelligent Engineering and Manufacturing.
Wei Zehong, a graduate representative from the School of Literature & Journalism, and Wang Lei, a graduate representative from the School of Art & Design, also presented their hand-made gifts to Secretary Chen Xiaohong. HUTB leaders sincerely listened to the address of the graduate representatives, and held a discussion with the graduate representatives on relevant topics.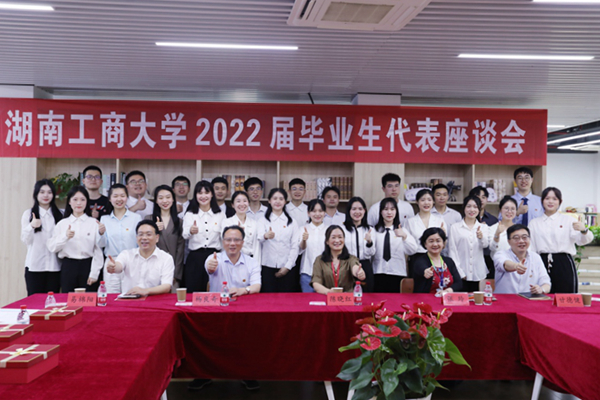 Chen Xiaohong, CAE Academician and HUTB Party Secretary, made concluding remarks at the meeting. She congratulated the students on the graduation on behalf of the HUTB Party Committee, and thanked the students for winning honors, making contributions and expressing deep affections for HUTB.
Secretary Chen Xiaohong raised three expectations for the graduate representatives: First, aim high. She urged the graduate representatives to look at temporary difficulties with a confident and optimistic attitude, discover and solve problems prospectively, always maintain a broad vision, lofty aspirations and broad-minded attitude, bear in mind the mission, dare to take responsibility, refrain from being egocentric and individualist, and strive to become a high-quality talent with global vision, patriotic feelings, professional expertise and benevolent heart. Second, live and learn. With the strong momentum of knowledge innovation in this era, new technologies and new breakthroughs such as bioscience, artificial intelligence, blockchain technology, new materials and new energy, and smart city management are emerging in an endless stream. However, there are still a lot of "bottleneck" difficulties facing some fields. She expressed the hope that all students should set the target of achieving sci-tech self-reliance and self-strengthening at higher levels, and continue contributing their wisdom and power to building China into a science and technology powerhouse and realizing the Chinese dream of national rejuvenation. Third, pursue cultural progress, and enhance comprehensive quality. She expressed the hope that all students will continue to carry forward the philosophies of "Cultural HUTB" and "Artistic HUTB", and achieve the integration of technologies, humanities and arts. She urged the students to become more cultured, always be grateful, refrain from doing evil things though they may be insignificant and giving up good things though they may be minor matters, and become a better person in the details of life. Secretary Chen Xiaohong conveyed a message to all 2022 graduates, which reads "I hope all of you hold dear your dream, be kindhearted, confident, knowledgeable, noble-minded, adamant, positive and optimistic, and become what you want to be". She also wished all graduates a bright future, and hoped them to come back often.
At last, HUTB leaders presented a gift package to the graduate representatives, and took a group photo to mark the occasion. (Reported by Chao Jinwen, Chen Luming and Wang Zimu)