HUTB Holds Symposium to Celebrate 38th Teacher's Day
2022-09-09 16:52:37
HUTB held a Teachers' Day Symposium in Conference Room 206 in the Technology Building on the morning of September 9th to celebrate the upcoming Teachers' Day.Chen Xiaohong,CAE Academicianand Secretary of CPC HUTB Committee,Xiao Xiaoqin, Deputy Secretary of CPC HUTB Committee, Zhang Ling, Yang Liangqi and Gan Dejian,Vice Presidents of HUTB, attended the symposium.Heads of relevant functional departments, heads of secondary schools, winners of "Honorary Teachers for30 Years of Teaching" and representatives of teachers and students also attended the symposium. Deputy Secretary Xiao Xiaoqinpresided over themeeting.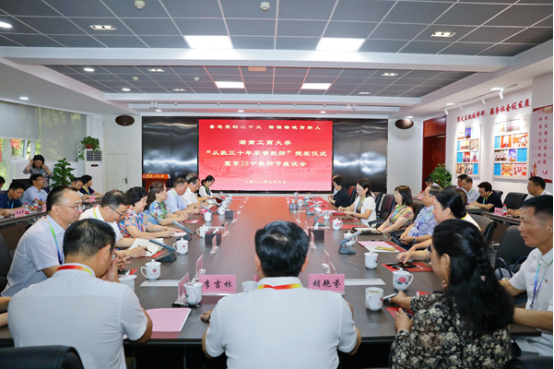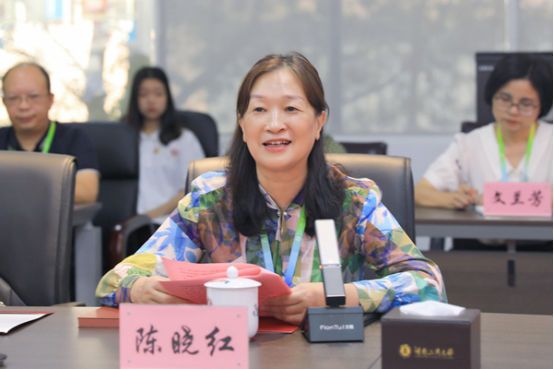 At the beginning of the meeting, Vice President Zhang Ling read the Decision on Awarding Honorary Teachers with 30 Years of Teaching at Hunan University of Technology and Business of Year 2022.Zheng Houjian of the School ofEconomy & Trade, Liu Saihong of the School of Finance, Gao Shougui of the School ofBusiness Administration, Zhu Kaixi of the School of Accounting, Tang Xianghui of the School of Public Administration and Human Geography,Shi Dejia of the School of Computer Science, Zhou Xiancheng of the School of Intelligent Engineering and Manufacturing, Xiao Qingchu of the School of Science, Zeng Xing of the School of Law & Public Administration, Peng Huancai of the School of Marxism Studies, Hu Yanfen of the School of Foreign Languages and Tang Zhaohui of the School of Art & Design were awarded with "Honorary Teachers for 30 Years of Teaching".
Academician Chen Xiaohong presented awards to each winner and extended festive greetings to them.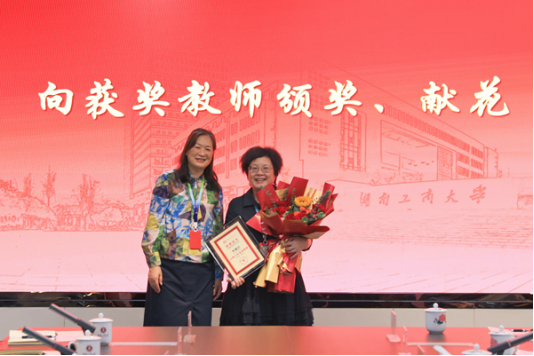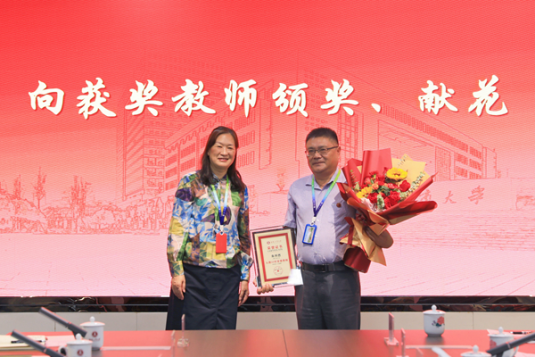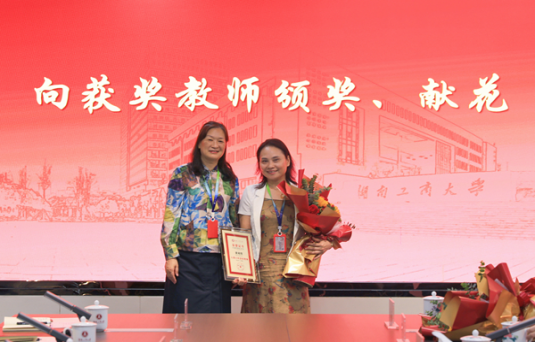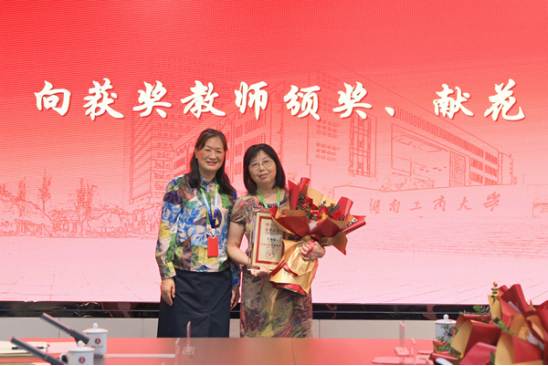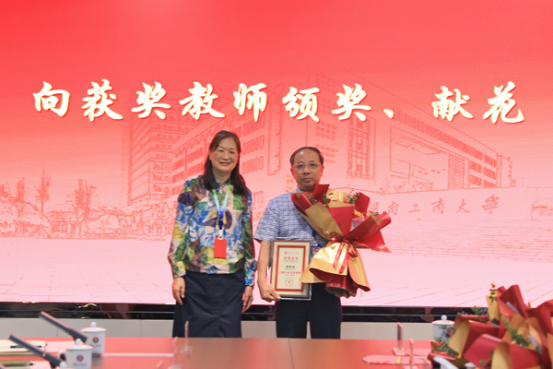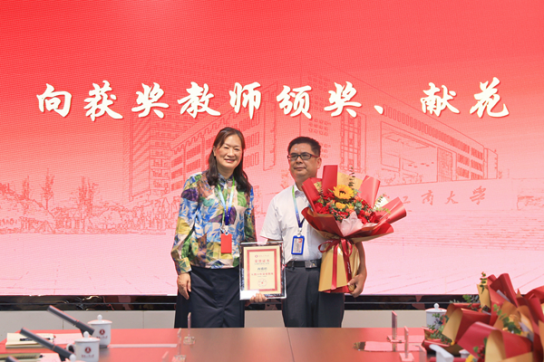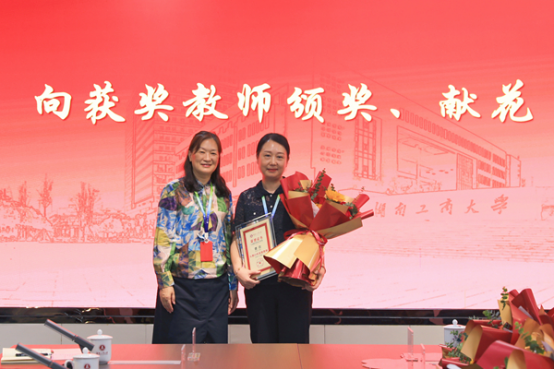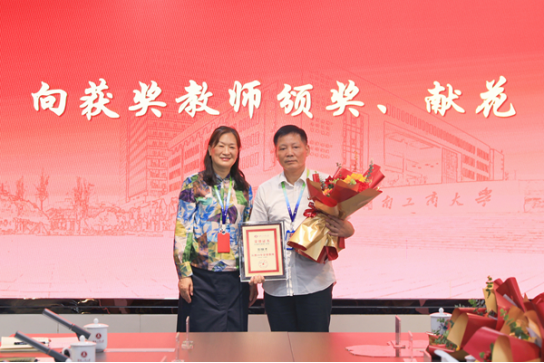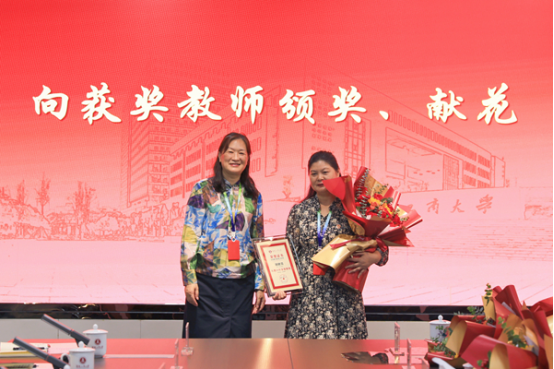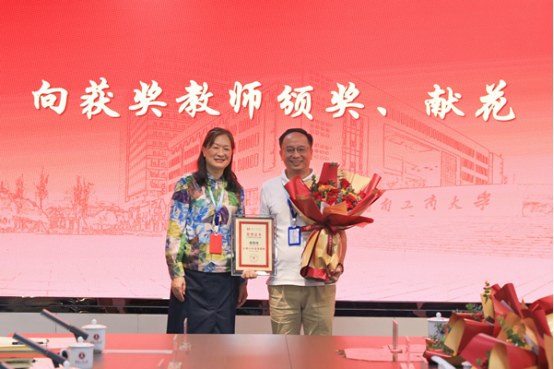 Chen Xiaohong delivered a speech at the meeting entitled "Teach by Example, Cultivate People with Virtue, Be a Good Guide in Students' Growth".On behalf of the CPC HUTB Committee, she extended festive congratulations and heartfelt thanks to all the faculty and staff for their conscientious hard work and dedication in teaching, scientific research, management and service.
Chen said that the foundation of goodness lies in teaching and the foundation of teaching lies in teachers. Teachers are the backbone of educational work. HUTB has been improving its long-term mechanism to galvanize teachers and guarantee their rights. The university has continued to explore the establishment of an evaluation system to promote teachers' all-round growth, improve the teacher development system that guides teachers to devote themselves to education. It has intensified teacher training, cared for and safeguarded teachers' rights and interests, implemented preferential policies for the teachers according to the law, vigorously publicized the advanced deeds of exemplary teachers and excellent teachers, made concrete efforts to create a strong sense of respect for teachers and education, and taken pragmatic measures to make teachers teach with reassurance, enthusiasm, comfort and easement.
Chen hopes that the teachers of HUTB will be good "guides" for students in their learning and daily life, and make new contributions to nurturing a new generation of capable young people who have a good and all-round moral, intellectual, physical, and aesthetical grounding in addition to a hardworking spirit, and who are well-prepared to join the socialist cause, and contribute to the building of a modern socialist country.First, we should cultivate ourselves by virtue and behave in a world-class manner. We should constantly work hard on moral integrity and take fostering morality as a teacher's lifelong compulsory course. We should always keep in mind a teacher's morality, soul and conduct, and strive to be a role model.Second, we should concentrate on our studies and seek truth. To be a learned teacher with exquisite business, we can only pan out well by holding the belief of "choosing a path and stickingto it", the persistence of "sitting on the bench until it's warm" and the tenacity of "staying tenacious like a bamboo deeply rooted in the rocks".Third, we should break new ground and innovate and keep pace with the times. We should constantly study the methodology of education, actively explore the teaching methods in the new era, be good at learning new knowledge, new technology and new theories, focus on the academic frontier of the world and the major needs of the country, accurately grasp the development trends and laws of digital economy, and lead the innovation of educational concepts and models with modern information technology.Fourth, we should be diligent, dedicated and willing to give, always keep in mind the original aspiration of educating people for the Party and the country. We should consciously perform teachers' duties and missions, improve the level of education and teaching with meticulosity, devote ourselves to the great educational cause with "craftsmanship spirit", and cultivate a new generation of young people of the times with heart and emotion.
Chen emphasized that all departments of the universityshould plan and promote the development of teachers from a strategic and comprehensive perspective, continuously create a benign environment for teachers' sustainable development, improve the system and mechanism to stimulate teachers' vitality in an all-round way, and optimize the management service system to give a full play to talent, so that teachers can be the "guides" for students with reassurance and enthusiasm.
Tang Xianghui and Tang Zhaohui, as representatives of award-winning teachers, delivered a heartfelt speech. They said that they were very excited and proud to be awarded "Honorary Teachers for 30 Years of Teaching".Recalling the endeavor they made in teaching, they felt honored to witness and participate in the remarkable development of HUTB, and sincerely hoped to continue to work with HUTB to contribute to its high-quality development. Zhang Zhijian, a teacher from the School of Marxist Studies, said on behalf of young teachers that he would learn from excellent examples, integrate into the energetic teachers of HUTB, and strive to exert his own value and contribute to the development of various undertakings of the university.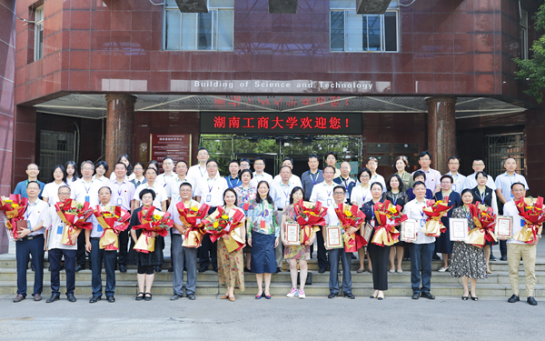 "Sincerity andCredibility; Pragmatism andInnovation. Pass on the torch and build a glorious future." The symposium concluded successfully in the enthusiastic chorus of "Song of Hunan University of Technology and Business" by all the staff.(Written by Yang Lei and Photo by Zhang Gaoyang and Ling Haotian)