Speech by Chen Xiaohong, CAE Academician and Secretary of CPC HUTB Committee, at the Opening Ceremony of Freshmen of Grade 2022
2022-09-16 17:00:47
Strive to Be Pioneersof the Times
--Speech at the Opening Ceremony of Freshmen of Grade 2022
Chen Xiaohong, CAE Academician and Secretary of CPC HUTB Committee
(September 15, 2022)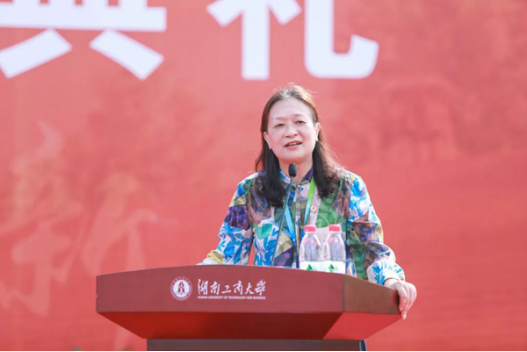 Dear students:
Good morning!
As China is celebrating the upcoming 20thCPC National Congress, 6,489 new students all over are gathering at the ever-growing HUTB to embark on a new journey to pursue their dreams. On behalf of the university, I would like to extend a warm welcome to all of you and welcome you to become the new owners of HUTB!
Congratulations on opening a new chapter of the beautiful youth!
Dear students, the youth is colorful, and HUTB which meets you at this wonderful phase of life, is also colorful. Today I want to introduce you to her three colors.
HUTB is red, and the gene of patriotism and serving the people runs in her blood. The university is the same age as the People's Republic of China. In the past 73 years, it has always answered the call of the times, inherited the spirit of strengthening the country through science and education, synchronized with the country in development, resonated with the national rejuvenation, and condensed its motto of "Sincerity & Credibility; Pragmatism & Innovation" and the spirit of "Virtue, Erudition, Determination, Self-reliance." Generations of HUTB people have devoted their hearts to the Party and strived to contribute to national prosperity and rejuvenation and people's happiness with passion and action.
HUTB is blue for she was born with the energy of innovation and breakthrough. HUTB people focus on the country's strategic needs and regional practical problems and carry out indomitable research. In recent years, relying on nearly 100 high-end teaching and research platforms such as the National Basic Science Center, the State Key Laboratory Cultivation Base, and Xiangjiang Laboratory, a high-level scientific and technological innovation platform in Hunan Province, we have braved the wind and waves in the vast blue ocean of scientific and technological innovation. Generation after generation of young students cultivate the excellent qualities of bold innovation, audacity to break new ground, the ability to practice and the courage to climb the peak, the spirit of unremitting struggle. They have become the pillars of the country with excellent academic performance!
HUTB is green for her temperament contains the harmony between humanity and nature. In the process of development, the university respects individual beauty and beauty in general. With the mind of all rivers run into sea, it builds a broad platform for international and domestic exchange and cooperation, guides students to develop in an all-round way and revel in the ocean of knowledge in the eleven colleges with their own characteristics. In the beautiful Tiger Ridge, Beijin Garden they indulge themselves in the beauty of landscape and humanities. In the new stadium they entertain themselves with sports. In the two-type demonstration campus of Hunan Province, they treat themselves to the "delicious food on the tip of your tongue" and understand that a seed can change the world.
Of course, there are many more colors to HUTB, such as the elegant purple and the vital and rich orange. Let the colors of youth and HUTB complement each other. Are you ready?
Dear students, every generation faces their own Long March. General Secretary Xi Jinping stressed that "we must be more mindful of potential dangers and consider worst-case scenarios so as to be well prepared both in thinking and action, promote the fighting spirit, strengthen the fighting capacity, foster new opportunities amidst crises, open up new horizons on a shifting landscape, and pool great strength to go through difficulties and challenges, and writer a new chapter of our career through tenacious struggle." Dear students, our Party has created a new world in its tenacious struggle, changed the world for the better, made earth-shattering transformations. We must rely on struggle to win the future! At the same time, it enlightens us that only by tenacious struggle can life enjoy more possibilities, only by face the world with tenacious struggle can we have a brighter future!
Dear students, youth is a time of endeavor, and endeavor is the most beautiful background color of youth. In this most beautiful sowing season, if you want to achieve a bumper harvest, you must work hard. In youth we must pursue our dreams. If you wish to realize your dream, you must roll up your sleeves and work hard. To march from having dreams to realizing dreams, we must build dreams brick by brick. Youth is a time of songs. The songs of youth we sing should not be out of tune, depressed or cynical, but have a sonorous rhythm, flying notes and beautiful melody. We should strive to make the song of youth in the new era louder in our tenacious struggle!
New starting point, new journey and new leap. Here I would like to raise some expectations to my classmates.
First, strengthen great feelings in tenacious struggle
Struggle cultivates feelings, and feelings galvanize struggle. Strugglers are people with self-esteem and ambition, self-love and patriotism. In China's 5000-year history, heroes have emerged in large numbers, and they have forged a Chinese ethos with hard bones and sincere service to the country through tenacious struggle. When 17-year-old Mao Zedong walked out of Shaoshan Chong, he wrote: "When a child is determined to leave his home, he will never return until he becomes learned. Why do you need to bury your bones? Life is full of green hills." Zhou Enlai, when he was 14, was determined to "study for the rise of China."
Young people should engrave their love for their home and country in their hearts, set great ambitions, become "great people," and constantly strengthen their capacity to change the destiny of the nation. They should strive to shoulder the heavy responsibilities of their home and country!
In the fight against wildfires in Chongqing, the Chinese people built a Great Wall to extinguish the fire with their flesh and blood, they stood out in the face of disasters, showing their fearless spirit and the strength of unit. Many young people serve their motherland with actions: I will go forward and never retreat when my country needs me. Why is this so? Because the genes of defending our country run in our blood!
I hope that you will continue inherit the spirit and measure the motherland with your footsteps during your college time. I hope you will discover the Chinese spirit with your eyes, listen to the voice of the people with your ears, sense the pulse of the times with your heart, and make great contributions to the great rejuvenation of the Chinese nation with love, ambition and action.
The HUTB people I love have passion and courage to strive to become "chivalrous men" for the country and the people!
As the national anthem sings: "Make our flesh and blood our new Great Wall."
Second, lead the great times in tenacious struggle
The tide of the times is mighty. In the torrent of the times, whether we are carried forward or actively lead comes from our choices and actions. Please remember, only those who make waves can stand up bravely.
Looking at the present era, the process of human civilization is facing various challenges. The COVID-19 pandemic is still raging, the Russia-Ukraine conflict is locked in a stalemate, the global economy is declining, extreme weather conditions occur frequently, food, energy and environmental crises are intensifying, various uncertainties are increasing every day, and profound changes unseen in a century are evolving rapidly.
An ancient quote goes like this: "Those who do not seek the overall situation are not capable of seeking a domain. Those who do not seek the world are not capable of seeking a moment." We need not only to take the Long March of the new era well with great confidence, but also to enhance our awareness of a human community with a shared future and prepare ourselves for unexpected events, and to look at problems and challenges from a global perspective. I hope everyone can grasp the overall situation through individual, take insight into the essence through phenomena, see the future based on the present. We should take the initiative to think and actively answer the questions posed by China, the world, the people and the times, pay tribute to time with tenacious struggle, and change the times with a strong sense of responsibility!
The HUTB people I love care for the world and are destined to become "trendsetters" who will lead the times in the future!
Third, explore universal questions in tenacious struggle
Every step of human civilization and science is condensed with hardships and sweat. In today's world, digital economy is booming, science and technology are developing unprecedentedly, civilization is changing unprecedentedly, and social changes are happening with each passing day. If you want to be the promoter of scientific development and cultural prosperity, you much study hard in college.
When you take the initiative to learn with doubts and start asking "why" and "how is it possible," new knowledge may come into being and we may touch the unknown world. To face knowledge and learn well, we need curiosity, imagination and critical thinking, and the courage to defend truth, respect differences and humility and awe.
HUTB is a paradise for reading and seeking knowledge. Many disciplines, majors, courses, laboratories and a series of national and provincial platforms closely connected with society build a magnetic field for seeking knowledge and innovation. When you are here, you will feel the novelty of cross-integration, the power of collision of ideas, and the beauty of both arts and sciences. As long as you have the interest to explore and act firmly, you will have the wonderful life you want!
I hope that you and the academicians, experts and scholars will raise questions and find answers together, use the key to truth, goodness and beauty to open the door of humanities and science and explore the mysteries of life!
The HUTB people I love are diligent in learning and thinking. By learning from the past but not getting stuck in the past, you can all become persistent explorers of universal questions who never stop innovating.
Fourth, realize greater value in tenacious struggle
Realizing the value of life is our unremitting pursuit. How to realize greater value is our lifelong task.
Paul, the hero of How the Steel Was Tempered, said: "The most precious thing for people is life. Life is only once for everyone. A person's life should be spent like this: When recalling the past, he will not regret for wasting his time, nor will he be ashamed for doing nothing." This reminds us that in the face of the ever-flowing river of time, any waste, weakness and complaint are useless, and your family, experience and fate should not be your excuse. Hard work does not necessarily change life, but it must be hard work that changes life. Tenacious struggle and hard work will change your life for the better.
I often say that we should do our best to work hard and strive until we're touched by ourselves.
I hope you will keep your passion. College study and future life will not be easy. Only by keeping passion can we be strong in life. No one is born with armor, but we can make ourselves invincible, and we all have to fight for a future for ourselves!
I hope everyone will keep self-discipline. You will not afraid of thousands of miles if you travel every day, and you will not fear the thousands of things if you do them constantly. I hope you will work hard and move forward firmly in every ordinary day, leaving lovely footprints for yourself every day, and your soul will be full of happiness!
When you use one day as two days, you live an extra life!
Dear students, HUTB deeply loves youth and helps youth succeed. With open arms, we welcome young people from all over the country and even the world to come here with dreams and I believe you will make HUTB a university that marches forward and pursue excellence vibrantly!
We have confirmed each other's ambition, let's make innovations together. We'll work together to show greater responsibility and make greater contributions in the historical process of serving national strategies, leading social development and innovating human civilization!
We have confirmed each other's ambition, let's explore the culture together. We'll appreciate the profoundness of Chinese culture, constantly improve the quality of civilization, be a pioneer in the inheritance and innovation of advanced culture, and become a beacon to protect human spiritual civilization!
We have confirmed each other's ambition, let's grow up together. I hope everyone can be excellent, diligent and civilized. We can all open countless "blind boxes" here, enjoy countless surprises of growth, constantly accumulate strength for a better life and a better self!
"The world leaves a scenic spot that my generation will visit again." Young people are promising and should struggle without regret; Let's go forward with determination, though the destination is far away!
Now, the brush of life is about to splash ink in your college life. May you, with dreams, love and confidence, start with your home, your country and the world, work hard with passion, and become the pioneer of the times!
I wish you, like everything in the world, to precipitate yourself, strive for growth, cultivate yourself sincerely, seek the truth, integrate into the new, strive for beauty, live up to the gifts of years, live up to youth and have a beautiful life!
Let's welcome the upcoming 20thCPC National Congress, send out the strongest voice of "a strong country has me" on the new journey, and achieve the best of contemporary youth!(This article is edited according to recording.)