HUTB Teachers Awarded Outstanding Teachers in Hunan Province
2022-09-17 17:13:16
On the afternoon of September 8, the 38th Teacher's Day Conference for Commending and Celebrating Outstanding Teachers in Hunan Province in 2022 was held in Changsha. Xu Xuesong, a teacher from HUTB, attended the meeting as a representative of outstanding teachers in Hunan Province. "I feel particularly excited. The award has injected a strong impetus into my future teaching and education career," he said.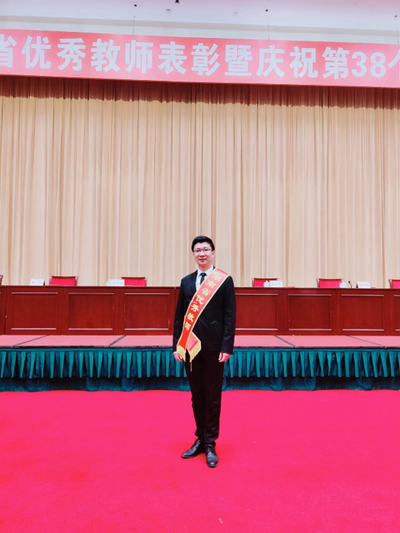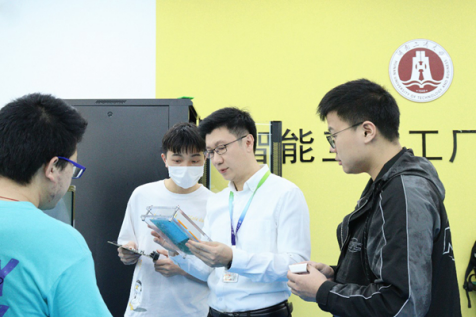 Xu Xuesong has been a frontline teacher for 12 years. He has taught 17 courses for college and junior college students at HUTB, for which he won the excellent course award for 15 times. Putting teachers' ethics first, he carries out the fundamental task of moral cultivation, and sets an exemplary role of teaching. Every year, he leads a team of students to participate in the social practice activities of "bringing scientific and literacy knowledge and offering medical service to rural areas" during the summer break, during which he conducts inspection and research in the fields and factories to understand the needs of enterprises and society, finds inspiration of innovation and entrepreneurship, and makes himself a "living teaching plan." He implements political ideology and innovation and entrepreneurship education throughout the teaching and talent cultivation process, helps students establish the ability and quality of independent learning and lifelong learning. He was awarded the "Volunteer Activities for the Country People" Excellent Instructor for successive years. He won the Gratitude to Teacher Award of HUTB in 2017 and the nomination for the "Academician Teaching Award," the first comprehensive teaching awarding of HUTB, in 2019.
In his work as a class tutor, he always sets a positive example by keeping consistency between his words and deeds. Responding to students' academic incomprehension, ideological and value misunderstanding, he integrates moral education with personality cultivation, and innovative education with cultivating people. To help students go deep into the frontline of scientific research and cultivate students' scientific and technological innovation ability, in the past five years, he has instructed undergraduates of HUTB to win 41 provincial-level and above awards in the national "Challenge Cup," China College Students' Entrepreneurship Competition and the China International College Students' "Internet+" Innovation and Entrepreneurship Competition. Among the awards are 2 national special prizes, 1 first prize, 1 second prize, 4 third prizes, 2 provincial special prizes and 7 provincial first prizes.He guided the postgraduates to set up 5 national and 7 provincial innovation and entrepreneurship training programs. The trained students won the honorary titles of "Top 100 Entrepreneurial Heroes of College Students," Yuelu Entrepreneurial Star of Hunan Province, Top 10 Entrepreneurial Youth of Hunan Province, Furong Students of Hunan Province and Furong Students Group Award of Hunan Province. He also won the titles of Excellent Instructor in National Challenge Cup Competition, National Education Robot Contest, Internet+ Entrepreneurship Competition and Hunan Artificial Intelligence Innovation and Application Competition.
The award of Outstanding Teachers in Hunan Province is held every 5 years, and the targets of the evaluation are full-time teachers at all levels and all types of colleges and schools. It requires the candidates to fully demonstrate the glorious image of teachers and educators in the new era. A total of 100 Hunan Outstanding Teachers were selected this year, including 80 teachers from cities and prefectures across Hunan and 20 teachers from colleges and universities and other provincial schools. (Chao Jinwen and Yang Lei)