HUTB Signs Cooperation Agreement with Huawei Technologies Co., Ltd.
2022-11-08 15:48:56
On the morning of 8th, November, HUTB and Huawei Technologies Co., Ltd. held a signing ceremony of comprehensive cooperation in Changsha.
Entrusted by Chen Xiaohong, Academician of the Chinese Academy of Engineering, Director of Xiangjiang Laboratory, Secretary of CPC HUTB Committee and Director of Changsha Artificial Intelligence Social Laboratory, Yi Mianyang, Vice President of HUTB and Wu Zhenhua, General Manager of the Government-business Division of Huawei Hunan, signed a comprehensive cooperation framework agreement on behalf of each party.Zhou Xiang, Vice Chairman of the Education, Science, Culture and Public Health Committee of the Hunan Provincial People's Congress, Liu Guoquan, Vice President of HUTB, Wu Gang, Vice President of Huawei and President of Huawei Digital Government, Wu Congcheng, General Manager of Huawei Hunan, and other leaders witnessed the signing of the agreement.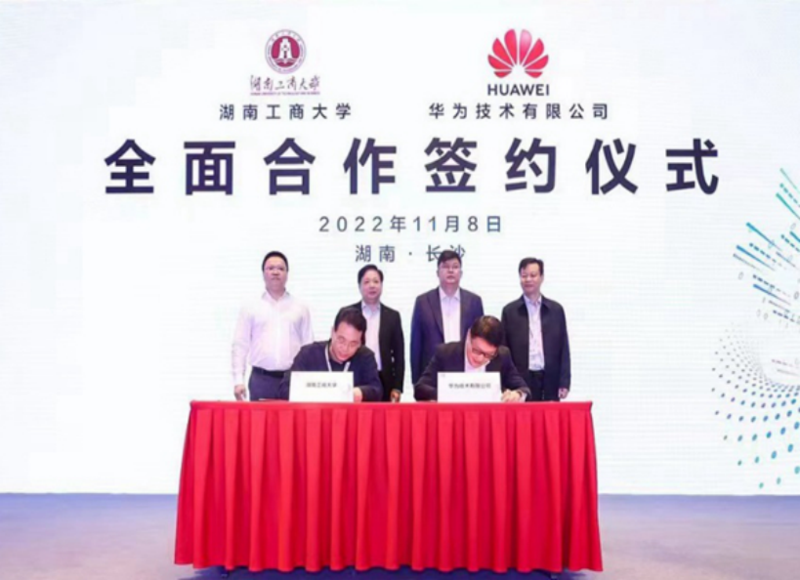 According to the agreement, the two sides will adhere to the principle of "long-term cooperation, mutual promotion, equal consultation, mutual benefit and win-win," carry out comprehensive university-enterprise cooperation based on friendly cooperation in the early stage, jointly seek innovation in scientific research and personnel training, mobilize and fully leverage the resource advantages of both sides, and achieve win-win cooperation and development.
As for scientific research and innovation, the two sides will establish a joint innovation center based on their respective resource advantages, and jointly build a world-class high-level scientific and technological innovation platform and strive for scientific and technological achievements.As for personnel training, the two sides will combine Huawei's advanced technologies and industrial ecology related to Huawei Kunpeng and Huawei Ascend to train talent needed by Kunpeng and Ascend industrial chains, fully coordinate talent supply and industrial demand, and cultivate high-quality independent innovation-oriented industrial talent for the country.(Chao Jinwen)