HUTB Holds the Award Ceremony of Academician Award Fund for "Outstanding and Diligent" HUTB Students
2022-11-26 10:53:31
On the afternoon of November 25, the 2022 Award Ceremony of Academician Award Fund for "Outstanding and Diligent" HUTB Students was held in Qiushi Academy. Chen Xiaohong, academician of the CAE, director of Xiangjiang Laboratory, and Secretary of CPC HUTB Committee, Zhang Ling and Gan Dejian, vice presidents of HUTB, and Ning Songkai, alumni representatives attended the ceremony, and heads of relevant departments and representatives of teachers and students participated in the event.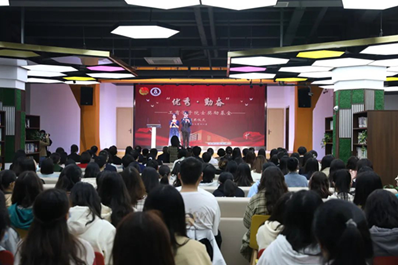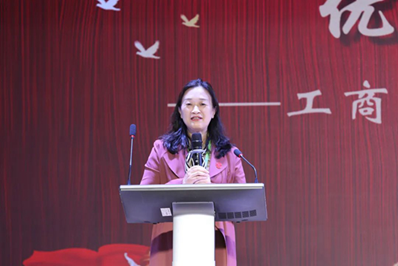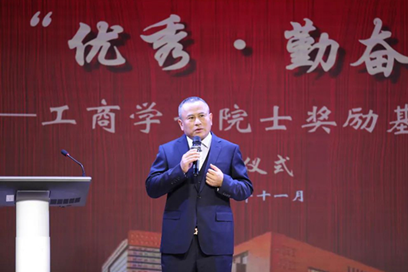 Chen Xiaohong delivered a speech, expressing heartfelt thanks to alumnus Ning Songkai for his donation and support, and hoped that all HUTB students should inherit and carry forward the precious spirit of outstanding alumni of HUTB in pursuing dreams, striving to give back to society and return to old school. She emphasized that the Academician Award Fund winners are self-reliant and strive to become outstanding, diligent and civilized people with a native land emotion, global vision, benevolence and professionalism, so they are worthy of role models for all HUTB students. She expressed her hope to the students in HUTB: "Maintain your battling spirit at times of hardship, and spread your words when success strolls." She also wished that students would make great achievements in their studies, pursue their ideals, take practical actions, and become outstanding talents with contribution to the society and a sense of responsibility.
Ning Songkai, a donor of the Academician Award Fund for "Outstanding and Diligent" HUTB Students and alumnus representative, expressed heartfelt thanks for the cultivation of his alma mater, expressed pride in the development of HUTB and expressed his best wishes to his alma mater. He said affectionately: "under the leadership of Academician Chen Xiaohong, the academic atmosphere, academic environment and learning conditions of HUTB are at the best level in history, which is inspiring. I hope you will cherish your time, study hard, and make achievements in your studies."
Teachers and students at the scene jointly watched the inspirational video of the Academician Award Fund and the video of the representatives of previous award-winning graduates thanking their university HUTB. Liu Junjie and Guo Jingxian, as representatives of the award-winning students, came to the stage to share their acceptance speeches, expressing their gratitude, saying that they would live up to expectations and study hard to reach a level that touches everyone, and constantly accumulate the strength to improve themselves, so as to become a better student.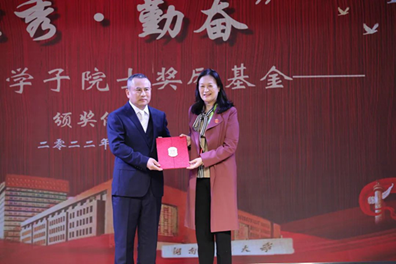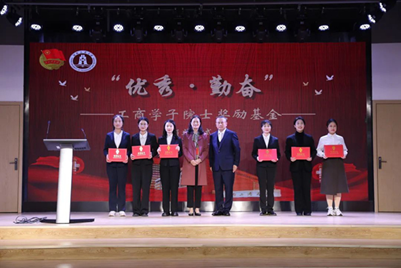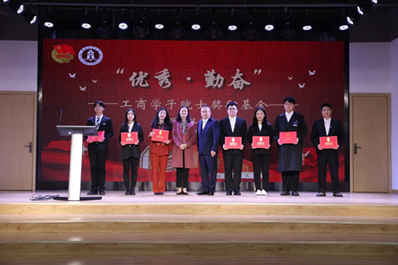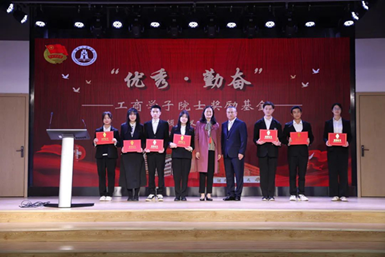 Academician Chen Xiaohong presented a donation certificate to alumnus Ning Songkai and student representatives gave gifts. Chen and Ning jointly issued award certificates to the award-winning students and expressed their encouragement and congratulations.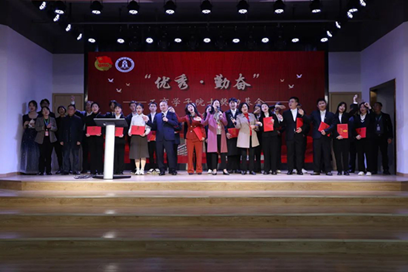 Finally, the student representatives came to the stage to present gifts to Academician Chen Xiaohong. Teachers and students sang Empty World and School Song of HUTB. The award ceremony ended successfully in a warm and touching atmosphere. It was reported that a total of 20 students were awarded the Academician Award Fund for "Outstanding and Diligent" HUTB Students, with a reward of RMB5000 each. (Reported by Yang Lei, Tu Hua, and Kong Sini)