[Lushan Lecture: "Entrepreneur and Entrepreneurship" Forum] HRAES Dean Luo Yueping Gives Lecture at HUTB
2021-12-17 11:33:49
Luo Yueping, Dean of the Hunan Research Academy of Environmental Sciences (HRAES), visited HUTB at invitation on the afternoon of December 9. He gave a lecture at the "Entrepreneur and Entrepreneurship" Forum of the "Lushan Lecture." The theme of the lecture was "Discussion on Current Prominent Ecological and Environmental Problems and Prevention and Control Measures." The lecture was held in the lecture hall of the North Campus Library. All members of the leadership team, full-time teachers, undergraduate class and graduate class of 2021 of the School of Resources and Environment attended the lecture.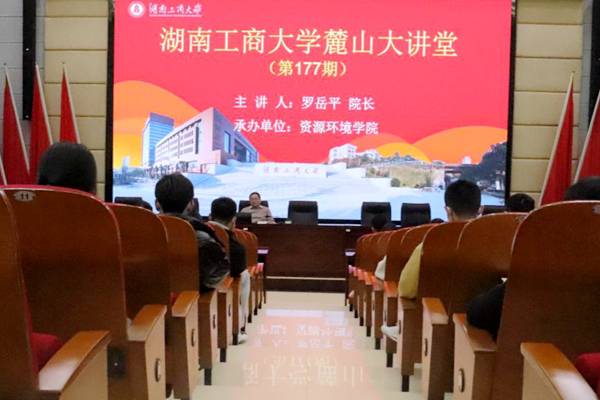 Dean Luo Yueping started with the current ecological civilization and guided everyone to thoroughly learn about and understand the profound implications of President Xi Jinping's Thought on Ecological Civilization. He stressed the significance of the in-depth efforts in the nationwide battle to prevent and control pollution during the 14th Five-Year Plan period. He made an in-depth analysis and interpretation of the current prominent ecological and environmental problems, and shared his perspective on the situation and challenges facing China's ecological environment. At the end of his lecture, he expounded the prevention and control measures to tackle the current prominent ecological problems in five aspects, including implementing the main management of enterprises, strengthening the supervision responsibility of the government, implementing ecological protection compensation, and the innovation of terminal treatment technology.

During the interaction with the audience, Dean Luo Yueping answered the students' confusion with patience, explained the job opportunities and the employment prospects of the resources and environment major, and encouraged the students to study hard, innovate bravely and become college students with vision, feelings and sense of responsibility in the new era. The lecture was rich in content and profound in connotation. The students were very active to ask questions. They said that they have benefited a lot from the lecture, which has given them a deeper understanding of the resources and environment disciplines and major, and further enhanced their sense of responsibility and their sense of mission to protect the ecological environment.
After the lecture, members of the school's leadership team and all teachers attended a symposium with Dean Luo Yueping in Conference Room 115 of the library. The two sides had in-depth discussions on the cultivation of application-oriented environmental protection talent, the choice of scientific research directions for young teachers, and deepened exchanges and cooperation. (Reported by School of Resources and Environment/Sun Yinglu, Xie Jieya)