HUTB Holds "Stay Away From Drugs, Enjoy AIDS-Free Youth" Volunteer Activities for Public Services
2021-12-08 11:43:57
To promote public awareness of AIDS prevention and help students have a deeper understanding of drugs, a series of volunteer activities for public services with the theme "Stay Away From Drugs, Enjoy AIDS-Free Youth" were held on the south campus of HUTB. On the morning of December 1, the activities were jointly held by the Youth League Committee and the Security Division of HUTB, the Office of Drug Control Committee of Yuelu District, the Drug Control Association of Yuelu District and the Youth Volunteer Association of Yuelu District. The event aimed to raise students' awareness of health and safety and promote scientific preventive measures.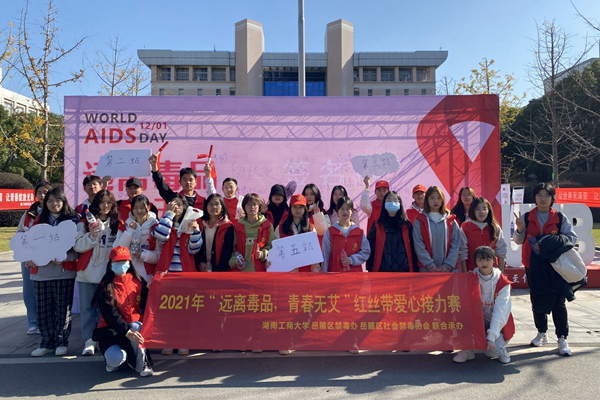 Professor Chen Yonggang, a renowned anti-drug teacher in Hunan and head of the anti-drug lecturer group of Yuelu District, was invited to give a lecture on "Knowing Drugs and Q&As on AIDS Prevention" in Qiushi Academy. In the lecture, Professor Chen gave an introduction to drugs and AIDS. Meanwhile, an exhibition themed "Poster Designs of Staying Away From Drugs and Preventing AIDS " was held on Lingnan Campus. In addition, volunteers, students and teachers of HUTB participated in a voluntary signing activity at Yingcai Square to show their determination to reject drugs and prevent AIDS. An AIDS prevention advocation station was set up at the scene, calling on students to write down words of encouragement for drug addicts to fight the drugs and slogans about drug control and AIDS prevention.

The volunteers attended the Red Ribbon Love Relay. They started at Yingcai Square, passed Chufeng Academy, Xianjia Stadium, Lingnan Canteen and the medical room, toured around the campus, before returning to Yingcai Square. The volunteers finished the red ribbon relay with love and pass, which showed their vigilance, consciousness and strong determination to "stay away from drugs and enjoy AIDS-free youth."
The series of volunteer activities for public services have enhanced the students' awareness of rejecting drugs and preventing AIDS, and made them realize the importance of drug control and AIDS prevention. The event also reflected the active cooperation and strong support of HUTB for the national drug control work. In the future, HUTB will further promote anti-drug and AIDS prevention activities, strengthen the students' common sense of drugs and AIDS, and contribute to building a healthy, orderly and harmonious society. (Reported byHUTB Youth League Committee/Cao Chen)