HUTB Holds 2022 Training Course on Instructor Competency Improvement
2022-01-24 11:45:36
HUTB held the 2022 Training Course on Instructor Competency Improvement in the Multifunctional Lecture Hall, HUTB Library, on the morning of January 18th. HUTB Vice President Gan Dejian attended the opening ceremony. Participants of the training course include Vice Party Secretaries of the secondary schools, all full-time and part-time instructors of HUTB, postgraduate class advisors, cadres of the Student Affairs Division and HUTB Youth League Committee who are at or above deputy section level.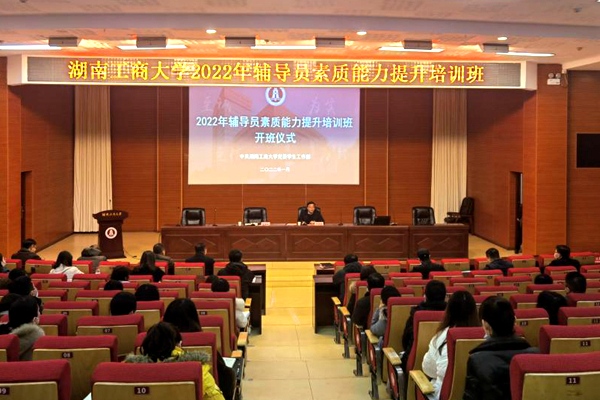 Vice President Gan Dejian gave a mobilization speech at the beginning of the class. He pointed out that the purpose of the training course was to thoroughly implement the spirit of the first Party Congress of HUTB, strengthen the construction of the instructor team, and continuously improve the professional competency and working ability of the instructors. He expressed hope that all participants of the training course will make further efforts to find and reflect on the shortcomings in their work, fully implement the "Three-wide Education," lay a solid foundation and innovate and explore.

The three-day training course focuses on four topics. Ai Chujun, Director of the Party Committee Student Affairs Department of Changsha University of Science and Technology Party Committee, shared his views on the theme of "Significance of Young College Students' Values Being the Driving Force and How to Achieve It." He stressed that all instructors and class advisors should read more classics and stay at the forefront of the field. They should be able to use scientific theories to solve problems, push forward work with problem-orientated solutions, continue to learn and optimize their professional and general abilities, develop an accurate grasp of the essence of policies and documents, and cultivate the awareness of a community with a shared future for mankind.
Mo Xiangyi, Leader of Party Committee Student Affairs Department, gave a special report on "Main Problems and Solutions of Safety Education and Management of College Students." He pointed out that colleges and universities should advance law-based governance and handle their relations with students, parents and society based on laws. Instructors should strengthen the safety management of students, strictly work in accordance with relevant laws and regulations of the university and the country, investigate hidden dangers in key periods, regions and objects, and have a clear idea of their work.
Xiang Fayi, Director of HUTB Party Committee Student Affairs Department, gave a lecture themed "Innovation of College Instructors' Work from the Perspective of Internet Culture." His analysis focused on the new changes brought about by the Internet, the new stage of the Internet ideological and political education, and the new task it is facing. He pointed out that colleges and universities should consolidate their positions, form platform matrixes, step up personnel training, cultivate backbone forces, develop Internet products and carry forward mainstream values.
Chen Yanli, Vice Party Secretary of the School of Public Administration and Human Geography of HUBT, shared her views on the theme of "Class Collective Construction and Backbone Student Training." She pointed out that class construction should highlight ideological and political education, improve the styles of dormitory, class and learning, establish a core backbone, build and improve a comprehensive system, and build a communication platform, so as to achieve high-quality class construction. The cultivation of backbone students requires concentrated attention and genuineness, the power of personal charm, and the courage to innovate by keeping up with the times. (Reported by Student Affairs Department /Wang Chengmei)