HUTB Holds Classroom Teaching Competition and Teaching Innovation Contest
2022-01-18 11:46:41
The 2022 HUTB Classroom Teaching Competition and Teaching Innovation Contest were held on January 9 in Lezhi Building. The event was organized jointly by the Academic Affairs Division and the Labour Union of HUTB. 19 teachers from different teaching units participated in the finals of the Classroom Teaching Competition, and 28 teachers participated in the finals of the Teaching Innovation Contest. Fifteen experts, including HUTB faculty members, were invited to be professional judges. Deans of the teaching units and young teachers watched the competition.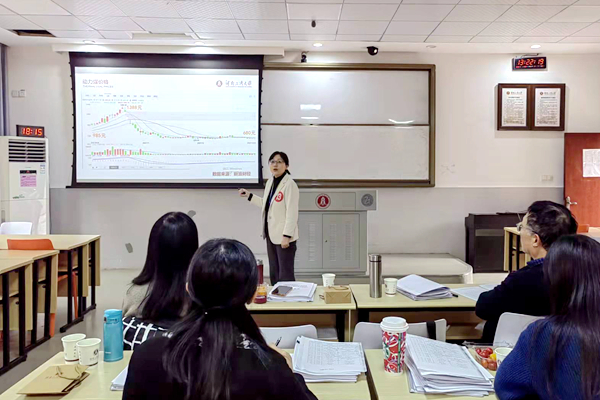 The Classroom Teaching Competition highly values the cultivation of students' creativity, innovation and entrepreneurship. The judges' evaluations focused on the competitors' ability to properly use the new ideas and requirements of higher education teaching reform to fully explore the ideological and political education resources in the curriculum, as well as their ability to effectively regulate the class and mobilize the enthusiasm of students to study independently and explore in the process of learning. In the 20-minute teaching process, the teachers showed an accurate grasp of the content and the pace of teaching. While presenting innovative teaching ideas and methods, they performed the art of classroom teaching in a multi-dimensional way and demonstrated the high teaching standards and impressive teaching styles of HUTB teachers.

The Teaching Innovation Contestvalues "student-centered" education and the idea of "fostering virtue through education." The teaching content should be both profound and extensive, representing the frontier of disciplines. Innovative teaching should be student-centered under the guidance of the teacher. The contestants were divided into three groups to make reports on their teaching innovation designs according to their professional titles, including the senior group, the associate senior group and the group for the intermediate and below. Based on the syllabuses and teaching practice results of the courses they teach, each contestant had 15 minutes to comprehensively expound on their teaching designs, highlight the teaching innovation and reform, provide supporting materials for relevant highlights and characteristics. The contestants were also required to answers the judges' questions after finishing their reports.
After fierce competition, Zhao Xinyu's team, He Dian's team and Zhao Jue's team won the first prizes of the senior group, the associate senior group and the group for the intermediate and below, respectively, in the Teaching Innovation Contest. Zhang Yang won the first prize in the Classroom Teaching Competition. (Reported by Academic Affairs Division/Qiu Lin)