Researchers of Chinese Research Academy of Environmental Sciences Attend Symposium at HUTB
2022-01-17 11:47:43
Liu Lusan, Researcher of the Chinese Research Academy of Environmental Sciences (CRAES), and his team attended a symposium held by the School of Resources and Environment of HUTB on the afternoon of January 11. Peng Xuewen, Party Secretary of the School of Resources and Environment, presided over the meeting. Present leaders of the school and relevant full-time teachers attended the meeting.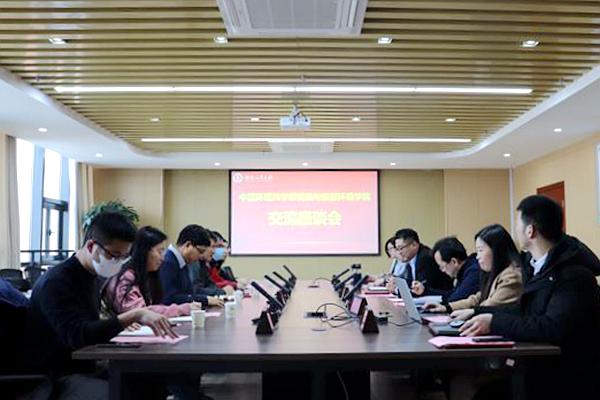 Professor Li Huan, Leader of the Department of Resources and Environmental Science, gave a detailed introduction of the basic situation of the school, including the characteristics of the disciplines, the scientific research, and future development focus. Professor Li also introduced the team's research results on the digital and intelligent management and control of the water environment.

Researcher Liu Lusan thanked the School of Resources and Environment for its warm reception and fully recognized the school's foresighted, interdisciplinary and integrated development. He introduced the work of "all disciplines and all factors" of CRAES and highlighted the research and related project achievements of the National Joint Research Center for the Protection and Restoration of the Ecological Environment of the Yangtze River.
The two sides carried out in-depth exchanges on topics of common concern such as the water environment management and ecological protection, policies targeting the ecological environment, and big data analysis of the ecological environment. They also discussed related projects, scientific research cooperation and platform construction.
After the meeting, Liu Lusan and his party visited the National Basic Science Center Laboratory, the Provincial Key Laboratory and the Engineering Research Center of HUTB. (Reported by School of Resources and Environment/Guo Shengmei)